The Portland Trail Blazers were the unquestioned surprise of the 2015-16 NBA season. Prognosticators had them missing the playoffs in the wake of LaMarcus Aldridge ditching Cascadia for Texas, and ESPN's season preview said they were "rebuilding." Terry Stotts had a roster full of untested and misunderstood players that was anchored around a pair of tiny sieve-like guards with high usage rates.

Instead of the middling campaign they were supposed to turn in, the Blazers finished fifth in the Western Conference, bounced the Clippers out of the first round, and put up a noble fight against the Warriors. Damian Lillard and C.J. McCollum scored a million points and a stable of skilled youngsters proved they were worthy of the opportunities Stotts was forced to give them. They were, as we wrote at the time, a miracle.
This season, all is not well. After adding Festus Ezeli and Evan Turner to their roster, Portland is currently 7-6, sporting the second-worst defense in the NBA. Last year's run was an unexpected surprise, so if things had gone sour it could have been rationalized as a normal regression to the mean. But by outpacing their rebuild, the Blazers brought upon themselves heightened expectations this season that they aren't currently meeting.
Being a game above .500 isn't terrible, but the manner in which Portland has repeatedly lost is concerning. Four of their six losses have been by 17 or more points, and they look a clear cut below Western Conference powers like the Warriors, Clippers, Spurs, and even the Rockets and Thunder. They have the sixth-worst point differential in the NBA, and they're lucky to have a winning record. As Damian Lillard said after last night's blowout loss against the Rockets, "We kind of suck right now. It's that simple."

G/O Media may get a commission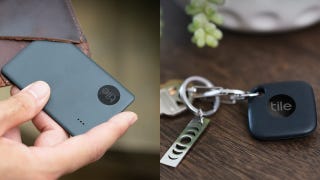 Up to 35% off
Tile Item Trackers
He sounds like a leader of a team that's emotionally deflated:
"We're just not very good right now," said Lillard, who ranks fourth in the league with 28.8 points per game. "We've just got to keep fighting. It's important for our team to stay together, and I think that's one of the biggest strengths of our team, is we stay together. If we try to stay positive, and we just keep working and keep fighting, I think at some point it'll click.

"We'll get it right, and things will be fine. But I think everybody's frustrated."
This is a natural process for any teams that outplays its expectations, and hopes to permanently stay above them rather than returning to earth. Portland made its bones playing a cohesive brand of basketball, and so the most concerning thing is that as they're getting their asses kicked this year, that chemistry and trust seems gone.
The Blazers just embarked on a five-game road trip, and they have an East Coast swing coming up soon. It's a difficult stretch, but perhaps the time together and tough conditions are just what they need to reclaim a place near the top of the Western Conference.