¡Ay chihuahua, mis amigos! In the (probable) words of Chipotle's social-media manager, it is a beautiful día in the U.S.-gay, because the Supreme Court has ruled to recognize same-sex marriages nationwide. And what is a civil rights victory but an occasion for your best friends, the brands, to pimp themselves out? Equality! Love! A loaded-ass burrito that will give you diarrhea, rainbow wrapper or none.
Above is Chipotle's real and true response to the great news. It is the best of the brand responses so far. But it is not the only one.
Oh yeah, celebrate equality with an effin' cone, my dudes and dudettes.
G/O Media may get a commission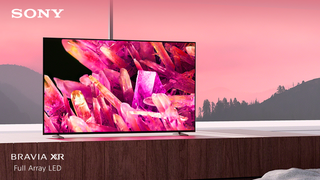 $400 off
Sony 55 Inch 4K Ultra HD TV X90K Series
These planes are both boys and just fucked and JetBlue is all for it.
The heartwarming plane-smell.

Please shop from our Lily Pulitzer collection (for your upcoming lesbian wedding).
Please shop at Macy's (for your upcoming lesbian wedding).
Love will have a better record than than the 49ers this year.
Gay Weddings: Pricele$$

Vi$a is here for the gays!

Jello is the food you eat when you are sick and old and have no teeth or want to honor equality.
Actually, it's just allergies.
Lots of people in power suits had deep conversations today about how their companies should bravely make their logos rainbow.
You can be gay, fat, skinny, pansexual, or metrosexual, whatever! Just buy this fuckin' bar of soap.
Dog mouths are cleaner than human mouths, did you know that?
No self-respecting gay man would be caught dead in Uggs.
Gay marriage? Miller Time.
Two dudes doing your laundry, fixin' your appliances, gettin' married.
This doesn't even make sense.
Who gives a-sexual!!!!!!!!!!!!!!!