We had to ask Mark Cuban for comment on today's legal filing, which consisted of a photo of the Mavericks celebrating a title. It's a dagger of a brief in the face of a suit accusing him of mismanaging the team, and it shuts down any comebacks. But Cuban deflected credit, telling us "it was all the lawyers."
So we called Thomas M. Melsheimer, Managing Principal at Fish & Richardson, which is representing Cuban's ownership. With a relationship dating back to the Broadcast.com days, Melsheimer has represented the Mavericks in a half-dozen cases, but none ever provided an opportunity quite like this.
"You don't have that many cases when you're watching television and a game ends, and you think 'wow, this is really great for my lawsuit.'"
The brief was written, signed, and filed by Melsheimer, who wasn't quite willing to endorse our initial characterization of the filing as a "Fuck You" filing. He pondered his choice of adjectives for a moment, and conceded it was "pointed."
G/O Media may get a commission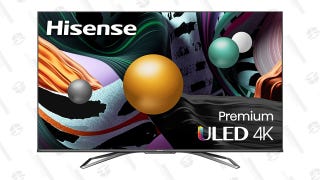 Save $350
Hisense ULED 65" Android 4K HDR Smart TV
Melsheimer says he and his partners took their time choosing the perfect photo for the occasion. Up for consideration: a photo of just the trophy on the podium, a the game 6 box score, and a newspaper headline. They apparently never considered a picture of Mark Cuban taking the Larry O'Brien Trophy into the bathroom.
He's a fan ("you can't be Mark's lawyer without being a Mavs fan"), but he insists today's filing was more than showboating.
"It's a humorous twist," he says, "but it has legal force. It makes a serious point that allegations of mismanagement are ridiculous. A substantial part of our defense is that the Mavericks are successful, and what more obvious success for an NBA team than an NBA championship?"
Coudn't one make the argument that a minority partner's goal is to maximize profit, not to win a title? Melsheimer dismisses that one. "Fundamentally in sports the most valuable franchises are the ones that win," he says. "You build brand loyalty, you build your fan base and you've built a tradition. Winning is the key to doing that. It's a long-term thing, if and Mr. Perot doesn't see that, he's clearly not a basketball guy."
To hear the defense lawyer tell it, Ross Perot Jr. and his Hillwood properties are looking for cash. They took a bath on a real estate deal, and Melsheimer says this lawsuit is an attempt to "intimidate the Mavericks into buying out their share," something Cuban isn't looking to do right now.
Always confident that the suit would be dismissed, Melsheimer saw "another nail in the coffin" each time the the Mavericks advanced in the playoffs. "And after this championship, I'd say this lawsuit has as much chance of succeeding in Dallas as a snowstorm in August."
(Yes, he actually said that. He's from Texas.)
EARLIER: Mark Cuban Files The Ultimate "Fuck You" Legal Brief