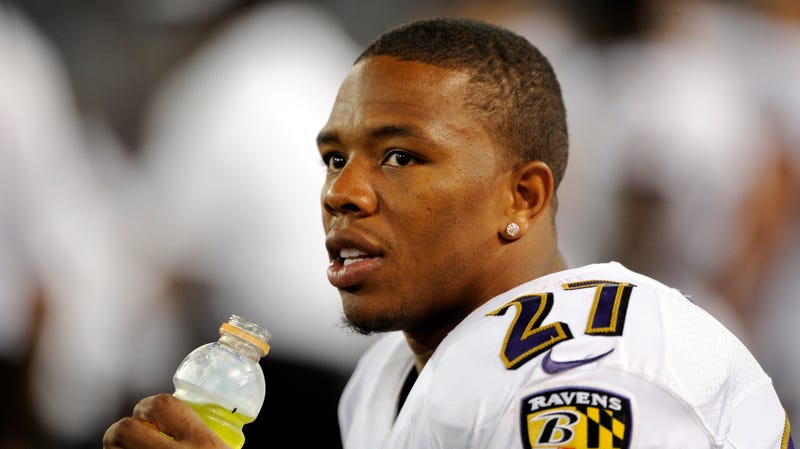 It's been two years since we've seen Ray Rice on a football field. It's been three years since he was an effective running back. It would take a team fairly desperate in the backfield to consider Rice as a possible answer. Oh, hello Browns!
Head coach Mike Pettine said yesterday that the Browns have had internal discussions about Rice—but only discussions for now. "We've talked about it," Pettine told SI.com, "but I don't think we're there at this point."
Wilbert Montgomery, the Browns' running backs coach, served that same role in Baltimore, and Pettine himself was a position coach for the Ravens. Familiarity breeds contemplation:
"Of course it's a natural question here because of Wilbert, and because I was with Ray when he was a Ravens rookie and know a lot of people in Baltimore. Obviously Wilbert was his position coach for Ray's first six years in the league. I'm not going to say it didn't come up in discussion, but at this point we're not there yet."
The Browns' first preseason depth chart lists Isaiah Crowell and then Terrance West, both second-year players, with 2015 third-round pick Duke Johnson somewhere in the mix. The corps has dealt with injuries and general ineffectiveness so far in camp, and Wilbert Montgomery is getting tired of waiting for a starter to emerge. "Nobody wants the role," Montgomery said Sunday.
So then there's Rice, who says he's kept in excellent shape after sitting out the entire 2014 season on a (since-overturned) suspension for domestic violence. He's got a lot going against him beyond the bad PR: he suffered a severe dropoff in production the last season he did play. Rice's 2013 saw his YPC drop by 1.4 yards from the previous year and more than 1.5 yards off his career average.
Yesterday, Rice offered an explanation for his weak 2013: he claims he was suffering from a torn hip flexor. There's no reason to doubt him, but that injury isn't exactly the absolution he'd like it to be. Most charitably, Rice is a 28-year old running back whose body may have already started to break down.
The league is replete with free agent backs for the picking. Is Rice a better option than someone from a list that includes Chris Johnson, Pierre Thomas, Steven Jackson, Shonn Greene, Ahmad Bradshaw, Ben Tate, and Knowshon Moreno?
Ultimately, it may be ability—or perceived ability—that dooms Ray Rice to unplanned retirement, rather than his role in one of the NFL's biggest embarrassments. Mike Pettine said as much, telling SI.com that Rice's reputation would only be a secondary roadblock, and not a particularly substantial one.
"I don't think it's gotten to that point, to say, 'Hey, I'd kind of be comfortable with it.' But I think it would get to that point if we arrived at it from a football standpoint, then asked that question. Instead of working the process backwards. Why bother with asking the question if the need never presents itself?"