The Cavs may have had their troubles almost blowing leads against the Pacers, yet they still swept Indiana away and got a week off before their second round series against the Raptors. Indiana gave the Cavs more trouble than they anticipated, but LeBron James remains untouchable so it sort of didn't matter. The Raptors are far superior to the Pacers on both ends of the floor and they are more equipped to give the Cavs a series. However, that did not start tonight, as the Cavs had no trouble blowing them out in Game 1, which only finished 116-105 because of some garbage time heroics.

Cleveland was aggressive from the start, jumping out to a double-digit lead in the first and consolidating it in the second. While the most attention-grabbing parts of the game came when Cleveland had the ball, the status of their shaky defense is as important as anything. 
They opted to defend Toronto's talented ballhandlers by aggressively trapping off the pick-and-roll. You can counter such a scheme by passing out of double teams quickly and hitting open shots, and while Kyle Lowry and DeMar DeRozan were adept at zipping the ball out when they needed to, Toronto didn't shoot the ball well enough, making just five of their 22 two-point shots between the paint and the three-point line. They will likely score more in the next few games, since the Cavs still do not have the personnel to stop all of their scorers every night (although Cleveland's newly aggressive defense helped them get out and run in transition.)
But Toronto's minor shooting struggles will be irrelevant if the Cavs keep scoring like this. Kyrie Irving went at Lowry and everyone else with swagger. He scored 24 points, handed out 10 assists, and showed off his all-world handle more than a few times. Irving can shake anyone out of their shoes, but his underrated ability to pass out to the perimeter at strange angles helps open up Cleveland's small army of shooters.
G/O Media may get a commission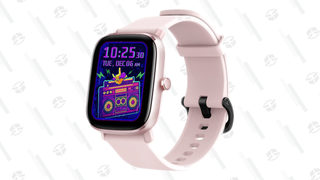 20% Off
Amazfit GTS 2 Mini Smart Watch
Get fit
Has built-in Alexa so you can ask questions and carry your smart assistant around with you; it has a battery that can last up to 14 days, has over 70 different sport modes, is 5ATM waterproof, and tracks stats like your heart rate, calories burned, sleep, and more.
LeBron James was, of course, masterful, going for 35 points and 10 boards in 41 minutes. That's a lot of time to log in a blowout, but he was so clearly the best player on the court for the duration. He got to the rim when he wanted and shot well enough from the outside to keep defenders honest. The Cavaliers seemed determined to run, and James is a terrifying man to cover in the open court. The Raptors will throw P.J. Tucker and DeMarre Carroll at him, both of whom are fine defenders who cannot stay with LeBron. He was relaxed enough to maybe consider a slug of beer after a drive.
Toronto is notoriously shaky in the opening games of their playoff series, so they should bounce back. Their bench unit didn't do much aside from Tucker, and Jonas Valanciunas looks out of place against the hyperkinetic Cavs. The Raps have another gear in them, but they will need to do a lot more to shut down LeBron James while he's rolling like this.