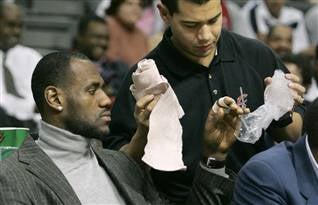 I'll admit up front that I probably don't know what I'm talking about with this LeBron finger injury thing. The Cavaliers have a staff of trainers with many small medical items clipped to their belts and handsome framed certificates at home, and I still use Flintstones band-aids. But what the hell... ? James sprained the index finger of his non-shooting hand in the second quarter, and by the third quarter he was on the bench in street clothes. Would this have kept Oscar Robertson out of a game? Wouldn't Jerry West have wrapped it in a dirty sweat sock during a timeout and kept playing? The Pistons went on to a 109-74 win.
From AP: "James returned to Cleveland's bench late in the third quarter, sporting a suit and turtleneck, with tape wrapped around his index and middle fingers on his non-shooting hand. Late in the half, ice was packed and wrapped briefly over his left hand. James did not respond to a few questions as he walked to the team bus after the game carrying a pizza." Well, I guess that is quite an investment, and the Cavaliers want to protect it. And a sprained finger can hurt like a mother. Just seems odd to me. James was injured with 4:41 remaining in the first half, when the Pistons' Nazr Mohammed fouled him. "I didn't hit him that hard, but it's easy to sprain a finger," Mohammed said. "I'm sure he'll be OK." Tayshaun Prince had 16 points and Antonio McDyess had 14 for the Pistons.
• You Cannot Stop The Warriors. So Don Nelson is pretty much King of the San Francisco Bay Area now, after Golden State won yet again on Wednesday, establishing itself as the only winning team in any sport between Portland and Los Angeles. Stephen Jackson hit two key 3-pointers late in the fourth quarter to pace a 103-96 win over the Kings, and teammate Monta Ellis had 22 points. The Warriors have won seven of their past eight games.
• Tony Parker Lays Down The Beat. Tony Parker had 20 points in the second half and finished with 29, and 11 assists, as the Spurs cooled off the Wizards 109-94. What, you want to dance?
• Big Wednesday. Yao Ming, possibly the only NBA player not frightened by these, had 31 points and 13 rebounds to lead the Rockets over the suddenly-struggling Suns 100-94. Yao was 12-for-19 from the floor and scored eight of the Rockets' last 13 points.