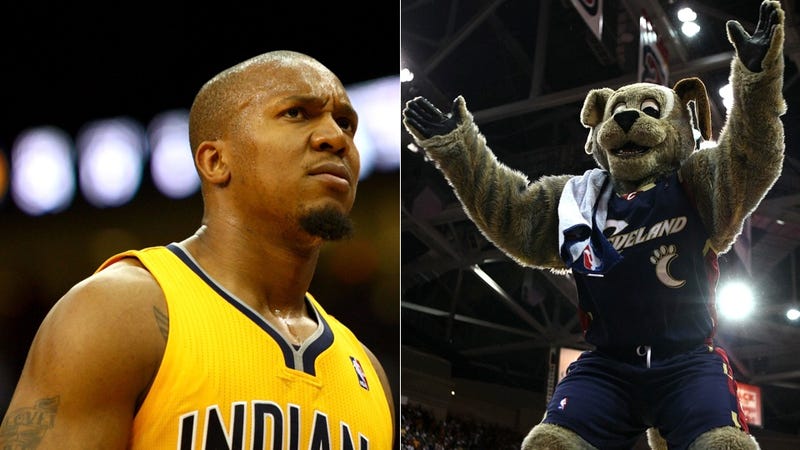 It's all fun and games until an NBA player lands a punch that sends a man in a giant dog costume to the hospital. This was the scene before last night's Pacers-Cavs game at Quicken Loans Arena, according Tom Reed of the Plain Dealer, who reported the story with the all the seriousness it deserved:
Moondog was spotted running through the hall, his dog head removed, clutching a towel to his eye. The mascot occasionally has fun sparring with opposing players before the game or during a timeout. Moondog and West exchanged some playful punches and apparently one caught him hard enough to do damage.
After the game, West seemed to be genuinely apologetic. Here's his explanation for what happened:
"He jumped at me so I thought we were playing around and then the next thing I know he went down. It was definitely an accident."
Moondog was treated and released and should be OK. The Cavs play a pair of road games Friday and Saturday before returning home Sunday to face the Magic, which is the next time they'll need Moondog. According to the Plain Dealer, Moondog's status for Sunday is not known, and it's not clear if the Cavs will have to make a roster move to account for his absence. Perhaps more will be learned today.
Photos via Getty.
Cleveland Cavaliers mascot Moondog treated and released from hospital after a play fight gone bad with Indiana's David West [Plain Dealer]