Part of the fun of paying close attention to the early part of the NBA season is picking out the trends and performances you didn't quite see coming. This part of the year is all about asking questions like, Whoa, Kristaps is a star now and the Knicks might be pretty good? and Wait, can the Clippers give the Warriors problems? Those kinds of questions eventually get definitive answers, sometimes sooner than you'd like.

Last night's slate of nationally televised NBA games promised two exciting match-ups, the upstart Knicks against the reigning champion Cavaliers and the so-far dominant Clippers against the Warriors. Both games were, essentially, over by the end of the first quarter.
The Cavs blitzed the Knicks with a 36-point first quarter that included an easy 16 points from Kevin Love, who got loose from Kristaps Porzingis often enough to go 3-for-6 from deep in the quarter. LeBron James converted six of his seven field goal attempts in the first half, and finished it off with a big-boy dunk that looks very good in slow motion:
The other highlight of the night was the Cavs turning the court into a high school lunchroom while they were up 30 in the fourth:
G/O Media may get a commission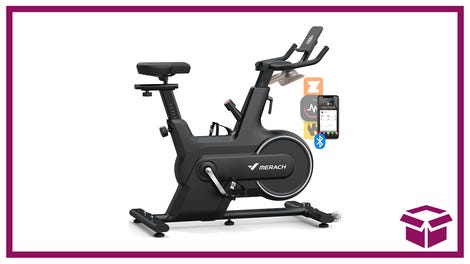 14% off + Coupon
Merach Indoor Cycling Bike
Okay, so that game didn't have much for us, but surely the Clippers, armed with plenty of star power and grit, would give the Warriors a game? Hmmm, nope.
I mean, what can you even say about the Warriors? They scored 37 points on the Clips in the first quarter last night, were never under any real threat of losing the lead, and did it all while playing some of the prettiest basketball you can imagine, as you can see in the highlight reel below:
The Warriors finished the game with 32 assists, and are currently on pace to set the record for the most assists per game in NBA history. Ten different players tallied an assist last night, and they won by 17 despite shooting just 7-of-30 from behind the arc. Their net rating is currently 13.6, which is two points better than the mark they finished with at the end of last year's 73-9 season.
There are no guarantees that this NBA season is destined to end in a Finals rematch, but last night was a reminder that for all the time we've spent drooling over Russell Westbrook's triple-double factory and wondering if we are seeing Giannis Antetokounmpo ascend to stardom, the only questions that really matter come April are Who are the best teams in the NBA? and Can anyone stop them? Right now, it looks like the answers are the same as they were last year.