Safeties are one of the most exciting plays in football. That might sound weird, since they're only worth two points, don't decide games very often, if ever, but they're fun! Also, the safety is the only play in football where players celebrate by impersonating the referee.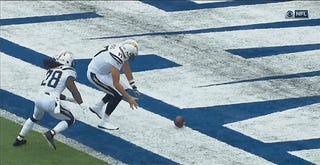 The Chargers-Giants game featured a funny safety today. Spencer Pulley snapped the ball before Philip Rivers was ready, and the ball bounced back into the end zone. Instead of risking a Giants touchdown, Rivers just underhand tossed the ball out of the back of the end zone.

The Chargers trailed the Giants, 9-0, after the first quarter.