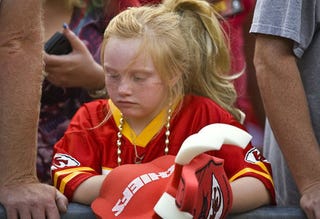 The poor Kansas City beat writers are running out of angles; there's only so many ways to write about how a team sucks. But here's a new one: won't somebody please think of the children?!
The team's new czar of youth relations says a child usually solidifies their sports loyalties between 6 and 10 years old. That could be a problem, because KC hasn't had a winning season since 2006.
It's tough when you're losing, losing boringly, and you don't have a marketable player.
I used to like them," says 11-year-old Griffin Berry, wearing a No. 32 Chiefs jersey. "This is just something that was for sale."
You think that kid knows who Marcus Allen is? You think he gives a toss that the team once had a good player, who retired before he was born?
So the Chiefs are planning to open a "sports lab" at Arrowhead, and to launch a web site and television show geared toward younger fans. But kids are the ultimate bandwagoners; if your team is winning, they'll want to be part of the excitement. And that doesn't seem like it'll happen anytime before puberty.
Things could be worse though; they could be in a competitive market. Young Kansas Citians are pretty much stuck with the Chiefs for life, because, c'mon, are they going to be die-hard Royals fans?
Chiefs Are Losing Younger Fans As Their Losses Mount [KC Star]