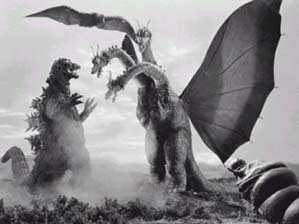 The NBA Closer is written by Matt McHale, who is in no way related to Kevin McHale and who has taken the necessary legal steps to ensure that it stays that way. When he's not screaming in soulless rage at the merciless Pagan gods, he can be found making fart jokes at Basketbawful. Enjoy!
• The King versus The Black Mamba. In the grand tradition of Mothra versus Godzilla, Alien versus Predator and Screech versus Horshack, two NBA mega-superpowers collided yesterday. And the force of their mighty, slapping impact actually tore a hole in the Staples Center roof, letting in a steady flow of deadly water drips that delayed the game for 12 minutes near the end of the first quarter. Kobe Bryant slithered his way to 33 points, 12 rebounds and 6 assists, but he shot 4-for-15 in the second half (and only 1-for-7 in the fourth quarter). Lebron James, on the other hand, hit five of his seven fourth quarter shots - one of which was a sick fadeaway with Kobe right in his mug - and netted a majestic 41 points in the game to propel the Cavaliers to a big 98-95 win over the Lakers. James then went on an unstoppable rampage, stomping through Los Angeles and smashing the city into dust.
• Get well, KG! After his Willis Reed-like return from a sore tummy muscle on Friday night, the Big Ticket said, "My philosophy has always been that if I can run, if I can move, if I can blink, if I can wake up in the morning, I'm going to play." Well, Garnett didn't play against Orlando, so...what? His eyelids stopped working? His alarm didn't go off on Sunday morning? Somebody needs to look into this. In his absence, Paul Pierce led the C's in points (24), rebounds (9), and angry scowls (37). Boston used a little Celtic Pride to erase a 16-point second-half deficit, but Hedo Turkoglu - who had a game-high 27 points - hit an off-balance three-pointer as time expired to secure a 96-93 victory for the Magic. Somewhere, Chris Webber must have been thinking "Oh, now you can hit a clutch shot? Now?!"

• It's all about being aggressive. I'm starting to get the funny feeling that Kirk Hinrich likes playing without Ben Gordon (sprained right wrist) and Luol Deng (sore left Achilles). After leading his team with 31 points (12-for-23), Captain Kirk explained his sudden and unexpected competence: "I'm just trying to be aggressive. (I'm) trying to make a conscious effort to take the ball to the basket, trying to make plays." This is quite a departure from earlier in the season, when he was clearly trying to not make plays. Unfortunately for Hinrich and the Bulls, Leandro Barbosa used a baseline drive and a couple three-pointers to spark a 12-0 fourth quarter run that propelled the Suns to an 88-77 victory. Barbosa, who had gotten off to a slow start, described how he turned things around: "I always like to be aggressive. I saw the space for me to go to the basket and I made the shot, so I was happy." Just think what a happy, wonderful place the world would be if we could all be a little more aggressive.

• We're coming for you, Seattle. A few days after beating the Phoenix Suns with a career-high 39 points, Al Jefferson used a new career-high of 40 points to beat the Nets 98-95. After the game, Jefferson said: "Twenty games ago, we would have lost the game tonight." When asked how the T-Wolves could have possibly played tonight's game 20 games ago, Jefferson went into a mild rant about quantum physics, tachyon particles, and warm butter. Anyway, Seattle's lead on Minnesota is down to one game, so we could have a new "worst team in the league" soon. Meanwhile, Richard Jefferson scored 35 points for the Nets, who have lost nine in a row and can also rightly be considered one of the worst teams in the league.

• Brandon Roy has a fever. A fever for the flavor of...victory. Despite a warm, clammy forehead and what Blazers coach Nate McMillam described as "watery eyes," Roy scored 24 points and hit the go-ahead freethrow with 2.3 seconds left to seal a 94-93 victory over the Atlanta Hawks. Joe Johnson scored 19 points and Anthony Johnson dished out 11 assists for the dirty birds, who dropped to 18-22 overall and 6-13 on the road.