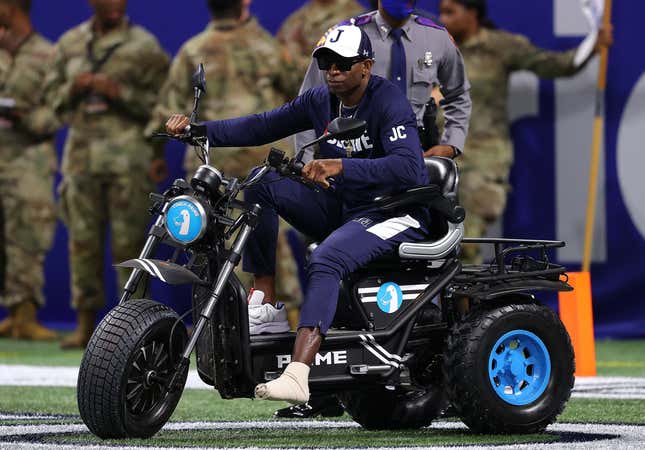 Being a controversial figure that evicts strong emotions on both sides of the coin is what Deion Sanders has always been the best at — outside of shutting down your favorite wide receiver. From his playing days to his past and current job as a coach/leader of young athletes, Sanders' resume shows a history of inspiring victories and epic failures.
Dodgers World Series guarantee was trash! | Trash Talkin' Tuesday
Last week was the perfect example of that.
On National Signing Day, Sanders shocked the world when he was able to flip No. 1 overall recruit Travis Hunter from Florida State — Sanders' alma mater — to Jackson State. It was one of those moments that shook the sports world to its core, as people couldn't understand how a kid who is destined to be a top NFL draft pick in a few years would turn down a program like FSU to go play on the FCS level at a Black college.
The racists and "progressives" had a field day with this one as they were unable to conceal their prejudice — as the fear of "what will we do if all the Black players start going to Black schools" began to seep into their psyche.
I was more surprised that FSU was even able to recruit someone of Hunter's talent given their current circumstances and lack of success over the last few seasons. But that's a story for another day.
Nevertheless, it was just another example of the spotlight that Sanders is bringing to HBCUs. On Saturday, JSU met South Carolina State University in the Cricket Celebration Bowl — the Black College National Championship Game — at Mercedes-Benz Stadium in Atlanta as the game was played on ABC in front of the first sellout crowd in the game's history.
In a year in which Sanders' presence, antics, and words have put JSU and HBCU football on arguably their biggest platform — the Tigers got obliterated by the Bulldogs for the world to see, falling 31-10 in a game in which the greatest cornerback of all time's secondary got repeatedly manhandled.
"South Carolina State kicked our butts," said Sanders after the game. "Every way, every fashion. Out-physicaled us. Out threw us. Much more disciplined than us. And I feel like we were overconfident, and overlooked them as if they were just going to hand us the game."
It was a week of extraordinary highs and devastating lows for Sanders as he took home the Eddie Robinson coaching award this year, while his son — Shedeur — became the first HBCU player to win the Jerry Rice award, as JSU completed one of its best seasons in program history at 11-2.
But, is it worth it?
Do the positives outweigh all the negatives that have taken place since Sanders took the job in Jackson?
I'll let you decide. But, first, let's take a look at them.
The Good
The Bad
Sanders works for Barstool, arguably the most racist, homophobic, and misogynistic sports site on the web. He said that God told him to go there, as if he was Moses.
A month before Sanders was announced as JSU's newest coach at a pep rally in the middle of a pandemic that put multiple people at risk just to celebrate his arrival, he attacked players that were choosing their health and opting out of sports due to COVID-19. "All Players OPTING out in all sports PLEASE BELIEVE the game will go on without u. This is a business & don't u EVER forget that. There's NO ONE that's bigger than the game itself. Only the ref, umps & officials are that important that u can't play without them. NOT YOU! #Truth," he tweeted.
After defeating Edward Waters College 53-0 in their season opener in the spring, the performance that JSU's players put on was hijacked by Sanders as he made the postgame press conference all about how his clothes and valuables were stolen during the game — only to find out that they hadn't been. "This is about to be the best news conference you've ever seen," Sanders told reporters, according to Sports Illustrated — as it was all about him, as usual. A month earlier, Sanders reportedly had a boombox stolen from his car. Days later, Sanders posted a video showing that the radio had been returned. The only reason we knew about any of these incidents is that Sanders just had to be the center of attention and tell us.
In an attempt to drum up convenient outrage, in May, Sanders took to social media to share his disbelief that there weren't any HBCU players taken in the 2021 NFL Draft. He forgot to mention that the pandemic ravaged HBCU football in 2020, that this was the ninth time since 2000 that an HBCU player wasn't selected, and that in the Sanders' family new-found love for HBCUs that of the 20-plus schools that were recruiting his son — Shedeur — none of them were HBCUs. Shedeur was committed to Florida Atlantic until his father was on an HBCU payroll.
Sanders was in the national spotlight on SWAC Media Day after he walked out of a media availability because a reporter called him by his name. "You don't call Nick Saban, 'Nick.' Don't call me Deion," Sanders told Nick Suss of the Clarion-Ledger.
On that very same Media Day, Sanders had a Black reporter banned from covering his team because he knew that he and his team were going to be asked some tough questions due to a report that came out earlier in the week detailing how one of his most coveted recruits was charged with assaulting a woman.
In September, Sanders took issue with HBCUs taking part in "buy games." "We're supposed to lose by all accounts," he said. "We don't supposed to be in this game. We getting paid to get beat, right? We're getting paid to get beat. We gonna see how that works out." Getting paid a large sum of money to get beat up on by a better opponent is something that Sanders' ego can't take. He doesn't realize how important "buy games" are to HBCUs as that money goes a long way in HBCU athletic departments.
In November, it was reported that Sanders "impressed," as he was an alleged candidate for the TCU head coaching job before his first full season at JSU was over. Less than two months earlier, Sanders had claimed that he was "locked-in" at JSU. He's still never publicly denied that talks didn't happen between him and TCU.
Earlier this month, it was revealed that Sanders brought in JSU alum and current Instagram model Brittany Renner to speak to his team during homecoming so that she could "give them some game." Sanders is a believer in the problematic stereotype that women are always at fault when male athletes find themselves in compromising situations with women, although men usually pursue these women and make these willful decisions on their own.
According to the Clarion-Ledger:
Quaydarius Davis, an incoming four-star wide receiver from Dallas, was expected to plead guilty on a charge of 'assault causing bodily injury family violence,' a misdemeanor in Texas, stemming from an incident in March.
The Black coach at the Black school who claims to be about the uplifting of Black people got a Black reporter banned for doing his job. That's not supposed to happen at HBCUs.
Think about that.
Due to the fallout from the "racial awakening" of 2020 and the deaths of George Floyd, Ahmaud Arbery, and Breonna Taylor, it has become cool — and convenient — to finally start caring about Black lives. And at the tip of that iceberg is the trend of "supporting" HBCUs — for the time being.
In the summer of 2020, Makur Maker became the highest-ranked basketball recruit to ever choose an HBCU when he committed to Howard University. ESPN said it was a game changer. A year later, Maker all but blamed Howard for being the reason why he didn't get drafted.
This past summer, Master P claimed that he was going to get his son — Hercy Miller — a $2 million NIL deal as he was going to play college basketball at an HBCU, Tennessee State. A few months later, Master P was blaming HBCUs and Tennessee State for their lack of medical resources, as his son was transferring after one season.
And now, Sanders, a man attempting to be a savior for HBCU football, is on the biggest platform of them all with a history that includes the closure of a high school named after him — Prime Prep — which destroyed the lives of multiple student-athletes due to the way it negatively affected their educational futures, which was highlighted in a Washington Post article last year. Sanders is also the guy whose last job before taking over at JSU was as offensive coordinator for a Texas high school program that was so corrupt that it got kicked out of the state's Association of Private and Parochial Schools after a slew of probations and violations.
Again I ask, is it worth it?
Is the attention that people like Maker, Master P, and Sanders have recently brought to HBCUs worth the drama and baggage that comes with them? What's the point of building a million-dollar program if it's going to be in foreclosure in a few years?
That's where I see JSU in the not-too-distant future, as I predict multiple NCAA violations during Sanders' tenure, and instead of being there to deal with the fallout, he'll more than likely have already bolted for a "better" job at a PWI — predominantly white institution.
Every few decades, HBCUs are given a platform to be celebrated like no other when Corporate America remembers that we exist. And right now, due to Sanders and others, we're at a point where some HBCU fans and alumni are beginning to adopt the same mentality that is prevalent and accepted at PWIs, in which the actions of the school's football coach don't matter as long as things are going well because winning outweighs character.
That's not why HBCUs were created, while we have survived — and thrived — on how we can endure.
The HBCU experience can't be fully explained, it has to be lived. And in this pivotal moment, too many people who didn't attend HBCUs — or know how they function — have too much say in how they should operate. Sanders is not an HBCU alum, he just works at one. And that makes him no different than the people who only care about us when it's Homecoming season, or when they want to look cool in front of their boss and mention that they have a friend or family member that's attended an HBCU during a diversity, equity, and inclusion (DEI) meeting.
What cannot be questioned is the spotlight that Deion Sanders has brought to Jackson State University and HBCU football. But, what needs to be examined is if the value of HBCU culture should be lowered for a man that will only be around as long as it's in his best interest, all because he's providing temporary exposure.