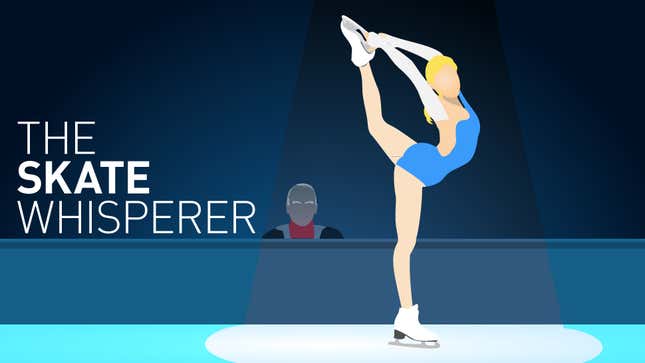 Gracie Gold was having a bad night. The 18-year-old figure skater was about a minute and a half into her free skate at the U.S. International Classic in September when she singled a double axel. It was a significant mistake—a loss of a couple of points—but for a disciplined skater, that kind of error shouldn't have resulted in disaster.
Is Texas or Florida State a bigger national title contender? | Agree to Disagree
Gold, though, started to come undone. Upon flubbing the axel, she proceeded to botch her next three jumps, too, and when she wasn't botching her jumps she was skating with a listless and distracted air. She wound up placing second in a competition she should easily have won. It was the story of Gold's young career: enormous, Olympic-level talent, coupled with a reputation for getting the yips in the big moment.
Four months later, when Gold took the ice for the U.S. national championships, her skating told a different story. She had the speed and energy of her best previous performances, along with a newfound sense of discipline and style. Even her costumes had matured: less Cinderella, more Grace Kelly. Over the course of her two programs, Gold easily snatched the crown from reigning U.S. champion Ashley Wagner, winning her first national title and a ticket to Sochi.
On the surface, Gold's newfound steeliness seemed like a surprising about-face. But the truth is that in the months since her September disappointment, she had moved to California to train with Frank Carroll, a strict, business-like skating guru known for getting his skaters out of their own heads. And that, it turns out, is exactly what Gold needed.
---
Carroll has been coaching for over 40 years, and the septuagenarian made his name alongside some of the most legendary skaters in American history. Former and current students include Michelle Kwan (five-time world champion and Olympic silver and bronze medalist), Evan Lysacek (Olympic gold medalist in 2010), Linda Fratianne (two-time world champion and Olympic silver medalist), Timothy Goebel (Olympic bronze), Denis Ten (who won bronze in the men's competition in Sochi) and Mirai Nagasu (who placed fourth at the games in Vancouver and just missed out on a trip to Sochi this year).
Given his advancing age, Carroll has delegated some of the more physical elements of his job to other instructors. He has a physical trainer to assist his students with their off-ice practice, and a Bolshoi-trained ballet coach to help them develop grace and style. He works with choreographers like Lori Nichol to ensure his students' programs are artistic and original, and he calls in friends and officials to help him evaluate those programs for technical difficulty and scoring value. Much of what Carroll himself provides, in addition to on-ice technique, is a mental edge, an internal toughness and perspective, that allows his skaters to see themselves as champions—and then to become them.
"Frank Carroll knows what his skaters need to do to win, and he finds a way to get them to do it," said Kristi Yamaguchi, a 1992 Olympic gold medalist. "With Gracie, I think, it was giving her confidence and keeping her focused through a full competition. He's mastered [the art of] being able to bring out the best in his skaters, and knowing how to deal with each them depending on their personalities."
"There's a difference between being a coach and being a teacher," Carroll told me in December. "Teaching involves being able to on-pass knowledge about how to do a skill; how to teach someone to use their body to do a jump, or use their feet to create speed, or how to make a spin go faster. A coach is somebody who can prepare people for competition and give them a philosophy about how to be champions, how to deal with the disappointments and the triumphs, how to budget their time. And a coach teaches them the philosophy of being a competitor."
This involves a little roleplaying. From the first day Carroll begins working with a skater, he emphasizes the importance of carrying oneself like a champion.
"I tell the student to pretend I am a very mean, cranky, nasty judge, and that I want to see them go on the ice and warm up as they would at a competition. Not their jumping, not their spinning, but their stroking and skating," he said, referring to the brief group warm-up sessions skaters are allowed before taking the ice in competition. "I tell them, 'I want you to convince me, by the way you step on the ice and the way you move around, that you're the very best skater in this group.' Then I'll let them loose, and I'll see what their idea of impressing people is."
In other sports, coaches tend to get too much credit for their supposed guru-like ability to unlock "the winner within," as if the athletes themselves were nothing more than unformed masses of pure potentiality, in need of only an expert molder. But figure skating, at its uppermost levels, is a little different. Athletic tools are fairly evenly distributed across the sport. The top skaters in Sochi this year are performing similar combinations of the same moves, which means the final standings come down to who performs them best. The sport is psychological attrition disguised as judged competition. A top-10 skater who executes the performance of a lifetime could find her way onto the podium, while a single fall could knock a reigning champion out of the running. With such a thin margin separating the best from the very good, the intangibles—the ability to not come unglued, say—do matter. For the top competitors, it's all about handling the pressure.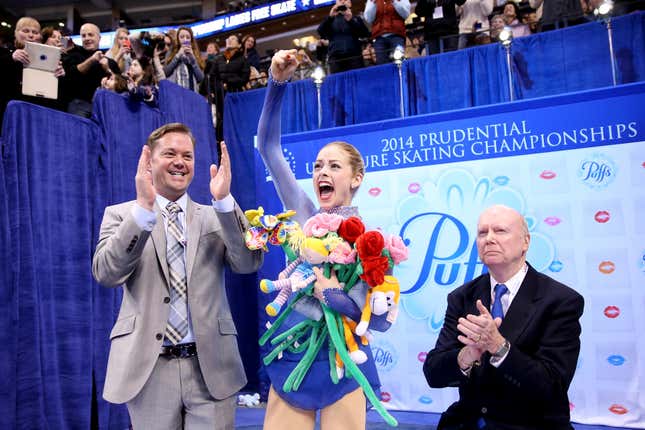 Gracie Gold, flanked by coaches Scott Brown (left) and Frank Carroll, celebrates after her free skate during the national championships in January. Photo by Matthew Stockman/Getty Images.
---
And there is a lot of pressure. Competing as an elite skater can cost upwards of $60,000 per year, and earning money as an amateur is very difficult unless you're an international star who can book lucrative endorsements. (See: Yuna Kim.) Over the years of training, parents make sacrifices. Siblings make sacrifices. The athletes, obviously, make sacrifices.
"I'm one of five kids, and I just felt everyone in my family had sacrificed so much," said Linda Fratianne, who competed in the 1976 and 1980 games. "There's so much pressure. So you have to mentally turn it around and not blow it up in your head as a do-or-die moment. Because that will overwhelm you."
This is where Carroll comes in.
---
Carroll has spent a lifetime getting in his students' heads, and he's come up with what appears to be an effective formula for helping his skaters deal with competitive pressure: extreme repetition and emotional detachment.
He insists his skaters repeatedly do full run-throughs of their programs, and, unlike many of his peers, he will not tolerate a skater who stops midway through the routine due to a fall or a mistake.
"You have to prepare them for any mishap during a program," he said. "That means if you have a fall [in practice], you get up quickly and you go on. If you are doing a program you never complain. You prepare the best you can so that at the moment of test, when you're putting them on the ice, you can say to them, 'You do this program every single day, all the way through, and you do it extremely well or perfectly. Get out there and do it like you do it, because this is just another practice day.'"
You could hear a little echo of Carroll in Gold's comments to reporters after nationals. "When people go in and they want to make a performance that Olympic moment, they just end up getting tied into knots," Gold said. "I don't think I have to do anything extraordinary. I just have to do my job to the best of my ability—just my best average even—and I think I'll be pretty good."
"It's all about tunnel vision for me," Gold said.
Carroll does everything he can to keep distractions off the ice. When students refuse to practice their programs, he threatens to stop coaching them. If they curse or throw a fit, he kicks them out of practice for the day, and lets security deal with the rest. He refuses to engage emotionally.
"If you see your coach getting emotionally worked up, it just gives his students the opportunity to be the same way," said Mauro Bruni, one of Carroll's former skaters. "He'll never get wrapped up in the emotion. He never raises his voice. He's very businesslike on the ice, and I found that different from other coaches I'd worked with in the past. He's calm, straight to the point. There's no bullshit."
"If my eyes would start to well up because I was having a bad day, he'd say, 'I don't want to see any tears today,'" recalled Fratianne. "I never crossed Frank or pushed back against Frank; if I ever got angry, it was mostly at myself."
"I don't want to hear, you're emotionally upset. I don't want to hear, this didn't go right. I don't want whining. I want training," Carroll said. "The only way to have success is through preparation and, yes, I understand you're nervous, but I don't care. Neither do the judges care. No one cares. What they want to see you do is get through this program from the start to the finish very, very well."
---
Not everyone thrives under Carroll's exacting demands, though, and not everyone is able to mark a clean detachment between his or her life and what happens after taking the ice.
"I think that the skaters that get him the most are the ones who are willing to really show his level of commitment," said Scott Hamilton, an NBC commentator and Olympic gold medalist. "Look at Michelle Kwan—she totally answered his commitment and his work ethic, and that was a great source of power for her. And Evan Lysacek—same thing—nobody works harder than Evan. I think those are the skaters that get the most out of Frank."
By contrast, he has had a harder time working with skaters (or skaters' parents) who won't go all in on the Carroll method. Nagasu split with him in April 2012, and Carroll has since referenced emotional problems and a lack of discipline as one source of strife between them. Carroll booted U.S. champion Tiffany Chin from his roster because he couldn't handle her mother, who he said interfered with and second-guessed his training. (Chin's mother is also famous for a 1986 television interview in which she interrupted her daughter—the subject of the interview—to berate her for being lazy.) And there was Christopher Bowman, a U.S. champion and two-time Olympian, famous for his larger-than-life personality, who struggled with drug addiction for years before dying of an overdose in 2008, long after he and Carroll had stopped working together. Carroll has since discussed the anger and frustration he felt working with Bowman, not just because of his erratic and deceptive behavior toward him as a coach, but also because he was unable to reach his considerable potential.
"You cannot save them all," Carroll said. "You can do the very best you can to give them a philosophy of being fair and to evaluate things honestly, but sometimes if they're a highly emotional person, and they have demons in their head, and they're unable to set aside these demons, it can be ugly and impossible."
Even Michelle Kwan, who worked with Carroll for the majority of her competitive career, announced in 2001 she was splitting with her longtime coach just four months before the 2002 Olympics. Carroll suggested in interviews at the time that she had become distracted by her newfound fame and fortune.
"When Michelle Kwan was at the top of her game, she was a rock star in our country. You have no idea," he told me. "I mean, I have been walking down streets with her in cities when people start screaming and chasing her. You would think it was Elvis Presley or something."
When a skater reaches heights like that, he said, "it draws them away from the connection with you sometimes. They have the media and the world telling them they're an angel sent by god down to the earth to perform, and you're the cranky old man in the ice rink saying, 'You know what, I didn't like the way you just did that triple flip.' And so it does drive a little bit of a wedge between you."
Nevertheless, he tries to prepare his students for this, just as he tries to prepare them for everything else.
"If you can get into their heads, so they know this is a scenario that may come up, you can try to prepare them. For all of this stuff, you try to keep it straight with them," he said. "But there are always people pulling them in a different direction. Always."
Carroll has made it a point throughout his career not to be a surrogate parent to his skaters, and in part it's this attitude of omniscient detachment that makes him so good as a coach. He has a set of tools that he passes on to his students, and these tools, he says, are the keys to success. There's nothing particularly special about them; in fact, they're very basic, which is the point. In a sport so given to emotional superabundance that it sends its competitors to a designated "kiss and cry" area, Carroll has tried to reduce performance to a dispassionate sum of hard work and psychological robustness. Emotions, his method suggests, can be shaped and trained like any muscle.
"I don't think I have all the answers about how to be a coach, how to be a trainer, how to be a dietician, how to be a philosophy builder, but I think I have a pretty good mind and I think that I make good decisions. And, you know, my kids have done very well over the years," Carroll said. He paused. "What am I trying to say? I believe in my own philosophy. Hallelujah."
---
Lucy Madison is a NYC-based writer and reporter. Her work has appeared at the Awl, the Hairpin, Interview, CBS News, and more. You can follow her on Twitter here.
Top image by Jim Cooke.