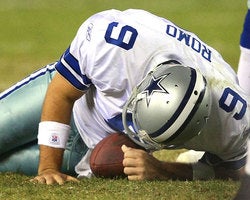 As the Eagles celebrated a few doors away, Tony Romo was discovering that no amount of soap and water could wash away the smell of yet another December failure. He even collapsed in the shower while trying.
It's true; Romo crumpled while taking a shower following Philadelphia's 44-6 win on Sunday, due either to a rib injury, a back injury, or the flu: Choose one. He had to be helped back to his locker, but after being checked out by paramedics he seems to be fine. The Cowboys' franchise, however, is not. As you can read below, they were still getting pounded as Monday dawned.
From the Dallas Morning News:
As someone who was standing there watching this whole scene unfold, I can tell you the players were shocked. They didn't know what to do. Deon Anderson went out running for emergency help, but Maurer and associate athletic trainer Britt Brown were all over it.

Adam Jones, of all people, was standing there yelling at me, another reporter and a TV camera man to get back. Let me tell you, running into the shower was the last place we needed to be at that moment. When asked later what happened, Romo said, "Um, you know, I was just a little banged up, I guess."
Meanwhile, lest we forget, this was huge for the city of Philadelphia, which got some help from the Raiders, of all people, and now find themselves in the playoffs.
• Tony Romo Collapses In Lockerroom Shower. Anyone who says this isn't a big deal or makes a joke about needs to take a step back from things for a bit. It's great to hear now that he's okay, but things that seem minor can turn sour real quickly; take a look at Chris Simms or Al Harris. What may seem like a normal injury may have done serious internal damage and know one knows. And even though Romo had a bad game, he still tried his freaking hardest even though he was getting pounded into the turf nearly every single play. That is more than I can say about a lot of the team. [Blogging The Boys]
• Tony Romo Collapsed In The Shower. "I think the Eagles ran the soap all the way back." [Dallas News comments]
• Cowboys Laughing, Acting Like 'Last Day Of School' On Return Trip From Philadelphia. According to Mark Friedman (1310 The Ticket Dallas radio), the Cowboys charter was not the sad, sullen, and despondent scene that one might expect. He described the scene as "like the last day of school", with dominoes being played in the back and lots of laughing and carrying on. He said that he was reluctant to say anything, seeing as how the Cowboys are nice enough to allow media members on the charter, and that only leads me to believe that he may have muted the reality of what was actually going on. Friedo did not mention any specific names, nor did he say if alcohol was flowing, but he made it pretty clear that if you did not know who won the Cowboys-Eagles game, you just might assume it was the Cowboys from their conduct on the plane. [Dallas Sports Fans
• Stat Of The Day. Against Dallas in the month of December, Andy Reid has never lost. That's the principle difference between these two teams. The Eagles can close, the Cowboys can't. Credit to Reid, the coaches, and the leaders on this team for that. Also Reid is 3-0 in the wildcard round of the playoffs... [Bleeding Green Nation]
• A Trip To The Woodshed. They bumbled and fumbled the playoffs away, Now they get to sit home and watch Philly go play, Cause the Eagles gave Dallas a Christmas regret, With a trip to the woodshed they'll never forget. [Ryan Parker Songs]
• Eagles Fans Want Mercy For Cowboys?. With Philadelphia going ahead 41-3 and Dallas committing its fourth turnover, there are Eagles fans from this city known for its boxing savvy calling for a stoppage. After Joselio Hanson's 96-yard fumble return for a touchdown, hundreds of people in the seats waved their arms like Mills Lane, gesturing for mercy for the hated Cowboys. And this was before the Cowboys committed turnover No. 5. [NFL Network]
• Gutless Cowboys Embarrass Dallas. "The most gutless team in franchise history." That's how Monday's Dallas Morning News referred to the current edition of the Cowboys following a season-ending 44-6 loss to the Philadelphia Eagles. Instead of rising to the occassion in the ultimate "must win" situation, Dallas spit the bit and a team many argued would win the Super Bowl ended up not even making the playoffs. [Graney And The Pig's Blog]
• What Now, Cowboys?. All I do know is that in almost 50 years of watching Cowboys football, the 2008 version may be the worst version of Cowboys I have ever seen. Why? Because of the great talent we have making bone-headed plays week after week. At least in 1989 we could say we didn't have the athletes. There isn't any excuse now. [Lewp's Weblog]
• Just Being A Fan Hats off to the dude wearing the old school Eagles t-shirt in the Columbus airport today who came up to me in the bar and asked what the situation was with Oakland and the others. You woke up this morning, knowing the long odds, knowing you were going to be nowhere near Phily, and recognizing the game probably wouldn't matter — and still you pulled on the Eagles gear. Kudos also to the ladies to my left who had to listen to the guy who thought, "The Eagles just don't have any receivers except for that new rookie guy," would be some sort of effective pick-up line. There's just something about being in some random bar in some random city with at least a few of your home fans around that makes the world seem like an OK place for awhile. [Iggles Blog]