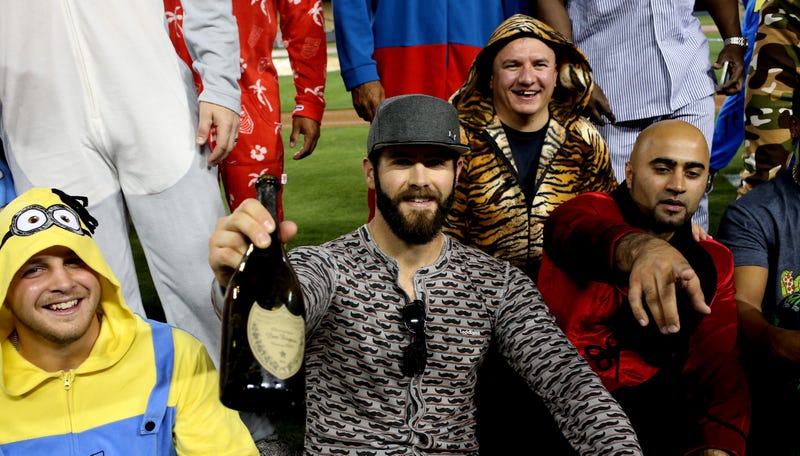 Cubs pitcher Jake Arrieta ended his no-hitter against the Dodgers last night in the most badass way possible. First, he struck out the side in the ninth inning, putting Justin Turner, Jimmy Rollins, and Chase Utley away with a nasty combination of fastballs and sliders:
And then, Arrieta put on some pajamas and got drunk:
The pajama party had already been planned by manager Joe Maddon, so the fact that it turned into a no-hitter celebration was just a serendipitous bit of timing. It was a fitting thing to happen to Arrieta, who's had just about everything break right for him since joining the Cubs.
It's easy to forget now, but Arrieta was basically a washout when he arrived in Chicago. He debuted with the Orioles in 2010, and in 63 starts in Baltimore managed an ERA+ of 77 and a FIP of 4.72 while walking about four guys per nine innings. He was bad, and the O's dumped him on the Cubs in July of 2013. Since then, he's been a completely different pitcher, posting an ERA+ of 153 and a FIP of 2.72 while in Chicago. His 2015 fWAR currently sits at 5.4, putting him behind only Chris Sale and Clayton Kershaw, and last night's no-hitter was the finishing touch on an August in which he's posted a 0.43 ERA over his last six starts.
So, what gives? Why is a 29-year-old who couldn't hack it with the O's suddenly one of the best pitchers in baseball? Improved control helps—he's cut his walks per nine innings down to 2.5—and so does a fancy new slider that is really three pitches in one. There's no one way to definitively answer the question, though, other than to say that baseball is a weird game, and seasons like the one Arrieta is having are a good reason to keep watching.