Welcome to Great Moments in Drunken Hookup Failure, where we showcase three heartwarming true stories of drunken love gone horribly awry. Off we go.
Justin:
I had just broken up with my college senior year girlfriend and wandered out with my friends to a house party to enjoy the single life and all its magnificence and freedom. We got to the party and I immediately started talking to a girl that played college softball for our school. She had more of a shortstop softball player build and look as compared to a first baseman(basewoman?) or catcher and was cute enough. Plus she was a D1 athlete and I wanted to strike a blow for gender equality by being a reverse jersey-chaser. To cut through the boring part, we ended up back at my place.

We fell into bed and soon after making out her hand is down my pants. I welcomed this development, thinking that the alacrity that she displayed in putting her hand down my pants was a sign of good things to come and a solid harbinger of what the single life would be. However she pretty much had me in a lock position of one hand down my pants without really doing much with the hand except using it as a type of security against us changing positions or clothing states the way a tired boxer ahead on the scorecard will lock up with his opponent to restrict movement and action. It was at this point that I realized that this was going to be a hand-job night at best. I had chosen to be single and had to live with the consequences so I engaged in the possum strategy and laid back and waited for her to do something or go to sleep.

She unzipped my pants and began to attempt a hand-job. I say attempt because like some other girls that I've met she seemed to fail to grasp the concept of grasping and to either move the wrist or elbow. Instead, she treated her loosely closed fist as a type of sheath with
my dick being a sword and constantly and vigilantly moved her hand over the tip and shaft of my dick with her blasted hand sheath in the same motion she no doubt used when practicing checking her swing.

Her hand, which I later discovered through independent investigation, was definitely not lubricated. It also did not have a regular consistency, in fact it was heavily calloused, no doubt, thanks to making some sweet barehanded grabs and firing some frozen ropes across the diamond.

Sure enough, even in my solid state of drunkeness, the attempted handjob soon moved from the uncomfortable range to the holy shit this hurts range. It felt like a cheese grater was moving up and down my dick, and as she began to get more desperate to finish she upped with speed with an impressive acceleration of grating due to her toned forearms. I felt bad for her and also didn't want any doubt that she would try again so, being a gentleman, I jumped out of the bed grabbed a towel and acted like I finished in it. I think she knew it was a ruse but she had no incentive to call me out on it.

The next morning while peeing I looked down and saw a nickel-sized purplish, shiny bruise/open wound on the tip of my dick. I put Neosporin and a band aid on it, and the band-aid stayed on for the entire day because that day was probably the only day of my life since I was 11 where I didn't get a boner or think about sex. If only she had had the decency to use her glove hand.
Joe:
A few years ago while still in college I returned to my hometown to see family and friends for a weekend. My best friend Bill tells me to meet at his house before we head downtown and that he has a surprise. When I arrive to his house (still lived with his parents) I instantly notice the vehicle of one of our old high school friends parked outside. We'll call her Nadine. Now Nadine was the 5'10" Italian volleyball player with an amazing body and flirtatious nature. She was never afraid to show off her tits when she had a few drinks in her in high school, and she would always lead us on. She starts telling us stories of her experimenting with girls in college and before we know it she's talking about tag teaming and Eiffel Towers. This night should be interesting.

After some pre-gaming at Bill's house we land at a bar recommended by Nadine. She was the type who would let pretty much anything go as long as none of her girl friends knew what was happening. On our way from the parking lot into the bar, Bill already has her shirt up to her neck with her perky tan tits gleaming in the lights of the parking garage. We figure her bar selection fit her strategy of keeping us away from her friends. After we order our first drink she starts flirting with a guy behind the bar that was counting money, and judging by his reaction I think they had met before. This guy drops what he is doing and lines up about 7 glasses and 6 shot glasses. He proceeds to stack them up and perform the flaming Dr. Pepper where he would blow a flame and light the shots of 151 and knock them over like dominos into the Dr. Pepper glasses. After performing this trick several times I begin to realize that we just had about 6 shots of 151 each in about an hour and a half. Once the show is over we continue drinking and Nadine proceeds to periodically treat Bill and I to outside the jeans tug jobs under the bar. Things escalated so quickly I now realized that I had way too much alcohol in me to drive, but I certainly wasn't going to let that stop a possible threesome, albeit 2 dicks and 1 chick.

I convince everyone we should head out and we all pile in the front seat of my car. There were only 2 bucket seats in the front and Nadine is sitting on the center console with one hand down my pants and one hand down Bill's. I was praying for Jesus to lead my car home to just let this happen. We finally make it back to Bill's house and Nadine starts to fade. Bill reaches to help her out the passenger side as she pushes him away. All my fears of losing this golden opportunity came heaving out of Nadine as she threw up all over the sidewalk. Five minutes prior to that I had every threesome porn scene I had ever watched running through my head. I was game planning how this was going to go down. Will it be weird if we make eye contact? Will she want to kiss me right after sucking his dick? What if I want to high five?

Just when I had given up all hope, Nadine raised up and told us not to worry. She just needed to get that out and she was feeling much better. In my drunken state I was so focused on my performance that I wasn't phased in the slightest by her getting sick. It was full speed ahead.

We get inside and stumble our way to Bill's room. Nadine spills onto the bed and it hits me. I have to run back out to my car and get a condom. She seems a little too familiar with this. I run back out to my car, grab a condom from the car, and sprint back inside so I didn't miss anything. As I get back inside the door to Bill's room is closed. And it's locked. Oh hell no I didn't just get left out of this. There's no way this selfish son of a bitch is going to have me risk DUI so he can have her to himself. I had played it up in my mind so much that I was pissed this wasn't going to happen. So I'm jiggling the doorknob back and forth and about to start throwing my shoulder into the door when I hear a voice. Did I mention BIll still lived with his parents? I had woken up his mom who was now 3 feet from me in the hall way in the middle of the night trying to break into her son's room so that I could tag team this girl. The only thing I could think of was to say, "I left my keys in Bill's room and the door is locked." She looks at me and says, "Oh well just use the key up on the ledge."

Fantastic, there was a key to his room right above my head and all was not lost. I waited for his mom to go back into her room and due to my drunken state I now tried to key open the door as quietly as possible to surprise them. I open the door to find Nadine passed out on her stomach and her skirt hiked up around her waist. Bill is down to his boxer shorts sitting in his computer chair trying to position his webcam at the bed. Something sobered me up as I just stood there frozen and told him I couldn't do it.

I turned around and walked out of the room totally defeated. Bill would eventually be the best man in my wedding and I still to this day have never asked him what happened in that room after I left.
G/O Media may get a commission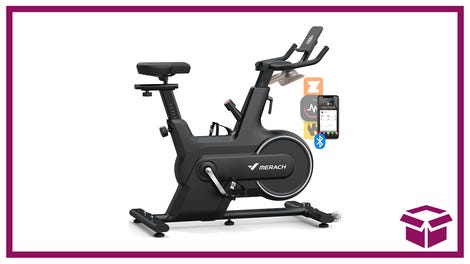 14% off + Coupon
Merach Indoor Cycling Bike
I'm sure the answer will let you down.
Clem:
I had just decided to take the second semester of my junior year of college off, and since I was the kind of lame guy who still lived in school housing by my third year, this meant I had to return to the tiny, shitty Virginia beach town where my parents lived and where I had grown up. I had been driving buses at school as a part time job between classes for beer money, and was able to get a spring/summer job at the beach driving the trolley. In truth it wasn't that bad, but it certainly felt ignominious. One July night, a couple of young vacationing ladies, both of whom were fairly attractive physically, but unfortunately one of whose voice made me want to just cut living things with a knife, climbed aboard my Shame Wagon and started chatting me up. Both of them. Not having any high school hookups I could call in, and trying to remain as invisible as possible in my old stomping grounds, I hadn't enjoyed the company of a lady for some time, and my desperation quickly got the upper hand over my judgment, as we exchanged phone numbers when they got off. I told them I was off at midnight, they told me where they were staying and that they had booze. This was good enough for me.

Turns out they were in one of the nicer summer home neighborhoods, staying with one of their parents, which immediately raised a red flag with me regarding age. After they let me, Don't Wake Daddy style, into the house, and their giant bedroom with two beds, I felt like this situation needed to be checked out, because it was pretty clear to me at this point, even before I had started drinking, that I was headed to Threesometown. Turns out that my fears were null; they were both eighteen and headed to college the following August (they literally showed me their drivers licenses, unprovoked, which was probably the skeeziest I've ever felt despite being only two years their senior).

The aforementioned booze was a worst-case scenario waiting to happen: 99 Berries. In hindsight, I should have fled as soon as that came out, but a threesome wasn't something I would pass up, especially in my state of desperation. There were about 7 shots in the bottle, so we each had two back to back, and I added another "to back". Three fast shots of 99 proof liquor was enough to get me off to a decent buzz, and two was clearly enough for them to get the three way makeout going. This went on for a while, and started to progress. There were massages, clothes coming off, some dry humping, and I had pretty much already started congratulating myself and my boner on our good work and questionable morals when I noticed that one of the girls had vanished, and it had become a one-on-one session with the girl whose voice I could tolerate.

This was fine with me, until I started to hear crying sounds. Looked over on the other bed, and there was Obnoxious Voice (we'll call her Girl B, and the girl I am with Girl A for the rest of the story) crying, and... Oh, what the hell her nose is bleeding! Turns out, during the three way make out session (I had had my eyes closed for a bit) Girl A had punched Girl B in the fucking face. When we noticed, Girl B freaked out. Like, throwing shit and screaming freaked out. Not in the mood to get shot by some maniac protective father, I'm already getting dressed. Girl A, now fully naked, wants to ignore this and proceed with what we were doing— so much so that she followed me out into the hallway, and eventually the living room which attached to the parents room, of this now entirely too-loud house. Fully panicked at this point, I fled. No shoes, no wallet, just bolted. Ended up texting the number I had gotten (never knew which one that number belonged to) the next day and got them to leave my shoes and wallet at the bottom of their driveway.