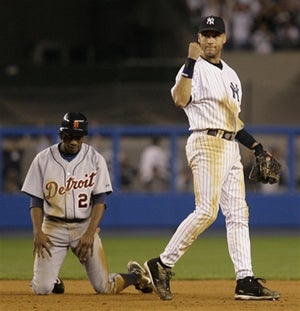 One of the joys of writing about sports on the Web is how every day is a little more important than it would be if glimpsed from a wider perspective. Fortunately, during the baseball postseason, there is no wider perspective: Everything matters in every possible moment. (If you don't believe us, ask Tommy Lasorda!)
So we thought we'd check in with the blogs from the losing teams yesterday and see how they're hanging in.
• The Detroit Tigers Weblog: I'm not saying this loss was bad luck or anything of the sort. The Tigers were beat. But they weren't outslugged. They weren't scared. They weren't playing like a team that was just swept by the Royals. I'm encouraged. The Tigers deserve to be here and they played like it.
• Gas Lamp Ball:I just got back from the game. I think I may try to drink away my troubles and any recollection of today's game. ... Anyways, It was just a frustrating game. Dave Roberts did his best to win the game by himself, but couldn't quite pull it off. I'm very disappointed, but at the same time, this was probably the Cardinals best chance at a win and they got it. Now we just have to show up for the rest of the games.
• Bat-Girl: Ah, no, you didn't expect this to be easy, did you? You didn't expect it to go according to plan. For if you did, then I'm sorry, but you have been watching some other team this season, and for that I am both sorry for you and a wee bit jealous, because sometimes having a plan has real benefits, like keeping your fans from chewing off their own arms. For instance.
All in all, everyone's hanging in OK. Though let's see what happens if anybody falls down 0-2.
Game 1: The Day After [The Detroit Tigers Weblog]
A Post In Which I Question Bruce Bochy's Decisions And Jake Peavy's Lack Of Humility [Gas Lamp Ball]
All Right, If You Want To Be That Way ... [Bat-Girl]