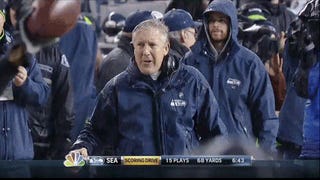 As soon as the NFL draft ends, the mad scramble to sign the best undrafted players begins. To get an edge, the Seattle Seahawks have distributed this data-heavy deck to NFL agents, a move that caught the eye of NFL.com's Ian Rapoport.
The brochure seems to lay out a refreshingly data-driven case for the Seahawks. Unfortunately, the actual numbers backing the case are pretty plainly misleading.
Here's what the argument boils down to:
1. The Seahawks will provide "the most opportunities to perform in the preseason."
To support this, Seattle provides the chart below, showing the percentage of preseason plays the average undrafted free agent participated in, by year:
The average undrafted Seahawk participated in 36.2 percent of Seattle's plays last preseason, first in the league. Wow! Ignore the fact that the Seahawks were below league average in 2012, 2011, and 2010. Why might that be?
2. Seattle is willing to "admit its draft mistakes" and cut drafted players
Here's the chart, showing the number of drafted players released or traded by year:
The Seahawks dropped two players in 2010, two in 2011, one in 2012, and then ... four in 2013. Three of the players dropped in 2013 were seventh-rounders, as was one of the drops in 2011 and another in 2010. Seattle has zero seventh-round picks this year.
Simply put, Seattle had a weird, bottom-heavy draft in 2013—no first-round picks (thanks to the Harvin trade), three fifth-round picks, and four seventh-round picks. This led to them cutting more drafted players than usual and giving more preseason playtime to undrafted players. As Seattle's own numbers make clear, there's no reason that agents should think this trend will continue in 2014.