There's a brief section about The Decision in Those Guys Have All the Fun, and if the details aren't exactly fresh, the takeaway is somewhat new: Everyone involved was using everyone else for their own ends to produce what amounted to a massive orgy that they all came to regret the next day. And LeBron was just the inflatable fuck toy in the middle of it all. So to speak.
Gray explains in the book that the idea was born at Game 2 of the L.A.-Boston finals, when he spoke to Maverick Carter, CEO of James's marketing company, and talent agent Ari Emanuel. Gray asked Carter if he could have the first interview with James after he had made The Decision, which at that point was still just a decision. Carter agreed, and Gray's idea soon took another form:
JIM GRAY:
...by the end of the conversation, I said, 'Better yet, Maverick, why don't we do this: Why don't we go buy an hour of network time, you produce the show, you own the show, I get to do the interview, and you have LeBron make the announcement of where he's going to go.' Before I got the last three words out of my mouth, Ari said, 'That's a brilliant idea. That's unbelievable. Maverick, you ought to do that!' Then Maverick looked at Ari and said, 'Okay. You want to handle it?' Ari said, 'Yeah, that's great, let's do this.' Maverick then said, 'You know what, we can raise a bunch of money for charity, so that no one will think LeBron is going to profit from this.' Then Maverick told me to stay in touch with him, And Ari, and that was that.
Gray was using Carter for access to his client, who in turn was using Emanuel for access and logistics. Emanuel was using both to get close to a superstar athlete and, as the Los Angeles Times put it, "poke a finger in the eye of a rival agency," Creative Artists Agency (which counts LeBron as a client). ESPN would ultimately use everyone to bring about what Gray calls in the book "the highest-rated studio show in the history of their network."
After ESPN donated an hour to the "cause," Gray felt more and more distanced from the planning. He says he informed ESPN producer Bob Rauscher that he would ask "ten or twelve questions before we get to the big one" and that he "gave him an idea of almost all the questions." According to Gray, Rauscher gave him the green light, and Gray insists all the questions were "very legitimate." (He regrets the "throwaway line" about nail biting.)
G/O Media may get a commission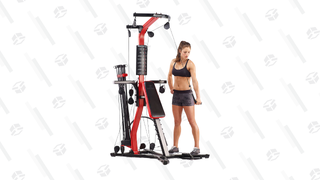 31% Off
Bowflex PR3000 Home Gym
Executive VP of content John Skipper says that in choosing to donate the hour, ESPN told Carter and Emanuel that they would "be responsible for the Jim Gray segment," and that the network opted to "take some level of distance from that."
"Look, I did the deal, this is a fault of mine," Skipper admits. "I was responsible for putting it together and then I turned it over and let those other guys execute it."
Gray makes a few references to the WWL "throwing him under the bus," and says that despite some reports, ESPN paid only for his travel expenses for the self-assigned assignment. Gray says he met with Skipper soon after the show and heard only praise. To the extent that anyone deserves credit, he says, it's the trio of Carter, Emanuel, and Gray:
I worked for this. I created this. I came up with the concept. Maverick Carter and Ari Emanuel are two of the most stand-up, honorable, loyal people I've been engaged with in television, in all my thirty-five years. When ESPN wanted to replace me and throw me under the bus, they stood firm and said, 'No, Jim Gray is with us, he gave us the idea, he is tied to this, and we're not going to change.'
Maybe the most remarkable part of the section is that LeBron James, the man who was thrown in the stocks for the crime of committing bad television, is hardly mentioned at all. He was a prop in a pressed shirt. Gray's job was to smile and nod on camera as the two orchestrators stood off-stage, as ESPN began its rapid retreat from the wreckage, and as we all watched in pathetic outrage. LeBron became the villain for something that, in the book's telling, the suits had perpetrated. It was never his Decision to make.