The Mighty MJD's Smorgasbord runs every Monday, except for today, when it runs on Wednesday. Do enjoy.
• You know what's on at 1:00 today? Loads and loads of meaningless bullshit. New Orleans is the only team with something to play for, and there's only an outside chance that that one will mean something. Today is a good day for a nap.
• But then you'd miss out on CBS's heavy promotion of this new game show, where people go on TV, get hooked up to a polygraph, and are forced to expose their deep, dark secrets. "If you were sure you wouldn't be caught, would you cheat on your wife?" Let me save you the trouble, sweetheart ... yeah, he would. And now that we've broken up a happy marriage and destroyed two lives, we'll be right back after a word from our sponsors!
• I believe I've mentioned him before, but there's a fellow here in a Bernie Kosar jersey. Today, he's sharing a table with a young lady in a Ben Roethlisberger jersey ... I think it's sweet to see two people united by a love of quarterbacks who throw numerous passes that end with the Steelers scoring touchdowns.
• While we're on the subject of jerseys, there's a guy in the crowd in Cleveland who's gone to the trouble of cutting Browns and Colts jerseys in half, and then sewing them together. Terrific investment. I'm sure he'll have many opportunities to wear that.
G/O Media may get a commission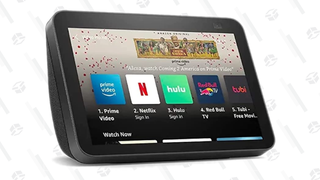 • Bad news for Derek Anderson ... after throwing 4 interceptions last week, he throws one on the opening drive this week. Given Anderson's contract status, everyone in Ohio's erection for Brady Quinn, and the Browns wobbly playoff status, this could be the end of the short-lived Derek Anderson era in Cleveland. I'd hate to see it end on a down note.
• The Bears are also experiencing a reversal of fortune over the past two weeks, but in the opposite way of Derek Anderson. They jump out to a 10-0 lead over the Saints.
• The waitress today is either new or doesn't usually work the Sunday shift ... she has jugs that are sizable and shapely, and sort of a porn-star look about her. I like her. And she seems really sweet too. This gets me to thinking about porn stars, and how many of them would probably seem like kind, sweet people if you just met them randomly. And many of them probably are kind, sweet people ... I just wonder how much my opinion of someone would change if I met someone like that, and out of the blue, she told me, "Oh, to earn a living, I take semenblasts in the face on film." I hope I wouldn't be too judgmental.
• This is not meant to imply that I believe my waitress takes semenblasts in the face, on film or otherwise. I think it's important to clear that up.
• Anyway, back to football ... the 49ers/Browns and Bears/Saints game are on adjacent televisions, and right now we're going through a period where Chris Weinke and Kyle Orton are both under center. It's a rather brutal assault on the eyes ... this is what's wrong with Week 17 football. The bar could probably save some money on the Sunday Ticket package and just hire a couple of homeless guys to stand up there and throw shit at my eyes for the next three hours, and it would have the same effect.
• In Green Bay, there are three young ladies in the stands in yellow bikinis, and they have some sort of sign that reads, "Brett, you can take your pick" and then something else after that that I don't catch ... I don't know if Brett is entitled to take his pick of the three women, or it's just one of the women, and he has his pick of orifice ... no idea, but I think it's a nice gesture either way.
• By the way, what percentage of women in Green Bay, married or otherwise, would not fuck Brett Favre? That number's gotta be low.
• Favre, in a nice bit of timing, hits Bubba Franks with a touchdown pass. On his way over to the sidelines, Favre sort of forces an official to slap him five on the way off the field ... that looks professional. The official had this "you son of a bitch, you're going to get me in trouble" kind of smile on his face.
• Braylon Edwards catches a touchdown pass from Derek Anderson ... in his post-TD celebration, he was flagged for excessive celebration. They show him on the sidelines complaining, as a coach talks to him, and you can see him end his little rant with, "FUCK HIM."
• That catch by Edwards, by the way, broke the Browns single-season receiving yardage record, previously held by Webster Slaughter. Webster Slaughter is one of the all-time fantastic names in sports.
• Derek Anderson banged his thumb and wrist on somebody's helmet, and he's headed off to the locker room. Brady Quinn is notified that he'll have to stop grabbing dicks for a few minutes and start warming up.
• The hair on Kyle Orton's soul patch area hangs down over his chinstrap. This creates an odd visual.
• I don't know who's calling the Browns/49ers game, but he refers to this as "the start of the Brady Quinn era." That's a little premature, and not entirely respectful of Derek Anderson, is it not? We're automatically closing the door on Derek Anderson, just because the handsome Notre Dame lad is entering a game? I guess that's how you end up with a quarterback history that includes names like Tomczak, Philcox, Testaverde, Zeier, Couch, Detmer, Wynn, Holcomb, Garcia, Dilfer and Frye.
• And a rousing standing ovation for Brady Quinn as he enters the game. More nonsense from the analyst: "Browns fans have been waiting for this all year." I guess these are the Browns fans who prefer 4-12 to 10-6. I'm not anti-Quinn, I promise ... but through Derek Anderson's 29 TD passes and 3,787 yards this season, have people really been waiting on pins and needles for Brady Quinn?
• Okay, now I am anti-Quinn. I'm sorry. I've enjoyed the resurgence of the Browns under Derek Anderson this year, and I think this is bullshit.
• Quinn's first pass attempt is a screen, and it is off by about three yards.
• He's finding a little bit of a groove, however, and has hit three straight completions. As someone waiting eagerly for the opportunity to yell, "Nice throw, cunt," this displeases me.
• And there's a Brady Quinn touchdown pass. Fuck.
• I didn't mention the first one, but when a man returns two consecutive kickoffs for touchdowns, I think that's noteworthy. Texans WR/new star kick returner Andre Davis is a badass.
• The FOX studio crew is doing some highlights and putting on their overexcited schtick ... The Greek theorizes that there are some major self-confidence problems on the set, and it's all an act of overcompensation. I bring up that Terry Bradshaw, as a young man in Pittsburgh, actually did have major self-confidence problems, mainly regarding the fact that he was, or was at least believed to be, quite dumb. Says The Greek, "Man, if you feel dumb in Pittsburgh..."
• During the Browns/49ers game, they have a list of goals that Kellen Winslow had written down prior to the season on a piece of notebook paper. Kellen Winslow writes like a bitch.
• I should point out that I, myself, have been accused of writing like a girl ... but I think my penmanship is more like that of a sophisticated, stylish woman, while Winslow's is more like a junior high school girl. I don't know why this makes me feel better about myself.
• Highlight from a game I'm not seeing: the Dolphins fumble a snap, the Bengals pick it up and take it about 50 yards to the endzone. The camera goes to Bill Parcells, watching from a booth upstairs, rolling his eyes with a "holy fuck, what have I gotten myself into" look on his face.
• Matt Jones — he's a receiver for the Jaguars — has 8 receptions for 138 yards and a touchdown. I do believe that this is the first time I've ever seen Matt Jones play well.
• CBS has been running ads all day for the Brut Sun Bowl. Two questions ... 1) Why isn't it called the Brut Sun Bowl, by Faberge? 2) In the gift bag for that particular bowl, is there actually a bottle of Brut cologne? If so ... prepare to be rendered helpless by the aroma of virile masculinity, ladies of South Florida and Oregon.
• Hey, Soulja Boy is going to be doing a live performance on FOX on New Years Eve. I wonder what song he'll do. For a big occasion like this, I bet he's going to dig pretty deep into his catalogue.
• Well hello, Muff Stubble Girl. She's arrived for the 4:00 shift ... and she walks over, puts her hand on my shoulder and says, "Hi, honey." Impure thoughts follow.
• FOX gives us an extreme close-up of an official's hand. It's from a game that I can't hear, so I have no idea why they're doing it. I learn two things, though ... officials wear NFL-issues watches, and this gentleman is badly in need of some moisturizer.
• Sign at the Bears game: "Beating the Packers twice makes the New Year nice." That's great ... you were in the Super Bowl last year, and you're going to be 7-9. Congrats on those two wins, though. I'm sure the Packers are jealous.
• A fellow has just arrived wearing a yellow, black and white camouflage Ben Roethlisberger jersey. I can't stop looking at it ... I think it's the single ugliest article of clothing I've ever seen. Even now, hours later, the image is so vivid in my mind. I can't believe that we, as a society, have allowed this to happen.
• Saints running back Pierre Thomas is having a huge day. That guy's lucky.
• Drew Brees drops back, and someone commits a holding penalty in the endzone ... that's going to be a safety, and that's going to bring to a close the Saints season. That was a disappointment.
• The Raiders/Chargers game is getting underway, and in an effort to break him in slowly, and let him get a feel for the game, the Raiders open by calling a screen pass for JaMarcus Russell. It is intercepted by defensive end Igor Olshansky.
• One of Phil Simms' keys for Baltimore today against Pittsburgh: "Play the game straight." Good advice. Do not play the game gay.
• LaDainian Tomlinson scores against the Raiders, almost simultaneous to a Ravens touchdown against the Steelers ... and hey, enjoy the 4-seed, Pittsburgh. Tell Jacksonville I said what's up.
• Jim Nantz is enthralled by Ray Lewis' presence on the sidelines, praising him for "staying active in the game, even though he's not playing." He gets credit for watching the game now? What do you expect him to do, Jim Nantz, wrap himself in an electric blanket and get a pedicure on the bench?
• Just minutes later, Nantz is praising Ben Roethlisberger for the same thing ... "staying active in the game." Jim Nantz is fascinated by people who aren't playing, but still watch the game. I can only imagine what he'd say if he were sitting here in the bar, watching me ... I'd be his fucking hero.
• JaMarcus Russell drops back, and this one bounces off of Antonio Cromartie's chest.
• The Ravens have a little band at their games, and the camera swings by them as CBS comes back from commercial ... and one of the guys enthusiastically holds up his sheet music. "YEAH, THAT WAS AN A-FLAT, MOTHERFUCKER!"
• Vikings wide receiver Troy Williamson is wide open by 10 yards in all directions, and Tarvaris Jackson throws a strike ... and it just slides right through his hands. Oh, that's disgraceful ... I hope you've enjoyed your time as a Viking, dickface.
• Cowboys kicker Nick Folk has a field goal attempt blocked by somebody's armpit.
• Philip Rivers is looking deep to Chris Chambers ... and Chambers goes up and snags it out of the air, much like every receiver will have to do if he wants to catch a Philip Rivers pass. I don't remember arm strength being an issue with Phil ... why is it that every pass he throws is such a fucking rainbow anymore? And why has this problem persisted for 17 weeks?
• Jay Cutler drops back to throw, and has the pass batted straight into the air at the line of scrimmage ... he attempts to bat it down into the ground, and completely whiffs on it. I am never inviting him to be on my beach volleyball team.
• I think Pam Oliver is wearing a West Coast Choppers ski cap.
• Stats of note: Rushing yards: Ravens 171, Steelers 26. First downs: Redskins 11, Cowboys 0. I understand that neither of those teams are at full strength, but still, especially in the case of the Steelers ... those are not positive indicators for playoff success.
• JaMarcus Russell (who had actually rebounded to put together a fairly decent game) fumbles in the endzone, and the Chargers fall on it to make it 24-10 ... and at the same time, Troy Smith gets into the endzone for the Ravens to make that game 27-7. Any chance the Steelers had at avoiding Jacksonville in the first round has officially died.
• Clinton Portis gets in the endzone again for the Redskins. It's not a huge surprise that the Redskins are winning this game, since the Cowboys have nothing to play for, but again ... I am surprised that they're beating ass like this. Rushing yards are currently 128-to-1 in favor of Washington.
• And with absolutely zero drama this afternoon, I'm going to call it a day, and a regular season.