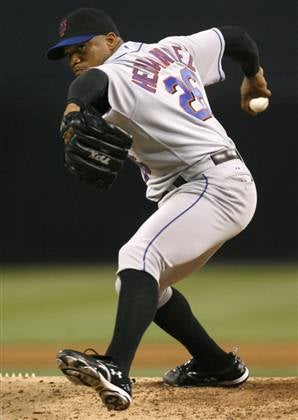 I admit to being no huge fan of the designated hitter rule. I like that fact that there is at least one pronounced difference between the leagues, but baseball is all about my nine vs. your nine ... and that includes the lazy-ass pitcher (I'm talking about you, Clemens). If the NL had the DH, then we wouldn't have been able to watch Orlando Hernandez have it his way all over the field on Tuesday.
El Duque outpitched Jake Peavy, and also singled, stole second and scored a run in the Mets' 7-0 win over the Padres on. Hernandez is the first major league pitcher to steal bases in consecutive starts since the Mets' Tom Seaver on May 17 and 22, 1967, according to the Elias Sports Bureau. Hernandez (6-4) held the Padres to two hits over seven innings, struck out four and walked two.
• Harry Potter And The Unhittable Baseball. I don't know if I would appreciate being constantly referred to as "the bespectacled left-hander," as AP always does with Detroit's Nate Robertson, but I guess it wouldn't matter after a performance like his on Tuesday. Robertson allowed three hits over seven innings to outpitch Matt Garza in the Tigers' 1-0 win over the Twins.
• For The Record, That's 8,811 Wins. The Phillies are tired of all the hoo-ha surrounding the franchise's 10,000th loss, which occurred on Sunday. They prefer to see the glass as half full ... or, you know, two-fifths. Philadelphia collected 26 hits in a 15-3 win over the Dodgers, as Shane Victorino and Aaron Rowand led the way with five hits each. Ryan Howard had a pair of two-run homers. "We had fun out there tonight,'' Victorino said after going 5-for-6 with a two-run triple. "We know what kind of offense we have and what kind of numbers we're going to put up.''
• A Very Barry Tuesday. Barry Bonds didn't start — and lined out in his only at-bat, as a pinch-hitter — but Barry Zito pitched well (not a misprint!) for the Giants in a 4-2 win over the Cubs.