First it was a tall woman in bright clothing with a microphone. Then her cameraman. Then a short man in a coat and tie with a notepad. Then another man with a smaller camera that was already rolling.
Tatsuhiko Nakamura had invited me to the famous sports bar in Urawa to watch the Red Diamonds play, and he didn't know it would be like this. He understood English, but we didn't need to say anything to know what was going on: I was the only American in sight, and the Japanese press was circling.
By the time it was over I had given interviews to 10 Japanese reporters, with Tatsu interpreting. They all wanted to ask the same thing—did I feel comfortable being a foreigner in Japan? And why was I interested in Urawa's club?
The first question was easy—of course. Being white is hardly ever an issue in Japan. It's the second question that requires more explanation.
---
None of this would have happened if a few racists in Japan's most rambunctious soccer club, the Urawa Reds, hadn't made a banner.
G/O Media may get a commission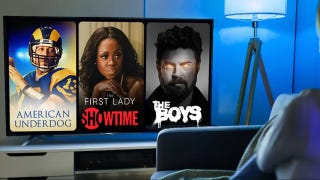 UNDER $1
99¢ Prime Video Channels
Discrimination and hatred between the Japanese and Koreans (and Chinese) is well known. It's based in a history longer than Americans can know—ancient invasions of Korea, a pair of Japan-Korea treaties, the Japanese annexation of Korea, and a modern volley of demands and refusals to apologize for decades-old colonial rule. (Among other things, that history is at the heart of the North Korea-South Korea conflict.) And despite a significant cultural exchange—music, food, fashion, jobs—that kind of racism isn't dissipating over time.
The scourge is rampant among the most vicious supporters of Urawa's soccer club, who chant, "Fuck the Koreans!" during games. It got worse just before the 2014 season began, when the Reds signed Tadanari Lee, a striker with Japanese citizenship but whose family is Korean.
Urawa supporters winced. Some of them didn't want a Korean on the Japanese squad; others foresaw a backlash and wanted to stay away from controversy. They were right.
At the first home game this year, a handful of extremists among Urawa's supporters scrawled the words "Japanese Only" on a banner and hung it outside a gate in the stadium. It was intended solely for Lee.
Such segregationist signs have been seen in Japan since at least the end of World War II. They're more common in the north, far from Tokyo, where Japanese people are known to deny services to foreigners at places like hot-spring bathhouses.
But this particular sign got a lot of attention once it danced across the Internet. The Japanese soccer league called it racist, and the chloroformed Japanese press followed suit. Days later, the head of the J-League banned all fans from attending Urawa's match on March 23, against their main rival.
This is why all those reporters were putting microphones in front of my face, and why the Reds supporters, who normally would be in the stands down the road, each a pixel in a magnificent and elaborate display for their beloved team, were instead crammed into the bar named Riki. Some had waited in line three hours before it opened. When the match was broadcast at 3 p.m., these supporters hooted and hollered as the single, small TV in the room showed 60,000 empty seats glistening in sunlight.
The broadcast panned across the ghostly stadium built for the 2002 World Cup, ironically (it seems on this day) cohosted with Korea. The players marched out. The screen switched to a shot of Lee. The people at Riki were silent.
Pretty much everything inside Riki that day was red: posters, banners, flags, napkins, waiters' shirts, drinks, cups, menus, lamps, scarves, stickers, ads, walls, awnings, and the shirt on the mascot. The mascot was green.
Minutes before kickoff, the owner of the bar, a rambunctious glad-hander wearing a "RIKI RIKI" towel around his head, ran from table to table whipping fans up in toasts, as a capo would any other week.
"Urawa Reds!" the die-hards chanted in unison, clapping, as if they were just behind the net.
"Boo!" they shouted as the other team, Shimizu S-Pulse, neared the Reds' goal, as if to distract the man with the ball.
"WwwooooaaaaaAAAAAHHHHHHHH!!!" they yelled before free kicks, building to a crescendo until the cleat connected.
"My ball! I got it! I got it!" one young man in the corner screamed, in English, on popups.
Every pass, stop, header, and shot could be heard on TV ricocheting around the empty stadium. The players were yelling to each other. The ref's whistle was piercing. The snapping of camera shutters sounded like the repeated shuffling of a deck of cards.
In the second half of the game, with Urawa down 1-0, Lee was sent in as a sub.
"I want him not to score," said my guide, Tatsuhiko.
Not everyone feels that way about Lee, about Koreans. But enough do that the racism is very real. Tatsu's justification is that when he studied abroad in England, he had his stuff stolen by, he says, some Korean guys.
He's 19, drinks like he's legally 20, educated, born and bred in Urawa, loves the city, loves the team, and wants the world to learn about Japanese soccer. He grew up idolizing England's famous hooligans: "I want to be like that. They're so cool." He wishes Urawa never signed Lee: "I hate him." He sees Koreans at his university in Tokyo: "I never talk to them. Because I hate them."
Is Tatsu racist? "Not really. But other people think I am racist. Because I sometimes say, 'Fuck you, Korean.'"
Tatsu was afraid to talk about it in front of the other Reds at the bar. He pulled me away, put his finger over his mouth, and spoke quietly. He said he's friends with the guys who put up the "Japanese Only" banner, and I asked him if he's angry that he got banned from the game because of them.
"As a supporter, I'm angry," he said. "But as a friend, I'm so sorry to them. Because they're very friendly, so we should save them from the media. We have to save them, but we couldn't, so I feel really sorry."
In the last 10 minutes of the game, Tatsu raised his voice over everyone in the room and sang everyone's favorite chanto, "Pride of Urawa." The fans followed him, clapping and getting louder as he did, dying down only after the Reds on TV blow an opportunity for a goal.
But Tatsu refused to let it. He got louder, screaming so that his voice became garbled, vibrating into the hearts of the Reds around him, and the song was revived. A half-dozen times the events in the game threatened to kill the song, and a half-dozen times Tatsu brought it back on his own.
Sometimes it felt forced. The fans were chanting with him, but they were no longer sounding their battle cries as if they were in the stadium. They were doing it out of obligation. It was as if they knew that this match wasn't just a symbolic punishment, but the beginning of the end of the rabid supporter culture that had made Urawa the envy of every soccer team in Japan.
---
Someone started a rumor that the banner guys moved out of Urawa to hide. There's speculation that they might go overseas to escape the backlash.
But they probably have nothing to fear. The Japanese constitution mentions civil rights, yet there's nothing in it that creates any sort of enforcement mechanism in response to discrimination. That means the Japanese are able to get away with a nonviolent, watered-down version of what white people did in the American South until the late 1960s.
It can affect all foreigners, but really if you're Western you have little cause to be wary in the larger Japanese cities. It's the Koreans who have to worry the most. Someone like Tadanari Lee can be ultra-talented, better than a lot of his Japanese teammates, and yet still feel like a second-class citizen.
The Japanese media avoid this issue. And they have good reason—it would reflect poorly on the Japanese government, and in Japan, the media and the government share limbs. Thanks to a self-censorship system known as "press clubs," mainstream news outlets are little more than free publications for government voices.
Press clubs are literally rooms in government buildings, often down the hall from the PR office. When the government has an announcement, they give the press release to everyone in the press club, and no one else. The reporters take the press release and send it to their newsroom. The next day it appears in the paper, on the wire, on TV.
That obedience might sound similar, in some ways, to the way the White House press corps smiles and nods during briefings by anonymous officials in administrations past and present. (And, no, the White House press corps isn't a good model for journalism.) But the key difference is that in Washington, the pressure comes from above, with the administration granting and withholding access, bestowing exclusives on favored reporters, and so on; in Tokyo, the pressure comes from within. The press censors itself.
Press clubs are self-governed, with strict regulations. If you publish an exclusive report, or get a press release and call an outside source for another point of view, you're out of the club. And if you're out of the club, that means no press releases, and no access to press conferences, and the news outlet for which you work is not happy.
Those press releases aren't just press releases, either. Sometimes they have suggested headlines, photos, captions, leads, nut grafs, maybe even the whole article. Sometimes the reporters rewrite the information the way American journalism grads do at their first job; sometimes they get lazy and just use what the government has so kindly suggested to them.
The result of this is that often, the exact same articles will appear in different newspapers, with the same headline and photo. This isn't a secret, either—most Japanese readers know about the clubs. They just don't really care.
(Japanese people, by the way, read more newspapers than nearly everyone else—of the 10 biggest newspapers in the world by circulation, four of them are Japanese, including the top two—the Yomiuri Shimbun, with 10 million readers, and the Asahi Shimbun with eight million. The most-read paper in the United States, the Wall Street Journal, has two million readers.)
So it makes sense that rather than risk embarrassing the government—by perhaps unpacking the meaning of the "Japanese Only" banner and what it really says about Japan's relationship with its neighbors—the elite Japanese media instead would seize on a much easier story to tell, without the nuance that could start a real discussion: Fans Banned From Game.
As the Urawa-Shimizu match began, the broadcast gave an aerial view of Saitama Stadium to reveal its emptiness. They rack-focused on the clean, shiny blue seats. They showed close-ups of the empty chairs. The Reds trotted out wearing jerseys with backs that said the same thing that was printed on the large TV inside the stadium: "SPORTS FOR PEACE!"
---
Maybe Japan is racist, and maybe there's just a minority whom no one is willing to stop from acting out and putting up "Japanese Only" banners. Either way, the irony apparently lost on many Urawa fans is that Japanese soccer is barely Japanese.
Just as they did with pop music, baseball, and Kentucky Fried Chicken, the Japanese appropriated soccer from the West. Team names like Yokohama FC mimic the Europeans; their word for soccer is sakka; their chants (chanto) are all in English (the Red Diamonds' songs include "Pride of Urawa Reds," "Hey Ho, Let's Go," and "Urawa Reds, We Love You"); their flags are ripped from South America; their team crests are relics of Europe's Middle Ages; and many stadiums blare American alt-rock before and after the match.
The main things that the Japanese have added to soccer are Pokémon-style mascots, hot dogs wrapped in rice cakes, and a polite golf clap. They've even co-opted the man who broke America's color barrier in sports.
"It's like Jackie Robinson in the MLB for our team," said Ken Hirota, a member of Urawa's "ultra" supporters who stand behind the goal every game singing at full volume. "Last year, it was rumored that we would have a contract with Lee. Some people said no. Others said if the club got him, sooner or later, trouble comes."
Ken made the comparison to baseball's most famous African-American in a dark corner of a darts bar an hour and a half from his home one evening before the empty-seat match. He gulped his stout in two minutes.
At first I had to work to get Ken to talk. The hard-line Urawa supporters known as the Urawa Boys are notoriously secretive and distrustful of all media. Ken wasn't one of the Boys, but he knows them well, and he knows who put up that "Japanese Only" banner. He wouldn't say, and the Japanese press don't seem to care about that detail anyway, so long as they get their high-def pictures of the empty soccer stadium.
The best part about Ken was that his story isn't trapped inside his head. He wears it. On seven fingers he has rings: On his left index finger is a $300 limited edition J-League Champions ring from 2006, when Urawa won; his right middle finger bears the Arabic symbol for Allah (he converted to Islam when he was 23, while traveling the Middle East on a trip to watch the Japanese national team qualify for the World Cup).
Two of his three bracelets are for the Reds—one says simply "URAWA REDS" in gold on black, and he made the other, a checkered red-black-and-white pattern.
The pin dangling from the side of his hat shows the Urawa diamond.
At the end of a long necklace is a pendant in which is engrained the Urawa crest; it opens, and on the inside is this inscription: "URAWA RED DIAMONDS EST. 1950".
And of course he's wearing the jersey—the fashionable third kit, in black.
The surprising thing is that Ken, and many Urawa supporters, weren't angry about being barred from one of the biggest games of the year. But what's truly crazy is that Ken thinks he's responsible for it—not just out of a sense of shared responsibility.
No, Ken said that he should have warned the club that bringing Lee on board would prompt a racist reaction. If he had done that, he said, then none of this banner nonsense would have happened. That might sound delusional, but Ken truly believed that he could have made a difference.
Ken remembers seeing the banner as he walked into the stadium to greet his fellow Reds supporters. He remembers thinking it was inappropriate, but that maybe it's not a huge deal, because everyone makes mistakes.
Sitting in the corner of the small and empty darts bar, far away from anyone who might see him talking about the banner, Ken said the Urawa Reds supporters all feel responsible for what happened. And they're not going to protest in anger.
After all, he said, "We already got one yellow card booked."
---
A week before the empty-seat game, I watched Urawa lose in suburban Chiba. The supporters I met at that match were as friendly as I expected in Japan—a place where the supporters for home teams and away teams are introduced before most games.
When I told some that I had planned to attend the March 23 match in Urawa before fans were banned, I got the same response multiple times: "Sorry, sorry." One added, "We want people from all over the world."
During the game I sat next to a 29-year-old supporter who spoke little English other than the words in the Reds chants. He taught me some of them and then held up a Reds scarf. "Present," he said in English.
It was that scarf, draped around my white skin, that probably attracted a lot of media attention at Riki. But there were Japanese people not being interviewed who had things to say that were just as important. "We should care about this problem," said an older man who comes to the bar once a week for dinner.
Then he grabbed his beer, huddled with the Riki owner and began chanting "ooooOOOHHHHHH!!!" as the others caught on and rolled into a battle cry so loud that maybe, just maybe, their team heard them a few miles away.
After the match ended at Riki, an Urawa Boy walked into the bar and stared at one of the teens at our table. Apparently he doesn't like when underage supporters hang out at bars.
He walked over, and the kid knew what was coming, because he'd been intimidated before by the Urawa Boys. Just to give an idea of how strict the Boys are, one of them once spotted fans in his section during a game taking pictures instead of singing, and in response he knocked a man's drink out of his hand, grabbed someone's shirt, and hit them.
"You must go home," the man said sternly to the teen.
The boy was scared. He looked at me. "Are you going to Urawa Station?" he asked me. I was.
"Can we go together?"
---
It turned out that the game seen from bars and homes throughout Saitama was just the beginning. About a week later, just before Urawa's next match, most of the club's supporters broke up, including the Urawa Boys. They did it on their own, to distance themselves from the banner controversy, to save face.
It didn't seem that many Japanese supporters were altogether surprised. A few years ago, Urawa's supporters went through a similar crisis. The leading supporters group, the Crazy Calls, disbanded after their leader drew a lot of attention for fighting with soccer players in the street. When the Crazy Calls fell apart, the Urawa Boys claimed the mantle, put their drum behind the goal, and led the chanto. It was a natural succession; after all, this is a country that has had seven prime ministers over eight years.
Problems persisted. One of the particularly dark supporters groups, Urawa Snake, threw fireworks at a bus used by their rival, Shimizu. Other fights broke out with rival supporters.
Those memories were relevant when the Urawa supporters decided to call it quits this time around. They were getting out of hand, at least according to Japan's unwritten rules of etiquette. Eleven supporters groups dissolved, pledging to fight discrimination in whatever way they can, even if many of their members didn't want to go along with it.
Not every supporters group broke up. Tatsu's didn't. And at the next match, with the supporters' crowd thinned to pretty much a single row behind the net, Tatsu did the same thing he did at Riki. He became a man in charge. The supporters who stuck around followed him as he chanted desperately for the Reds. They lost, 3-1, but Tatsu was in good position. He talked with supporters about how to bring back the spirit of the Reds, racism or no racism, banner or no banner. He wrote to me in an email:
"I hope to be a new leader of them. lol"
---
Japanese TV stations showed their interview with me throughout the week. Some were local Urawa networks, others were national. One of the kids at my Riki table snapped a picture of me with Japanese subtitles trailing under my face. The reporter had asked me how I felt about the "Japanese Only" banner. I said that it probably reflects a minority in Japan, but that the sentiment is strong enough that it's a good time for the Japanese to reflect on why these things happen. The reporter nodded the way reporters do whether they agree or not. Then he asked me if I think Urawa is a good soccer team.
That's how the Japanese media decided to cover their country's dark struggle with racism and its colonial legacy—through the highlights of a soccer game played on a beautiful day in front of no one at all. The match ended in a draw.
---
Matt Negrin is writing a book about soccer fans around the world and at the World Cup. His website is awayandhome.com.
Photo via AP.