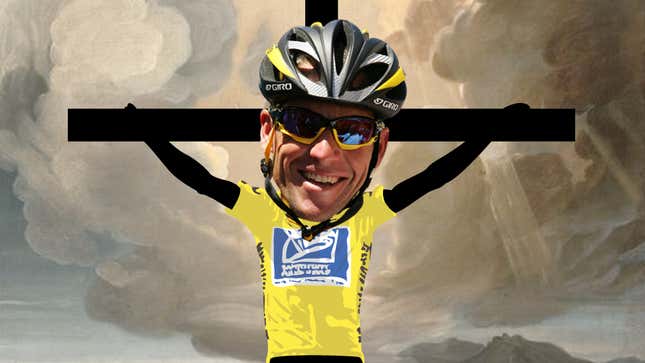 The following is excerpted from Cycle of Lies: The Fall of Lance Armstrong (HarperCollins), which is available now on Amazon.
The $10 million estate of Lance Armstrong's dreams is hidden behind a tall, cream­colored wall of Texas limestone and a solid steel gate. Visitors pull into a circular driveway beneath a grand oak tree whose branches stretch toward a 7,806­-square­-foot Spanish colonial mansion.
The tree itself speaks of Armstrong's famous will. It once was on the other side of the property, fifty yards west of this house. Armstrong wanted it at the front steps. The transplantation cost $200,000. His close friends joke that Armstrong, who is agnostic, engineered the project to prove he didn't need God to move heaven and earth.
For nearly a decade, Lance Armstrong and I have had a contentious relationship. Seven years have passed since his agent, Bill Stapleton, first threatened to sue me. Back then, I was just one of the many reporters Armstrong had tried to manipulate, charm or bully. Filing lawsuits against writers who dared challenge his fairy-­tale story was his quick­-and-­easy way of convincing people that writing critically about him wasn't worth it. Over the years, he came to consider me an enemy, one of the many he and his handlers had to keep an eye on.
Only now, after he has fallen, have we agreed to something approaching a truce. Though he'd deny it, I know that he has chosen to sit down with me because he thinks he might be able to control the direction of my book. No chance, I've told him. After multiple criminal and civil investigations into whether Armstrong orchestrated a sophisticated doping regime to win seven Tour de France titles; after all the testimonies from riders who knew him better than anyone else, and who contradicted under oath every public defense Armstrong had ever given; after he lied, lied and lied some more, the most notorious athlete of our generation realizes I'm suddenly holding a lot of rope. And I realize that, even now, he imagines himself to occupy a position of almost absolute power.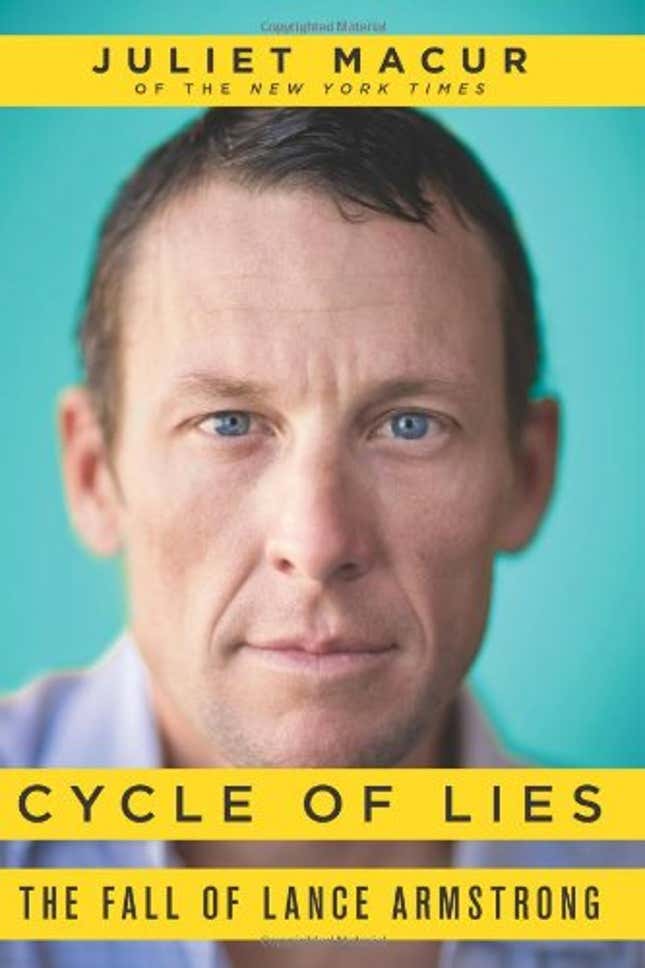 "You can write what you want," he tells me in one of our many conversations. "But your book is called Cycle of Lies? That has to change."
I've interviewed him one­-on-­one in five different countries; on team buses that smelled of sweat­soaked Lycra at the Tour de France, in swanky New York City hotel rooms, in the backs of limos, in soulless conference rooms; and for hours by telephone.
Now, in the spring of 2013, after his whole world has come crashing down and moving trucks are en route to dismantle his beloved estate, I've come to visit him at home in Austin, Texas, for the first time.
Yes, fine, come on out, he said. Beset by endless obituaries of his celebrated (and now fraudulent) career, he wanted to ensure that I wrote "the true story."
So here I am parking beneath the grand oak that Armstrong had moved because, why not? I look at the house and think of his yellow jerseys. A month after the United States Anti­-Doping Agency released 1,000 pages of evidence against Armstrong and stripped him of his Tour titles, he had Tweeted a photo of himself lounging, arrogance itself, on an L-­shaped couch in this house, his seven yellow jerseys hanging ceremoniously behind him: "Back in Austin and just layin' around." That was November 2012. Seven months later, will I find him still defiant?
Before I can pull the keys from my car's ignition, a cherubic face under tousled, curly brown hair appears at my window and two small preschooler hands slap the glass. It's Lance's youngest son, Max.
Armstrong stands behind him in flip-­flops, wearing a black T­-shirt over black basketball shorts that brush his scarred knees. His eyes are hidden by dark sunglasses.
"Say hi to Juliet, Max," Armstrong says.
"Hi, Joo-­leee-­ette!" Max says. Then he turns to his dad and asks for ice cream, a request that makes his father giggle, some­thing I'd never seen him do before.
"Yes, you get ice cream," Armstrong says. "You've been good, buddy, really good."
We walk up the front steps until Armstrong stops at the door. He moves his eyes to the tree, the house, the life he has enjoyed.
"Great place, right?" he says. "Yes," I say, "are you going to miss it?"
* * *
Armstrong doesn't want to move, he has to. His sponsors have abandoned him, taking away an estimated $75 million in future earnings. He would owe more than $135 million if he were to lose every lawsuit in which he is a defendant. To "slow the burn rate," as he calls it, he has stopped renting a penthouse apartment on Central Park in Manhattan and a house in Marfa, Texas. Next to go is this Austin estate, traded in for a much more modest abode near downtown.
His former sponsors—including Oakley, Trek Bicycle Corpora­tion, RadioShack and Nike—have left him scrambling for money. He considers them traitors. He says Trek's revenue was $100 mil­lion when he signed with the company and reached $1 billion in 2013. "Who's responsible for that?" he asks. "Fucking right here." He pokes himself in the chest with his right index finger. "I'm sorry, but that is true. Without me, none of that happens."
After his sponsors cast him aside, he tossed their gear. There's a chance you could catch a glimpse of one of his Dallas friends wearing Armstrong's custom­made yellow Nike sneakers, with "Lance" embroidered in small yellow block letters on the shoes' black tongues. A Goodwill outlet in Austin is replete with his former Nike clothes and Oakley sunglasses. The movers, who packed up his guesthouse a week before I visited, will have to con­tend with whatever brand­-name gear is left in his garage: black Livestrong Nike caps, black Nike duffel bags with bright yellow swooshes, Oakley lenses and frames and a box of caps suggesting "Yes on Prop 15," a 2007 Texas bond plan for cancer research, prevention and education supported by Armstrong.
It was 1989 when Armstrong moved to Austin from Plano, a suburb of Dallas, showing up in this progressive town as a rough, combative and pimply-­faced teenager, with frosted wavy brown hair, a gold hoop in his pierced left ear, a silver chain around his neck with a dangling pendant in the shape of Texas, and a fake ID.
On an income of $12,000 a year, and with the help of a local benefactor named J.T. Neal who had taken Armstrong in, he lived in a studio apartment for $200 a month. He dressed it up with an oversized black leather couch, a matching chair and, above the fireplace, a red­-white-­and­-blue colored skull of a Texas longhorn.
From a cramped studio to a sprawling estate: a reflection of Armstrong's ascension into modern American sainthood—a cancer survivor who beat the world's best cyclists in a grueling race, dated anyone he wanted and made millions in the process.
Armstrong loves this house. He loves its open spaces and floor­-to­-ceiling windows. He loves the lush, landscaped yard where his kids play soccer, and the crystalline pool (a "negative-edge pool, not an infinity pool, get it right"). Behind the house are rows of towering Italian cypresses.
He moved here in 2006 after winning a record seventh Tour de France. He once said the place was his safe house—inside it, "nobody's going to mess with me." Having eluded near­-constant attempts to expose his doping, he could take a left down the main hallway, then a quick right, and disappear into his walk-­in wine closet to grab a bottle of Tignanello and toast his good luck.
On a table next to a couch is a 36-­inch model of the Gulf­stream jet that had been Armstrong's favored means of long­-distance flight. It's white with black and yellow racing stripes. He and his buddies often stood up when the plane took off, "surfing" as it rocketed into the sky. Armstrong had sold the plane for $8 million in December 2012, as he braced himself for the inevitable legal fees that would follow USADA's exposé of his cheating.
Just as we settle into his media room on the big house's sec­ond floor, his twin daughters, Grace and Isabelle, burst in. The preteen girls are replicas of their mother, Kristin: beautiful and blond. Their open smiles reveal gleaming silver braces.
"Hi, Dad! Did you buy those skirts for us off the Internet?" Isabelle asks as she and her sister use the couch as a trampoline.
"Yeah, Dad, did you buy the skirts?" Grace seconds.
"No, not yet," Armstrong says. "It's almost time I had a beer. It would be nice if one of you ladies got me a beer. Shiner Bock."
Grace shouts, "Shiner Bock! Don'tcha know, it's a beer—that's B-­O-­C-­K. It's not a twist­off."
Once he has the beer in hand, Armstrong looks at me and says, "So this is my awful life. Just so awful."
He says how much he likes having kids in the house—children are transparent and pure, too young to con him. I ask if he feels like people have taken advantage of him, if he feels used.
"Uh, yeah," he says. "Who?" "Everybody. Get in line."
* * *
The kid who once decorated his living room with a steer head has become a collector of sophisticated, expensive art. His sensibilities are apparent, if perplexing. Upon entering his house you see a panel of stained glass eleven feet tall and five feet wide that, upon closer inspection, is actually a panel comprised of hundreds of colored butterflies—a Damien Hirst piece called The Tree of Life. Hirst is known for his provocative installations (e.g., a severed cow's head being feasted on by maggots in a glass case). In 2009, when he decorated an Armstrong racing bike with butterflies, the animal rights group People for the Ethical Treatment of Animals called the work "horrific barbarity."
The more I see of Armstrong's art throughout the house, the odder his curatorial eye seems. To call his choices dark is to be kind, to call them controversial is too simple. All Armstrong will say of any of them is that they are "fucking cool."
Look, though: Above the fireplace in the expansive formal dining room, flanked by marble bowls made to contain a church's holy water, is a photograph of urine and blood called Piss and Blood No. VII. It is by Andres Serrano, the photographer made infamous for his 1987 photo of a plastic crucifix in the artist's urine. There is something harmonic in being in the same room as both the photograph and an athlete who claims to have passed hundreds of urine and blood drug tests.
On the far side of the room is Armstrong's office, dimly lit, built of dark shades of wood: a spot to brood. Sitting at his desk in a corner, Armstrong has a direct view of his Tour de France trophies—seven deep purple porcelain cups with delicate gold designs—perched high on the wall atop bookshelves, each in its own spotlight, each luminescent.
To the left of his desk is artwork that may speak to his bro­ken relationships with family, friends, lovers, teammates. A sepia­-hued photograph by Luis González Palma shows a man and a woman in an embrace, dancing. Or are they really? A second look and I see spikes protruding from their backs. Armstrong would admit only that the piece is gloomy.
And then there is the Jesus art.
To the right of his desk is a seventeenth-­century Spanish paint­ing of the crucifixion that takes up nearly the entire wall. Four women pray at the feet of Christ, his head slung and crowned by a glowing gold halo. Years ago, the painting hung inside the chapel Armstrong had built for his ex-­wife, a Catholic, inside their home in Girona, Spain. He himself is not a religious man. He says he considers organized religion to be gatherings of hypocrites.
Around the corner from his office, overlooking a stairwell, there is another vision of the crucifixion. The piece's full effect is apparent only from certain angles, where an image of Christ nailed to the cross comes into view.
"One man has taken the blame for a thousand sins," Arm­strong says. But even in the presence of these crucifixes, he is talking about himself. Like he wants me to write that he has been made a martyr for cycling's century of dopers and this is the way to make sure I do.
He walks over to a coffee table in his office and picks up a sculpture—an arm from hand to elbow. The sculpture, by Japa­nese artist Haroshi, is made with many layers of pressed skate­boards. The sculpture's middle finger is sticking up.
"This is pretty much the story of my life," he says. Then he shoves the sculpture in my face. I notice Armstrong's hands. On each palm, there is a small wound where he'll tell me a doctor burned away a couple of cysts. I think of the stigmata.
"Fuck you," he says, laughing.
* * *
Seven years ago, he told his three oldest children from his failed marriage—Luke, Grace and Isabelle—that they would graduate from high school while living in the house by the big oak tree. He owed them that. They had followed him from Texas to France to Spain countless times. At last they could plant some roots. "I promise," he said. "Dad's not moving again." They would live six minutes from their mother, Kristin, and could count on the familiarities of the giant kitchen table surrounded by black-­and­-white photos of their family. They knew where Dad would be on most weeknights—on a couch in front of the TV, watching CNN's Anderson Cooper 360°. In the summer of 2012, Armstrong built an addition onto the first floor so his growing family would have a seventh bedroom. Already, the house was his headquarters. He lived there with his girlfriend, the willowy blonde Anna Han­sen, and their two children, four­-year-­old Max and two-­year-­old Olivia, a Shirley Temple lookalike. Armstrong and his clan had planned to stay here, safe and happy, for a long time.
But now the movers are coming. It's June 6, 2013, five years before Luke's expected graduation. In the morning, a line of black trucks will pull into his driveway and out will spill workers in black short­-sleeved shirts. Already, the atmosphere is funereal. The mov­ers have already emptied out the 1,633­-square-­foot guesthouse, a mini­-mansion, with its matching tan façade and burnt orange roof.
On June 7, I return to see those workers clear the main house. They take Armstrong's Tour trophies from their illuminated shelves, cover them with green bubble wrap and place them in blue boxes. In a moving box marked #64, one mover places a silver frame containing a 5x7 photograph of Armstrong's 2005 Discovery Channel team sitting at a dinner table after his seventh and final Tour victory. He, his teammates and longtime team manager Johan Bruyneel are holding up seven fingers. A yellow rubber Livestrong bracelet hangs from each man's wrist. A table is littered with half­-empty wineglasses. A former life.
Box #64 goes onto the truck with the rest. I follow the movers into the media room. Wearing white cotton gloves, they take down the seven yellow Tour leader's jerseys framed above the couch. The day before, as Armstrong and I sat in this room, he had an idea. He asked if I wanted to lie on the couch, if I wanted to pose for a photograph under the jerseys that were still left.
"It'll be funny," he said.
I didn't get the joke.
---
From Cycle of Lies: The Fall of Lance Armstrong by Juliet Macur. Copyright © 2014. All rights reserved. Reprinted by arrangement with HarperCollins.
Image by Sam Woolley, sources via Getty/Wikipedia/Shutterstock.