One of our favorite gambits here at FJM is the old "use the exception that proves the rule to yell at someone for not thinking the exception is the rule" gambit.
Enter Rick Morrissey of the Trib (ahhhhh...just typing those words is giving me Proustian tingles) and this little beaut about the ChiSox:
Despite rich history of improbable comebacks, Chicago White Sox just giving up
Desire to dump veterans a disturbing failure of imagination

This article was published on September 2nd. The day before, the ChiSox had SmartBalled their way to a 4-3 loss in Minnesota, leaving them at 64-69. The Tigers had taken care of the Indians, 8-5, leaving them at 70-61. This site at that moment gave them about a 1.4% chance of making the playoffs.
Also, it should be noted, the ChiSox are hopelessly mediocre. They haven't been more than five games over .500 the whole year. They can pitch pretty well, but they can't hit, and there's just no way they're catching the Tigers. But screw the facts – let's enter the Imaginarium of Doctor Morrissey!
Is there no more room for imagination in numbers-obsessed baseball?
Don't just analyze the game. Dream the game.
I'm not talking about creativity. I'm talking about making room in your imagination for the possibility of something special happening, regardless of what the numbers might suggest.
G/O Media may get a commission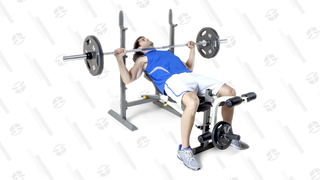 10% Off
Marcy Folding Weight Bench
If you are at the plate, and you take strike three, don't just walk away. Stay up there, in the box. Linger. Maybe everyone will forget that three strikes = you are out. Maybe the ump will have a heart attack and in the chaos you can sneaky-pete down to first. Maybe the pitcher will get cocky, like that guy that time on The Apprentice who gave up his immunity because he was so confident he would prevail in the boardroom and then got fired for being stupid enough to give up his immunity, and say, "You know what? Let him stay up there – I'll give back the out and strike him out again!" You never know. It could happen.

The White Sox are seven games out of first place with a month left in the season, and their general manager has let everyone know the team is finished.
What Rick Morrissey of The Trib is talking about is: the ChiSox trading Jose Contreras and Jim Thome a day or so before this article was written. Yes. That's the thing that has made Rick Morrisey feel like the ChiSox are waving the white flag. Trading Jim Thome, who is pretty good but 39 years old, and Jose Contreras, who is listed as 37 but who everyone knows is 50 if he's a day, and who was 5-13, 5.42 with a WHIP of like seventy thousand in 21 starts. Somehow, trading one of the absolute worst starting pitchers in all of baseball means you are giving up.
So, let's start by saying: dumping two 55 year-old guys is not necessarily "giving up." Thome had a pretty good year, all things considered, but just because he and Contreras are veterans and they traded them doesn't mean they are "giving up." Veteran does not = good, always.
Also, and probably more importantly, the team is finished. As I write this, they are 71-73, and 6 games back with 18 to play. Barring an insane miracle collapse by the Tigers, who are better than the ChiSox (not much, but better, especially defensively), the ChiSox' season was indeed over, on September 2nd, when they were 64-69.
So, to recap: they are not giving up, but they are probably finished, so there's no point in writing this article, and we should all just go back to work or studying a foreign language or whatever we were doing before I started typing this.

Did the Rockies think the same thing in 2007, when they were six games behind in the wild-card race on Sept. 1? They won 14 of their last 15 regular-season games and made it to the World Series.
The ChiSox should bank on doing that, then. Especially since their longest winning streak this season has been seven games, which was back in June, and five of which were over the Indians and Royals. They then lost two in a row to the Royals. They haven't been more than 5 games over .500 all year. They are scrumptionsly mediocre. But let's go ahead and bank on them ripping off 18 in a row and making the playoffs!
I remember reading, in a like Ripley's Believe It Or Not! book I had when I was a kid, that a woman was once sucked out of a commercial airplane at 20,000 feet and fell to the ground and landed in some hay or something and lived. This would not make me feel awesome about my chances, were I ever sucked out of a commercial airliner at 20,000 feet. If I were sucked out of a commercial airliner at 20,000 feet, I would think: "Man oh man, Ken, are you fucked."
Or how about the 1969 Mets, who trailed the Cubs by 8 1/2 games in mid-August and, well, you know what happened? Or the 1935 Cubs, who went 23-1 after Aug. 31 to win the National League pennant?

You're just giving up? What about that thing that happened 40 years ago? Or that other thing that happened 74 years ago! Why aren't you using those three instances from the last 75 years as a baseline for what you should expect to happen?! I don't understand why you are not doing that!!!!!!
I am as always sir your most humble servant etc.,
Rick Morrissey
The Trib
Or any of the other teams that have done the unthinkable by going on a September run to the playoffs?

And why are you not using other, vaguely-referenced hypothetical examples that may or may not have happened?! You are being so stubborn, The White Sox!
I remain sir your most devoted friend and companion etc.,
Rick Morrissey
The Trib
But GM Ken Williams has looked at his team and started passing out toe tags. After sending a memo to the other teams listing the players he was willing to trade, he sent Jim Thome to the Dodgers for a 26-year-old Class A infielder. Can you imagine that? A guy with 23 home runs and 74 runs batted in, and you get next to nothing in return.
Yeah, so, this was not one of Kenny's finest deals. They sent Thome and cash to the Dodgers for Justin Fuller, who is 26 and going nowhere fast. A little hard to explain, especially since I imagine Thome would have gotten them compensation if they'd offered arb. Maybe they didn't want to, because he made $13m this year and is 82 years old. Whatever. The point, again, is that the ChiSox went 1-9 in the ten games leading up to September 1. So they got rid of a veteran who cleared waivers. Big deal.
The Sox have six games remaining against Detroit, which is in first place in the American League Central. Trading Thome, as well as dangling Jermaine Dye and Scott Linebrink, is capitulation. It's surrender. It's telling everyone — players, fans, innocent bystanders — that it's over.
No it's not. Everyone on every team is "dangled" around August. It just makes sense. If the Rays thought that Jermaine Dye was the answer to their postseason push and decided he was worth David Price or something, it would be stupid not to have dangled Jermaine Dye. (Also, it is, probably, over, for the ChiSox. Just a reminder.)
Maybe it is.
It is.
But we never will know if it truly was,

It is.
because the season didn't have a chance to play itself out.
Get ready for some misplaced anger, kids.

Is there a stats-freak formula that suggests when to shut down a season? Is a six-game deficit on Aug. 31 similar to a bad OPS, OBP or Ob-La-Di, Ob-La-Da?
I would like to make a suggestion to all angry, stat-ignorant sportswriters out there: when you do the thing where you cite real stats and then make up a goofy-sounding joke stat to try to make fun of sabermetrics, don't use OPS and OBP. They're pretty fucking simple to understand, and also pretty mainstream at this point, but you all choose them as your "these crazy stats are so weird!" set-ups for your awesome joke stats, and so you all end up with similar-sounding jokes. There are way goofier-sounding stats out there, if you want them. xFIP is pretty silly-sounding. Use xFIP.
Another suggestion I might make to all angry, stat-ignorant sportswriters out there would be: learn some stuff about stats.

If I have this straight, the Sox acquired Jake Peavy and Alex Rios for a playoff run, and then when things didn't go well, the club ran with its tail between its legs.
Or, to put it another way: the club thought it had a chance to compete in a weak division, then they went 1-9 over ten games leading up to September 1, and rationally changed their minds. (The wisdom of trading for Alex Rios and his .296 OBP and his insane contract, and Peavy and his bum arm, is another matter entirely.) Then they traded two expensive guys who are free agents at the end of the year, one of whom was absolutely killing the team, and each of whom was so old they were both members of the miracle Cubs of 1935.
Does that about sum it up?

Yes. Yes, it does.
And while we're asking questions, since when did Trader Kenny become Traitor Kenny?
Well done.

What is it that baseball people like to say? That a 162-game season is a marathon, not a sprint? Well, the Sox just quit at the 20-mile mark.
Because they were well behind the pace-setters, and have another marathon to run next year. And also, they didn't quit. They traded two guys whose next birthdays will be announced by Willard Scott on The Today Show.

Williams wants to go younger. Understandable. But with a month left in the season, he sees no way the Sox are going to make a run for a division title? What an
— accurate assessment of his team's chances? — appropriate summary of the situation? — appetizing apple pie a la mode?
awful reflection on the organization.

Oh. I was way off.
Give Williams this: He got the Rockies to give him a Triple-A pitcher for the fast-fading Jose Contreras.
You know who that AAA pitcher is? 24 year-old Brandon Hynick, who had a 3:1 K/BB ratio at AA last year and who just threw a 7-inning perfect game at AAA. Jose Contreras was a 131 year-old pitcher making $10m a year, sporting a 5.42 ERA. If Kenny Williams had gotten the Rockies to give him a 50-count box of legal-sized envelopes for Jose Contreras, he could have rightly demanded and been given a 4-year extension. (And yes, I know Contreras pitched well in his debut for the Rockies. But it's the NL West, for God's sake. There are Babe Ruth League pitchers who can shut down the teams in the NL West.)

You can look at Monday's maneuverings as an indication that Peavy's arm problems are a lot worse than the Sox are letting on. Or you can look at it that the Sox are wringing their hands over how much they will be paying Rios and Peavy.
Those both make sense. Why did you write this article?
As much as his power numbers will be missed, Thome will be missed as a person even more. Everyone in the Sox clubhouse will tell you how hard he works to get ready for games. They will talk about the example the 39-year-old sets for younger players. But mostly they'll talk about how nice he is.

Is he $11m in salary as a 40 year-old nice? Because if you don't trade him and offer him arb and he takes it, that's what you're going to pay him next year, and if you don't offer him arb he's just going to walk, and you don't even get a 26 year-old A-ball player in return. He'd have to be pretty effing nice to be worth $11m as a 40 year-old DH. He'd have to be like "Kenneth the Page" nice.
If it were just Thome being dealt and if Williams had gotten something, anything for him, this might not be such a big deal. But the idea that Williams was ready to trade other veterans is. Taken as a whole, it's a dark day.

It's not "a dark day." The day Kennedy was shot was "a dark day." The day Jose Contreras was traded to the Rockies was 79 and mostly sunny, with maybe some very light mist in the early evening, just enough to cool things off in a pleasant way.
And as for the others that Kenny was "ready to trade," well, he didn't, because he didn't get a good enough deal. The Red Sox traded Nomar at the deadline in 2004 and won the World Series. Every thinking GM should be ready to trade any player at any moment, if the deal is right.

You can blame it on the Metrodome if you want. The Sox get inside that gray ghost and crawl into a hole. Maybe Williams saw only doom and gloom from that vantage point. But there might have been some light ahead if he had just looked for it.
Or if he had just gotten less stubborn and thought about the 1935 Cubs, which: why don't more GMs think constantly about the 1935 Cubs?!?!?!?!?