So, honestly, what in the name of fucking Florio happened today with the Packers.com very brief, yet very public screw-up regarding Brett Favre's retirement? About an hour ago, the Packers PR monkeys fessed up to the whole situation, telling Dennis Dillon at The Sporting News that, "The people who handle our website set up mock pages. It's as simple as that. ... A third party was preparing something in case (Favre's retirement) happened. They've done that the last five years."
Five years? Maybe there's a little bit of embellishment to help minimize the whole situation, but it seems a little suspicious that a not-so-elaborate homepage mock-up of Favre would be sitting around in some publishing cue pending a retirement announcement. And if it has been sitting around that long, you'd think a programmer's elbow grazing the SEND key would've been something they would've fail-safed a while ago. ( Right now, I'm picturing Mark Borchardt from American Movie is the guy mashing all the buttons at Packers.com headquarters.)
The most enjoyable part of the day was watching Pro Football Talk almost eat itself trying to keep up with all the madness. MDS to the rescue, of course.
After wiping the brown stuff off of its face, the Packers did say there will be some sort of press conference next week that'll address the future of Wisconsin's Gunslinging Wet Dream and the appropriate amount of mourning and/or rejoicing will finally be able to commence.
In preparation for that event and to pay my own homage, I was reminded of Reuben Frank/Sal Paolantonio's spot-on summary of Favre's career:
Let's interrupt the deification of Brett Favre for a moment to examine the second half of his career.

Since beating the 49ers in the 1997 NFC Championship Game, Favre has won just three of 10 playoff games. Eli Manning had more playoff wins in a 29-day span this year than Favre has in the last decade.

Yes, Favre won a Super Bowl 11 years ago. Good for him. But while his career arc has spiraled downward, the sickening fawning over him has only grown worse.

Favre has thrown two of the worst playoff interceptions in NFL history - Brian Dawkins in overtime against the Eagles in the 4thand-26 game in 2003 and last month against the Giants. He's the only quarterback in NFL history to throw overtime interceptions in two different playoff games.

Since 2002, Favre is 2-3 in home playoff games, losing to Michael Vick, Daunte Culpepper and Eli Manning. The Packers have lost as many home playoff games under Favre in the last six years as they lost from 1921 through 2001. In his last nine playoff games, Favre has thrown 16 touchdowns and 18 interceptions.

Yet the football hype machine still stubbornly paints Favre as this hallowed icon of Americana, a symbol of all that is right with sports, a Wild West gun-slinging good ol' boy. There's Brett on the farm! There's Brett with his family! There's Brett on the cover of Sports Illustrated! There's Brett throwing another overtime interception!

Favre was the best in the game once upon a time. Those days are gone. Even if nobody wants to admit it.
G/O Media may get a commission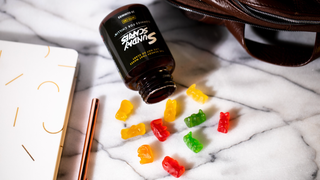 10mg CBD Gummies (22-Count)
Stay tuned...
Packers: Favre retirement page a mistake [Sporting News]

Favre-tastic lunacy at The Rumor Mill [PFT]

Favre Could Maybe, Possibly Be Retiring Again [Chris Mottram's House of Fire! (or The Sporting Blog)]

Books By Snazzy-Dressing Italian Men and Men Named Reuben