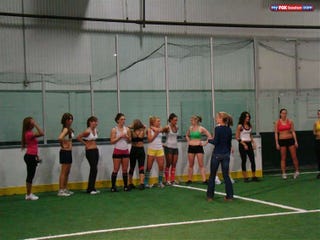 Got an image you'd like to see in here first thing in the morning? Send it to tips@deadspin.com. Subject: Morning crap.
Over the weekend, the New England Euphoria of the Lingerie Football league held open tryouts to presumably find the next Vince Papale to strap-on shoulder pads and garter belts for this season's LFL. 7 teams from all across the country will field ladies of varying football skill and bra size to for the full-contact sport. What will last longer — this or the World Football League? I wonder if Jim Fassell applied for a coaching job in the LFL first.
The Euphoria will open their first game against the Atlanta Steam on Sept. 18th.
*****
Good morning. It's Tuesday. Getcha self a box of Newports. And Puma sweats.

As Sexy As It Gets In New England [With Leather]
Lingerie Football Tryouts [My Fox Boston]
Panty Raiders [Boston Herald]