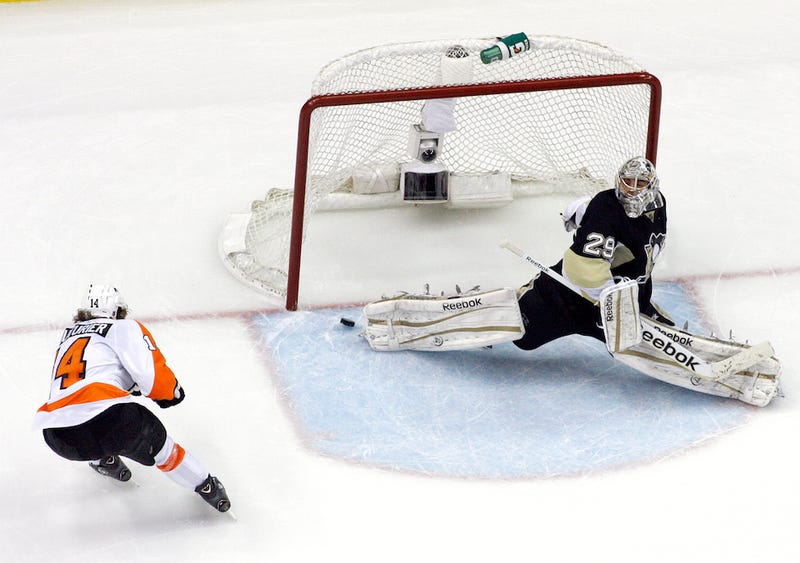 Jaromir Jagr, channeling his inner Shaughnessy, summed up best the Game 2 outcome on Friday between the Philadelphia Flyers and Pittsburgh Penguins—a game where 13 goals were scored on Friday the 13th.
After jumping out to a one goal lead, thanks to Sidney Crosby in the first seconds, and a 3-1 lead at the end of the first period, the Penguins gave up two hat tricks (Claude Giroux and rookie Sean Couterier) to the Flyers en route to an 8-5 loss. Jagr himself netted the go-ahead goal for his 78th goal in post season play, first as a Flyer. There were also two shorthanded goals, two power play goals and an empty netter. The consensus term appears to be "wild" and that certainly fits.
The Penguins have now dug a two game hole and go on the road to Philadelphia to try and save the season beginning this Sunday. For the stats that sound crazy, but really mean nothing crowd: the Flyers are 17-0 in series where they have a 2-0 lead. Team playing well continues to play well, 17 times in a row. The strange thing is that each game in this series has played out like a reverse microcosm. In both, the Flyers have had to fight back from early deficits.
"I wish we didn't have to come back," Jagr said. "We got ourselves in a hole again. Even for the last month of the season, we have had a lot of games like that. I don't know what the problem is. We just don't make any plays in the first 10 minutes."

Laviolette preferred to look at the positive. "Fighting back like that isn't easy, and the players were so resiliant, [sic]" he said. "I really thought after that first period we played our brand of hockey."
So maybe "team playing well" doesn't necessarily continue to play well but rather plays terribly, and then later starts playing well. Whatever, though—it was Friday the 13th, anything goes.
Philadelphia Flyers rumble with Pittsburgh Penguins in Game 2 [USA Today]