The more details we learn about the benching of Eli Manning for Geno Smith, the clearer it becomes that this whole thing was done in the only way the Giants know how to do things this season: chaotically, unnecessarily, less-than-competently.
We knew that the decision was, initially and ultimately, that of head coach (but not for long) Ben McAdoo. And we knew that Manning was presented with the option of starting games only to be removed for backups, and that he declined. What we didn't know, until co-owner John Mara spoke with the media on Wednesday, were the particulars of that sit-start option, and how it was given to Manning.
Manning, who has the longest active start streak in the NFL at 210 games, was told he could continue to start games, but would be removed at halftime no matter the score. Mara says he disagreed with that hard-and-fast rule, and believed that if the Giants were still in the game at the half, Manning should be able to stay in and try to win.
I didn't necessarily think it had to be at the half," Mara said. "I think if he's playing well in the first half, we're winning the game, it looks like we've got a chance, the offense is clicking, I would argue then keep him in the game. But having him definitively come out at the end of the first half, I can understand why he would object to that."
So, uh, John? Why was the objectionable version of the plan the one presented to Manning?
"Well it was presented the way Ben thought it ought to be presented," Mara said. "And could we have done it differently? I guess you argue that we could've, yes."
G/O Media may get a commission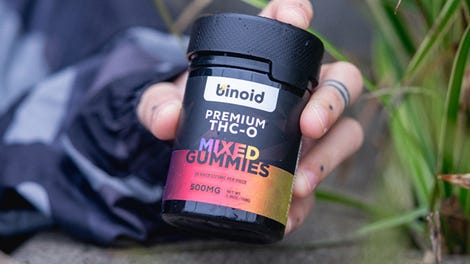 25% Off + Free Shipping
Binoid THC-O Gummies
That thumping sound you hear is McAdoo being thrown under the bus by his boss. Mara sounded legitimately angry, telling reporters, when asked about how McAdoo has done this season, that "we're 2-9. We're 2-9, okay? I'm embarrassed about that. Nobody's doing a good job."
But what of McAdoo's job? Two weeks ago, Mara and co-owner John Tisch released a rare joint statement saying that McAdoo had their confidence, and that there would be no coaching changes until the end of the season. Mara sounds a little less certain now, after this week's blowback to the Manning benching.
"There's no guarantees in life," Mara said. "I made my statement on that a couple of weeks ago, but there are no guarantees in life."
That other thumping sound you hear is the bus running over McAdoo. (And, likely, GM Jerry Reese, who found himself included in Mara's wrath. "I'm not going to address their job status," Mara said of the pair. "We obviously have some decisions to make in the offseason.")
Meanwhile, Manning got some moral support from a quarterback with whom he'll be forever linked. Philip Rivers, who's a Charger because Manning forced a draft-day trade to New York, called the Giants' benching of Manning "pathetic." The mention of Rivers unavoidably brings up some fun alternate-universe debates about how Manning's career might have gone elsewhere, and whether the Giants would have won two Super Bowls with another quarterback from that legendary 2004 first-round draft class that also included Ben Roethlisberger. (And, uh, J.P. Losman, but we ignore him.)
Manning's legacy is a tricky one. Never statistically one of the best quarterbacks in the league, he nevertheless has two rings, and the longevity, and, yes, the bump that comes from playing in a big market. And while defense drove those championship Giants teams, Manning came up huge when it counted—the throw to Mario Manningham along the sideline in Super Bowl XLVI, the game's most important play, is just about the most perfect pass you'll ever see. If Manning is a Hall of Famer—I think he shouldn't be, and I also think he will be—it'll be because he performed at his best on the biggest stages. That's worth a more dignified send-off by the Giants than this, even if the time for that send-off had inarguably come.