In the grand tradition of The Catcher — three strikes ... you're dead — comes Sports By Brooks' discovery of a film currently hitting the festival circuit seeing funding: Slice. Yep: It's a slasher movie about golf. It also has a decidedly inferior tagline: "It's a game you'll play for the rest of your life." What does that even mean?
We really need to let the plot synopsis speak for itself:
Seven years after the free and easy days of high school, four friends meet up at the "Wide Open" - a wild, after dark, golf tournament. The foursome made up of Ben, Fast, Nick and Jack - now men with separate lives and separate perspectives - reunites in the thick woods of Virginia at Woody Hole Golf Club, which just so happens to reopen just in time to host their annual golf outing. But when a stranger stumbles onto the remote course and into their lives, chaos explodes. Soon, these friends are plunged into a horrifying struggle with hideous creatures determined to destroy them.
Woody Hole was built in the midst of a forgotten and seemingly innocuous cemetery. Disturbed during renovation, the ground unleashes something dark and deadly. Stimulated by the rambunctious partyers nearby, more creatures venture forth with increased vigor. The golfers find themselves surrounded and cut off from their cars - cell phones useless due to the remoteness of the course. The friends panic and scramble into the woods. Their only chance of survival is mired in their ability to forget their differences of the past, join forces and fight to ensure their future. But they are lost, separated and bloodied. What chance do they have?
Just as things look their darkest, a mysterious stranger enters the fight. THE GROUNDSKEEPER, once a promising professional golfer, is now a misunderstood loner. The unexplained disappearance of his son has left him heartbroken and alone. A man with nothing to lose, he fortifies the group. As the reality of the situation and his child's horrifying fate become all too apparent, he rises to the challenge and acts out his own rage-induced revenge.
G/O Media may get a commission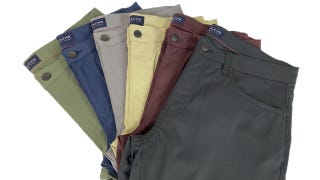 JACHS NY Fall Stretch Tech Pants
OK ... AWESOME! The film is still looking for investors, so put your money where your mouth is, people.
Golf Horror Film's Audience Shocker [Sports By Brooks]
Investors Wanted [Slice The Movie]
The Baseball Slasher Flick [Deadspin]