What we know about what happened on the night police responded to a domestic violence call at Greg Hardy's apartment building is found here, in these documents. Below, you'll find the full versions of the documents that Deadspin received, with select identifying information redacted.
Jokic? Embiid? The NBA MVP is obvious... right? | Keep it a Buck(et)
Police incident reports and narratives
G/O Media may get a commission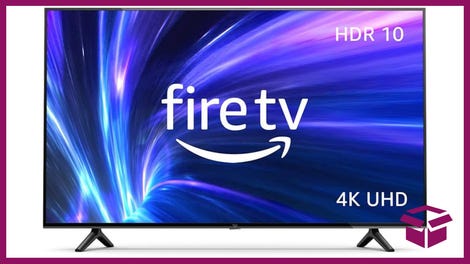 42% Off
Amazon Fire TV 50" 4K Smart TV
These are the writeups of the incident by the responding officers. Our story follows these descriptions, but if you're looking for further detail, the last account, by Officer Ivan Reitz, has the clearest timeline of events from that night.
Det. Strother narrative
This is included in the pack above, but singled out here for the progression of the case over the following days and weeks. Strother was the lead detective on the case.
Nicole Holder's police interview
Holder's interview with Strother is one of the more difficult documents to read. By the end of the interview, Holder has described a fully fleshed-out dynamic between herself and Hardy, with Hardy's behavior going as far as him allegedly showing up at her home uninvited to smell her pillows and towels (page 41) because he suspected her of cheating. Holder's description of the violence appears on pages 12-19.
Kristina Laurence police statement
Laurence's handwritten statement describes what she says was obvious "body slamming" from room to room. It's transcribed in our main post.
Security guard 911
Laurence claims that security at Hardy's building initially ignored her, but eventually a 911 call was placed. The transcript is brief, but the overlapping voices, even just in script form, convey the Laurence's urgency as she shouts onto the record from the background.
Greg Hardy's 911 call and police statement
Hardy's initial statement is obviously rushed; it jumps right from Hardy finding Curtis sleeping on his couch to Curtis having heard Hardy ask Holder to leave the house, without any buildup to why that would be. In Hardy's 911 call, he claims that he is under attack by Holder and that his manager is fighting with and restraining her. On the call, he claims to have video of everything, but it is never produced in the documents Deadspin acquired.
Sammy Curtis police statement
Curtis's statement mirror's Hardy's, claiming that Holder "started slamming the door and pushing Greg. Then she started swinging at him and hit him a few times." He claims that he and Hardy asked Holder to leave, and eventually he was forced to restrain her and walk her out.
Marco Harris interview
Harris's interview with lead detective Strothers repeats the version of events offered by Hardy and Curtis, with the added scrutiny of length and further questioning. On page 20, he claims that when he saw Holder, she had no bruises on her face, and the only injuries that would make sense from what he claims he saw would be light abrasions to her chest, from the way Curtis was restraining her.
State's exhibit/evidence log
This is how the state described the photos it entered into evidence, most of which appear in the gallery in our main post. The descriptions here are used as captions in our gallery.
State v. Hardy transcript
A full transcript of Hardy's bench trial, which was heard July 15, 2014. There's a table of contents on sheet 1, but if you're looking for somewhere to start, Nicole Holder's testimony is on page 112, and Kristina Laurence's on page 73, and Greg Hardy's is on page 304. Judge Tin's findings—beginning on page 365—specifically highlight Laurence's testimony as compelling, given Laurence's non-existent relationship to both parties.
Hardy's weapons receipt
A receipt for weapons Hardy turned over to the police.
Court dismissal
The official dismissal of criminal charges against Hardy in North Carolina. Holder refused to cooperate with the state.
To contact the author, write to diana@deadspin.com (PGP key) or DM @dianamoskovitz.