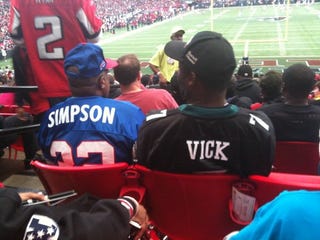 Because no one reads the newspaper, and SportsCenter's anchors are too perky for this early in the morning, Deadspin combs the best of the broadsheets and the blogosphere to bring you everything you need to know to start your day.
(Ed. note — This photo is America. Thanks to Adam G. for the photo from Bills/Falcons.)
• Indianapolis-ish councilman Beurt SerVass demands the Colts repay the fans who paid money for tickets on Sunday. "To have all these people come down on a snowy night and have to pay (hundreds) for a ticket they want to see the Colts work," said SerVaas, who watched the game from home. "It really wasn't a football game. It was a spectacle and not a very nice spectacle."Colts' fans named Councilman Beurt Servass need to stick to fixing traffic lights and pot holes. [Indy Star]
• And more bad news from Indiana: Maurice Creek's knee is in a million little pieces. [MidWest Sports Fans]
• Yi Jianlian, giant Chinaman, continues to make the Nets interesting. [AP]

• Mike Tirico really, really wanted to show off what his kids bought him for Christmas. [The Sports Hernia]
****
Goooooood morning, inch-worms. It's Tuesday. Drop your socks, grab your smocks, and don't you dare feed us lies from the tablecloth — it's time to paint this thing called Deadspin.