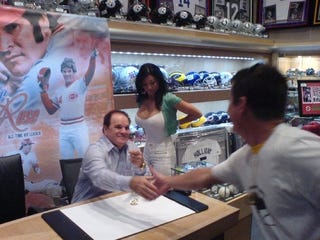 Think Pete Rose spends every day broken up about not being in the Hall of Fame? Looks like he's got other things by on his brain.
Pete was in Houston doing a radio interview, because that's where he and his as-yet-unnamed girlfriend met with a Playboy talent scout. But lest you think the young lass is nothing more than a pair of freakish fake breasts,
[M]y girl's a real educated girl - she graduated from Arizona State. She had a very prestigious job several years ago when she was a flight attendant for Korean Airlines, which is really a big deal in Korea, and she's Korean."
Pete also laid the sole blame for his ban on Bud Selig, but let's be honest. You only clicked on this post to make that photo bigger. You haven't read this far down.
Pete Rose Goes To Bat For His Lady! [Sports Radio Interviews]