What would we see if we could step into the mind of Barry Bonds? The Mad Hatter would be hosting a tea party in there, certainly. Posters of Gilbert Gottfried and Prof. Irwin Corey on every wall. Fantastic creatures would abound — animals not found in nature, such as a spiny jackrabbit, and a half-man, half-kangaroo. Everyone in there would be wearing green jumpsuits with question marks on them, like The Riddler. Occasionally, of course, some of this madness would leak out into the real world — such as on Sunday. First, Bonds told USA Today that he would be retiring after the 2006 season.
"The game (isn't) fun anymore," Bonds said in a phone interview. "I'm tired of all of the crap going on. I want to play this year out, hopefully win, and once the season is over go home and be with my family. Maybe then everybody can just forget about me."
America's most colorful daily though it had a scoop, until Barry turned up on MLB.com a few hours later, saying: "If I can play [in 2007], I'm going to play; if I can't I won't. If my knee holds up, I'll keep on going. I'm playing psychological games with myself right now. I don't want to set myself up for disappointment if things don't work out this season. So I go back and forth. Back and forth every day. These are the things that are going through my mind. This is what I'm struggling with."
So you see, Bonds is playing mind games with himself. Imagine, if you will, two super villains sitting in giant leather chairs and stroking their pet cats, each plotting against the other to destroy the world. You just kind of throw up your arms and wait to see which freaked-out maniac prevails. Here's what we think really happened, however. When the USA Today story hit, Giants brass saw it and freaked. The Giants have been doing comical somersaults for the past two months with local TV, radio and print, sending a small army PR guys out in an attempt to rehabilitate Bonds' image for the push toward the career home run record. This, we're sure, didn't fit the message. And so Barry was sent forth to 'clarify' his remarks.
Our opinion: Barry's nuts. Why hide it? We think the Giants would be better served to let Barry don a Clinton Portis disguise each week and hold a press conference. This Thursday could be, Captain Waffle.
G/O Media may get a commission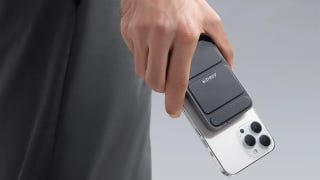 15% off
15% off Anker Top Ten Products
Take charge
Treat yourself to a portable power bank, a magnetic wireless battery for iPhones, or even a solar generator. There is a reason these are in the top ten. For instance, the Anker 747 Power Bank is a 4-in-1 charger utilizing USB-A and USB-C to be capable of charging up to four devices at once. Great to take with you when traveling and in need of keeping your phone, laptop, and even Nintendo Switch powered on.
Bonds: 'I'm Not Playing Baseball Anymore After This' [USA Today]
Bonds Clarifies Retirement Talk [MLB.com]