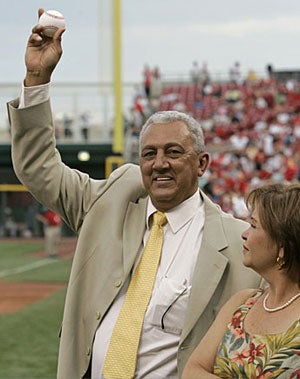 It doesn't appear that Dave Concepcion will make the Hall of Fame. Since his name appeared on the ballot in 1994, his support has ballooned from 6.8% to 13.6%. And he only has a couple of years left. When one looks at his numbers, they don't exactly resemble a Hall of Famer: career .267 batting average, nine-time All-Star, five Gold Gloves ... yeah, that's not a Hall of Famer. But that doesn't diminish his status in Cincinnati Reds history. On the 1976 championship team, Concepcion batted 8th (another case against the Hall). People who bat 8th, and play well, are lovable players. And that's why Cincinnati retired his No. 13 jersey last night before the Reds-Marlins game, which Cincinnati won 11-7. So don't take it personally, Reds fans. Concepcion isn't a Hall of Famer, but he was one hell of a shortstop, probably the best from the '70s. And he's yours. All yours.
A Lesson In Bad Baseball Nicknames. Conor Jackson's 2-run home run was the turning point in the Arizona Diamondbacks's 3-1 win over the Chicago Cubs. But the real story here was MLB.com's front page headline, which referred to him as "CoJack." Ew, God, please don't make that his nickname.
The Other Innings, However, Were Pretty Good. So There's That. Tim Hudson was cruising against the St. Louis Cardinals in the first four innings. But then came the fifth, where he allowed five straight singles. ("Five straight singles" is sometimes used to describe five friends who watch Star Trek.) In that fifth inning, St. Louis scored all five of their runs, which was enough for a 5-4 win over the Atlanta Braves.
Wang Jokes Are Never Not Funny. So, Roger Clemens is allowed to leave the team during road trips, and everybody complains and cries favoritism. But Chien-Ming Wang leaves Friday night's game (that lasted until 3:30 in the morning) early so he can pitch the next day, and nobody says a word? What a pro-Asian bias this country has. Wang got his precious rest and stifled the Detroit Tigers' offense in a 7-2 win. At one point, the Yankees had back-to-back triples. That tends to help too.
Oh Let The Sun Beat Down Upon My Face, Stars To Fill My Dream. So, you know which team it always sucks to play in late August or September? That'd be the Devil Rays, because they're always out of the playoffs and the young'uns are playing out of their heads because they don't know any better. In a 14-3 win over the Oakland A's, Tampa Bay's Scott Kazmir struck out 13, and his offense scored at least 10 runs for the second straight night. Perhaps manager Joe Maddon should just inform his team they're always out of the playoffs, even in April of next year, and continue the lie even if they have a 10-game lead over the Red Sox and Yankees.