After the Pacers were eliminated by the Raptors in Game 7 of their first round series last night, Adrian Wojnarowski reported that there have been no extension talks between the team and coach Frank Vogel, whose contract apparently expires shortly:
Not having discussed a contract extension is very different from the two sides deciding to part ways, and it is possible (probable, even) that Vogel's agent is just agitating for a higher number here, or perhaps up a trial balloon to get outside teams interested in Vogel. But setting aside the palace intrigue, if the Pacers are thinking seriously about jettisoning Frank Vogel, they're crazy.
Vogel took over the Pacers in 2011 as an interim, after Jim O'Brien was fired. He guided the Pacers to the playoffs, and was handed the permanent job soon thereafter. Each of the next three seasons the Pacers were bounced from the playoffs by the Heat after putting up an extremely good fight, once in the Eastern Conference Semifinals and twice in the Eastern Conference Finals.
Quickly, the evolving NBA passed the Pacers by. Roy Hibbert—once upon a time LeBron's Kryptonite—was suddenly all but unplayable in the modern NBA, Lance Stephenson outplayed the Pacers' ability to pay him, Danny Granger never returned to even a shell of his former self after suffering various knee injuries, and rising superstar Paul George horrifically broke his leg.
Despite all that, last season the Pacers still almost made the playoffs. They were led in minutes by Solomon Hill, a second-year player suddenly thrust into the starting lineup, the corpse of Hibbert, David West and his diminishing game, Rodney Stuckey, and C.J. Miles. Somehow, Vogel turned that into the eighth best defense in the league.
G/O Media may get a commission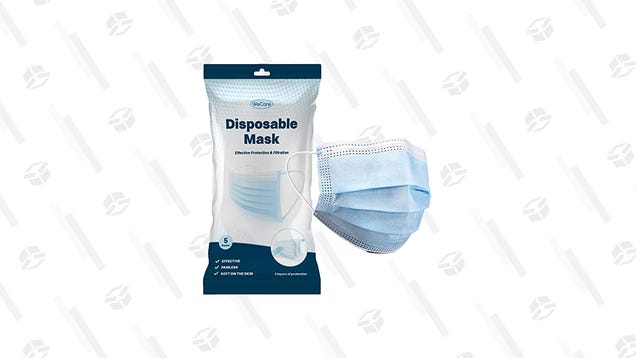 WeCare Disposable Masks With Elastic Earloops- 5 Pack
The Pacers decided they weren't going to re-sign Hibbert and traded him, necessitating a brand new defensive identity, and brought in Monta Ellis as their backcourt anchor, and their defense improved to third best in the league! Frank Vogel deserves the Coach of the Year award just for getting a team heavily featuring Ellis to play lights out defense. And, after finishing seventh in the East, the Pacers almost knocked off the number two seeded Raptors.
Vogel isn't a perfect coach or anything. He obviously struggles on the offensive end and could use one of those Alvin Gentry or Kenny Atkinson-type offensively gifted lead assistants. He hasn't mastered in-game rotations or adjustments, and at times the 2013-14 team quit on him, though Vogel seems mostly blameless in that department.
Perhaps more salient at this point, none of the candidates on the job market are as good of a coach as Vogel, let alone better than him. Mark Jackson? David Blatt? Vinny Del Negro? Jeff Hornacek? C'mon. The only possible upgrade to Vogel is if a currently untested assistant is the second coming of Gregg Popovich, and it seems awfully optimistic to take a flyer on that.
The Pacers are set up well enough for the future. Paul George is a borderline top ten player who seems fully recovered from his injury, and rookie Myles Turner shows the potential to be a transformational center. And, of course, they have Vogel. A great wing, a great big, and a great coach are key ingredients for success in the NBA, and the Pacers have them, or something resembling them.
Throwing that away now seems unwise.