There was a time when Michael Jordan was a very different kind of superstar, writes Bethlehem Shoals in this excerpt from FreeDarko's wonderful and wonderfully idiosyncratic Undisputed Guide to Pro Basketball History. That MJ was edgy and menacing, and he helped make embarrassing music that no one remembers today. A look back at Michael Jordan, basketball punk.
In 1987, four young, hopeful ladies from the Washington, D.C., area entered the studio to record a sassy, if wan, R&B single they hoped would bring them fortune and fame. Through the almighty mandate of the remix, LaDawn Brown, Lachelle Baker, Crystal Torez, and Anissa Moody stretched their "Everybody Use Your Imagination" to occupy two sides of an otherwise forgettable twelve-inch. Under the name Hot Butterfly, they released it on the local City Groove Records, no one noticed, and, presumably, they all went on with their lives. Hot Butterfly was forgotten until intrepid record collectors dug the single up more than two decades later, when it gained some small notice as a curiosity.
What made for the newfound interest in Hot Butterfly, as well as the group's presumably high expectations, was the involvement of Michael Jeffrey Jordan in the record. "Imagination" begins with Jordan's name, intoned by heavily processed, high-speed vocals; next, MJ himself drops in for a sliver of a spoken intro: "The pressure's on. Most people panic for a way out. But myself, I imagine a thousand different ways to get myself out." He returns at song's end, as if to reassert his dominion or remind us that he approves. The sleeve depicts Brown, Baker, Torez, and Moody with matching Salt-N-Pepa hairdos, door-knocker earrings, and oversize Air Jordan sweatshirts. A large image of His Airness hovers overhead. Moses Malone Jr. and Ray Leonard Jr. helped out on the background chant, but this was unquestionably a Michael Jordan joint. And yet it vanished without a trace.
It's inconceivable now that a Jordan-branded commodity would disappear like this. In 1987, though, Michael Jordan was a very different kind of superstar. Edgy, dangerous, even controversial, he was far from safe, even as the public hung on his every highlight. He put up huge numbers and regularly ransacked the realm of possibility; quite often it looked like Jordan was inventing a sport on the spot to suit his gifts and everyone around him was trying to play catch-up. "Everybody Use Your Imagination" was the first "Be Like Mike," except that it taunted rather than encouraged its audience. Jordan's mind came up with a thousand different ways out; the imagination of the title was his, as was the gift that had allowed him to get on this record in the first place. To many, though, Jordan was a showboat, a ball hog, and a team killer whose one-man freak show paled in comparison to the small-scale societies one found with the Lakers, Celtics, or Pistons of the eighties. Jordan the corporate entity was just as unrefined. When else in his career would the consensus Greatest of All Time (GOAT, for those adept at holding back laughter) ever get behind a scruffy local musical act from a city he had no ties to?
As a public figure, Jordan's great achievement has been his ability to stay on message—to craft a narrative for himself and then cram it down our throats at every opportunity. Doubted, he repeatedly triumphs through hard work and the restorative, vindictive power of destiny. Jordan as we know him, and as he wanted himself to be represented right up through his Hall of Fame speech in 2009, is a series of cycles, which only adds to the bullying power of his story. But due diligence reveals that many of them depend on exaggeration, fabrication, or repression. That has also required forgetting early missteps like Hot Butterfly—for all we know, he's bought up and destroyed copies himself—and it's meant forgetting who the young Jordan really was and how the league perceived him.
In Jordan's script, a skinny sophomore is left off of the varsity basketball team at Laney High, with the last spot going to his friend Leroy Smith. Yet as David Halberstam explained in his Jordan biography Playing for Keeps, the decision was based almost entirely on size. The team's coaches agreed that Jordan would get his chance and was clearly the superior player—they just neglected to tell him. While Jordan was selected behind big men Akeem Olajuwon and Sam Bowie in the 1984 draft, there was no shortage of teams hankering to move up and take him second. Even the Rockets had considered it. The preference for big men was just too ingrained. As with the high school story, the basic facts check out. Yet in both cases, there was also a lingering sense that Michael Jordan would still likely end up Michael Jordan.
G/O Media may get a commission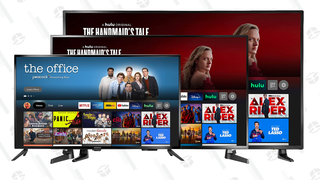 Up to 44% off
Prime Early Access - Insignia Fire TVs
We're now supposed to see his first years in the league as an NBA bildungsroman, with Jordan paying his dues and working his way to the ultimate prize. In fact, Jordan was in the eyes of some a radiant dead-ender who might never win a championship.
Michael Jordan wasn't the first player to jump to the rim or abuse defenders. But there was something different about MJ. Not only could he get higher and do more while hanging in the air than anyone who had come before, Jordan was outright vicious in the way he used this exquisite ability, careening around the court and knifing his way to the basket with recklessness—as expansive as Magic, but replacing Johnson's glee with a kind of freewheeling, vigilante menace. To say that Jordan had a playground-style game was to suppose it could be contained or assigned its own argot. Jordan jetted up the court, around, over, and through defenders, with an organic, ecstatic ease that made a mockery of "moves." The ball leapt out of Jordan's hands as if imbued with his spirit, understanding for the first time what the rest of its life would be like. The burnished fadeaway that would later become MJ's calling card, that ultimate beam of reckoning, was yet years away.
Make no mistake, Jordan was a shock to the system. But if this onslaught had been predicted by some scouts and executives, it was practically assumed by David Falk, Jordan's agent. Falk was in his own way as seminal as MJ, leveraging for his rookie client a deal on par with the league's biggest stars and a sneaker contract that nearly matched Jordan's salary. Falk, of course, took a sizable cut, when in the past agents had been lawyers hanging around the margins of the sport for kicks. Nike, in turn, invested in Jordan not merely as a star basketball player but as a movement. Young Jordan was, by virtue of the way he played the game, a rebel, a change agent. The Jordan 1 shoe was banned by the league for violating rules regarding footwear and uniform color schemes; Nike promptly released an ad that used the ban as metaphor, implying—perhaps rightly so—that the ban had as much to do with Jordan's impact on the sport as any simple violation of rules. Shrewdly, the Bulls phenom paid the fines and continued to wear his signature shoes, an investment that paid itself back thousands of times over. At this point, Jordan wasn't selling excellence, he was all about defiance.
During Jordan's first three seasons, the Bulls were a sub-.500 team that nevertheless stumbled into the playoffs. Jordan missed most of the 1985–86 season with a broken leg, so it's not fair to hang that one on him. But the idea of a team for whom the postseason was a given despite obvious deficiencies was a fitting, even snide, commentary on Jordan's position in the league then. He was viewed as sublime but entitled, lacking the gravitas that eventually made his prowess seem earned. He returned in time for the 1986 postseason, putting up a playoff-record 63 points in a double-overtime Game 2. Jordan's outlandish effort, which came against the gritty, proud Boston frontcourt of Bird, Kevin McHale, Robert Parish, and a rejuvenated Walton, was in vain, as the Celtics swept the Bulls. In 1986–87, Jordan averaged 37.1 points per game for the year but again lost to the Celtics, in three games, in the first round. The losses to the Celtics today are seen as the growing pains of a brilliant young star trying to carry an entire team by himself because he had to. Jordan was, according to the legend, as fated to fall to the Celtics as he was to one day overcome them. But at the time, these battles were about more than waiting for the torch to be passed.
Many older players thought of Jordan as a showy punk meaninglessly piling up point after point against the consummate respectable vets. That it was so easy for Jordan but so hard for his team, was the ultimate sign of tastelessness. You just didn't leave the boys behind like that, having so much and spreading so little of it around. You wouldn't exactly call MJ irreverent. He showed respect to no one not because he felt destiny would prove him right, but because his play let him get away with whatever he wanted. That's the paradox of Jordan's career, and while the early years have been carefully reinterpreted, it nevertheless felt this way at the time. While he had yet to prove himself to the older generation or win any titles, he was already, in a sense, godlike. The mantra of hard work and determination was at odds with the effortless exuberance that marked the days before Scottie Pippen (who was drafted in 1987) and Phil Jackson (who joined Doug Collins's staff as an assistant that same year). He would also never get a chance to say "I told you so," because to win championships, he had to accept the triangle and Phil's guidance.
While the Celtics were NBA royalty looking down their noses at a petulant Jordan, the Pistons presented a more evenly matched battle. When the Bulls and Pistons met, it was also a final battle of sorts, a clash of basketball civilizations in which Detroit represented the true believers. The Bad Boys were mean, even sadistic, earning their two titles with hard-nosed, physical play. Coach Chuck Daly's expensive suits gave him the air of a mob boss directing hired toughs. Center Bill Laimbeer wasn't just physical, he was a thug in the Blackshirt sense who took the court with the express goal of agitation. Even the Pistons' most lyrical player, point guard Isiah Thomas, was a bastard who had orchestrated a boycott of Jordan at the 1985 All-Star Game. Jordan started the game but finished with only 7 points; it's long been rumored that Isiah asked his Eastern Conference teammates to keep the ball out of the rookie's hands. This virtual embargo not only spoke volumes about how MJ was seen by his elders, but also set up an opposition between him and the Pistons.
In 1988, the Bulls got out of the first round for the first time; in 1989, Jordan hit the Shot, his high-flying game winner over the Cavs' Craig Ehlo, officially beginning his pro tenure as a winner. But in 1988, 1989, and 1990, the Pistons stood in their way, beating the Bulls in the second round once, and then twice in the Conference Finals. When the Bulls finally got past them in 1991, en route to their first championship, the Pistons left the court without shaking hands. That's now regarded as the ultimate display of both poor sportsmanship and the subhuman place the Bad Boys occupy in NBA history. However, that's in a post-Jordan world. At the time, it represented the frustration, even disgust, that older players felt at the thought that Jordan had superseded them. They were hung up on what he represented and ignored what Michael Jordan had lost along the way. It's almost like the Pistons won after all.
That young Jordan, for whom all things seemed possible, had to give himself up for the story as we know it to continue. He's a hiccup, a roadblock, one that—like the embarrassment of Hot Butterfly—had to go away for the legend to ring out. Jordan even seemed to recognize this at the time. The greatest dunker the world had ever seen, the man whose logo was himself midflight, competed in (and won) his last dunk contest in 1988. Then Jordan claimed he didn't want to be known as a dunker anymore and went so far as to compete in the three-point contest in 1990 to officially signal a shift in his game. No longer the madman who could level any arena with his dynamism, he was now a shooter.
The dunk takes an instant and an eternity; it's both completely frivolous and totally domineering, a flash of light so blinding and brief that it might as well have never happened. A shot was the stuff of narrative; it was itself a story with a built-in arc, climax, and resolution. It also served as the perfect punctuation to any possession, game, season, or career. That kind of player, the one who seized the past and carefully etched the present, was the athlete MJ had learned to become.
Reprinted by permission of Bloomsbury USA. Bethlehem Shoals is a founding member of FreeDarko.com and a regular contributor to NBA FanHouse. Michael Jordan illustration by Jacob Weinstein, from the "Jordan and his Discontents" chapter later in the book. You can buy The Undisputed Guide to Pro Basketball History at the FreeDarko store.