Chris Benz and Dave Shireley will be filing dispatches from the Rugby World Cup in New Zealand, in the odd moments that they are sober. For a rugby glossary and position guide, click here.
Jokic? Embiid? The NBA MVP is obvious... right? | Keep it a Buck(et)
AUCKLAND, New Zealand—Two Saturdays ago, the Irish beat the Australians. That wasn't supposed to happen. Australia is a favorite to win the tournament, and Ireland lost all its warmup matches. It was a victory of willpower over skill (and tough forwards over weaker forwards), and it was a much-needed victory for the noisy segment of the Irish diaspora in attendance here in Auckland.
The Irish kept the ball in hand, and the Irish supporters sang so loudly they made a stadium in New Zealand sound like Lansdowne Road in Dublin. Later, a Kiwi journalist would tell me he'd never heard Eden Park so loud.
G/O Media may get a commission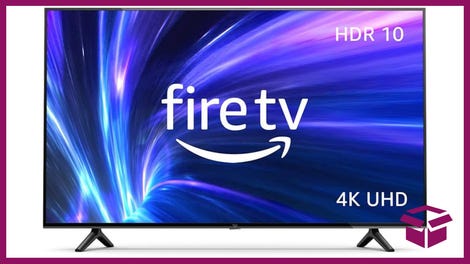 42% Off
Amazon Fire TV 50" 4K Smart TV
To take advantage of the slippery conditions, the Wallabies kicked Garryowens—high kicks that hung in the air while their flankers chased down the poor Irish bastard waiting to catch the ball. Brian O'Driscoll got flattened by the first one and started running and catching them in mid-air after that.
The Irish have old, wily backs, and most of their stars will retire before another World Cup. O'Driscoll and Gordon D'Arcy hold the record for most international games played together as a center pair. Their lines were crisp and clean, and they ran switch passes into traffic rather than pass the ball wide, where their legs wouldn't outpace the holes.
The Australians weren't strong enough to hold up the scrum. By the second half, the Irish forwards were relentless, and Ireland won kicking for enough points after collapsed-scrum penalties.
But those are just the dependent clauses of a much larger story. Ireland's economy is suffering right now, and many of the Irish fans here in Auckland were young people who had to leave home to take jobs in Australia or New Zealand. Australia is hollowing out its country with mining, and that means there is work, if only for the boom. New Zealand seems to have jobs, too, in tourism. For the displaced Irish, the event is as much about clinging to an Irish identity as it is about the rugby itself. "Irish people abroad hang on to their Irishness even more," O'Driscoll said, "because it's an attachment to back home. I think we're a very proud nation, and anywhere in the world you go, you always have fantastic support, So they deserve to enjoy tonight as much as we do, and we will."
After the match we drank and sang songs and an Irishman told me about his small town, about phone calls to his mom about one more old friend losing a job, one more family member moving away. Lines plugged the entrance to every bar, not for cover charges but because of the fire code, and inside the pub Danny Doolans, they jammed shoulder to shoulder. The band was too loud, and the scrum jostled pints and spilled beer on people's arms and even at 5:30 a.m., when pink light crept over the Auckland waterfront and the seagulls stirred for morning, the Irish kept at it.
Chris Benz is a Deadspin rugby correspondent. He has played rugby for several American clubs and briefly in Calcutta, where he fled the pitch in triple-overtime of the final due to a serious case of food poisoning. His team lost by a drop goal. He doesn't really have a home, but he grew up in Alaska.