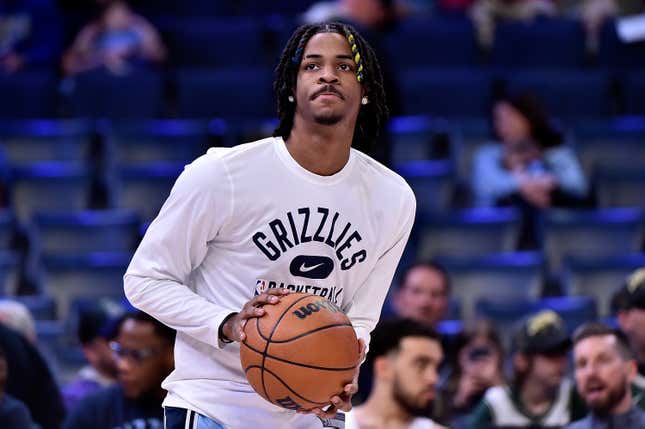 Memphis Grizzlies guard Ja Morant is having a sensational season. Morant has led his team to the second-best record in the NBA and they've eclipsed 50 wins for the first time since the 2014-15 campaign. And Memphis still has the chance to set a franchise record for regular season wins (56) with seven games remaining. The Grizzlies will likely be the No. 2 seed in the Western Conference Playoffs.
Grant Hill looks to repeat Team USA's 2004 "success"
None of this would be possible without Morant, who should be a shoo-in for Most Improved Player of the Year. Morant has increased his points per game average by more than eight. He averaged 19.1ppg last season and is up to 27.6ppg this year. Although he's only played in 56 games, I don't think that matters as much as it does in the MVP discussion. A discussion in which Ja will also receive some consideration.
Ja's had such an incredible season that he's been compared to Philadelphia 76ers legend and Hall of Famer Allen Iverson. It's a great honor for any player to be compared to an iconic baller like Iverson, who doesn't get enough credit for his contribution to the NBA. Whenever we hear about players that influenced the game of basketball in a major way, it's usually Michael Jordan, LeBron James, Stephen Curry, Magic Johnson, Larry Bird, etc. These players significantly influenced how basketball is played at every level.
Iverson impacted courts across America in the late 1990s with one move. That carry-crossover he made famous was implanted in gyms and on playgrounds everywhere from '96 on. Once Iverson gave Jordan that work, he was a made man in the minds of hoopers. Early AI was more than just a crossover, though. Iverson had springs in his legs and wasn't afraid to go into the land of the trees in his day.
Morant possesses many of the same qualities that made Iverson one of the biggest stars in the league. He's been called a taller version of Iverson, which isn't that far from the truth. Their styles on the court are quite similar. Although Morant is a little taller than Iverson, both players are considerably smaller than most of the top players of their day. Of the top five MVP candidates, according to nba.com, none are listed as shorter than 6'8. Ja is considerably smaller at 6'3. He's currently sixth in the MVP race.

Year three has been a breakout for Ja, with his offensive numbers shooting up across the board except for assists. But when a player scores at the rate Morant is, one less assist per game can be forgiven. He's improved his three-point percentage from 30 percent last season to 34 percent. Some of Morant's moves and mannerisms on the court even resemble Iverson. Morant's ball handling, finishing at the rim, and overall explosiveness remind people of Iverson.

The Answer's third year in the NBA saw him improve significantly, but not at the same clip as Morant. Iverson raised his ppg by nearly four from year two to three, but his field goal and three-point percentages dipped slightly. In fairness to AI, that was the lockout-shortened season of 1998-99, so it was only a 50-game schedule, of which Iverson played in 48. Iverson only missed 10 of a possible 214 games in his first three years as a pro. By his fifth year in the NBA, Iverson was a league MVP and led Philly to their first NBA Finals appearance since they won it all in 1983.
So, Ja still has much work to do, but his trajectory is looking great through almost three full seasons. Morant has the Grizzlies in the postseason in his third year, just like Iverson did with the Sixers. Iverson finished in the top five of MVP voting following his third season. Morant could still come close to equaling Iverson there, although he's missed a few games toward the end of the season. But his body of work has been stellar, so there's still an outside chance.
The Grizzlies' young superstar is on a path to winning an MVP. It's just a matter of when. But Morant also has an NBA championship in his sight as he realizes that's what it's all about. The individual accolades are impressive, but those star players who leave the game without a ring tend to get lost in the shuffle years later when player legacies are mentioned. Morant isn't even 23 years old and seems to understand this already. You can be a one-man show, but it takes a great team to win titles and help a superstar leave a greater legacy.