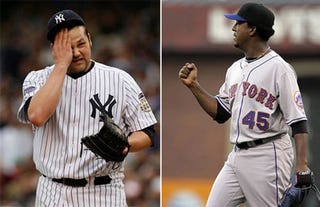 So as we check in this morning on the great city and state of New York, we see much wailing and gnashing of teeth over the daring Joba-Chamberlain-as-a-starter experiment (he flew too close to the sun on mashed potato wings), and great rejoicing over the return of Pedro Martinez. Joba lasted just 2 1/3 innings in a loss to the Blue Jays, and Martinez looked solid in a win over the Giants ... although he was pitching against Barry Zito and got nine runs of support. So factor that in.
Chamberlain's much-anticipated starting debut didn't go so well: He gave up two runs, one earned, and walked four before being removed in the third after 62 pitches. Alex Rios extended his hitting streak against the Yankees to 24 games and David Eckstein had three RBI as Toronto won 9-3. Roy Halladay (7-5) won his fourth straight decision. Hank Steinbrenner blamed it all on the media, naturally. "Tonight was a creation of the media," he said. "If this had been a first start for any other pitcher on any other team, it wouldn't have been such a big deal."
Meanwhile, Martinez (1-0) threw six innings in his return from the disabled list from a hamstring injury, surrendering seven hits, three runs, three walks and striking out three on 109 pitches. He also had two singles and an RBI, the Mets beating the Giants 9-6. Pedro hadn't pitched since April 1. Damion Easley had a three-run double during New York's eight-run fifth.
• One Town That Won't Let You Down. If the Cubs are going to start swooning, hadn't they better get to it? Before you know it June will be over. Chicago won its ninth straight as Alfonso Soriano had a three-run homer and Mark DeRosa had a two-run shot to lead a 9-6 victory over San Diego. The Cubs have the best record in baseball at 38-21, and even their former players are talking trash.
• Oh Wandy, Well You Came And You Gave Without Taking ... Run-scoring doubles by Lance Berkman and Miguel Tejada and Wandy Rodriguez's six shutout innings in his second start after coming off the disabled list led the Astros over the Pirates 2-0.
• Watchoo Talkin' About, Willis? Jack Cust beat out an infield single in the 11th, driving in Kurt Suzuki from third, as the Athletics beat the Tigers 5-4. Oakland native Dontrelle Willis made his first start and second appearance since coming off the disabled list for the Tigers, pitching four scoreless innings.
• The Bondsification Of Boston. With David Ortiz lost for who-knows-how-long with that wrist injury, The Soxaholic and Boston Sports Blog are both openly speculating on the chances of a certain Mr. Bonds being signed by the Red Sox to fill the void. Whether or not this could actually happen, it's sparked some lively debate with the commenters. Boston beat Tampa Bay 7-4 on Tuesday.
• Wizard Cat Defensive Player Of The Day. Yorvit Torrealba, Colorado Rockies. The Rockies' catcher scored a decent shove to the face and then a fine two-point takedown of the Dodgers' Matt Kemp, following Kemp's strikeout in the eighth inning of Colorado's 3-0 win. Unfortunately that was the end of the action, as everyone else in this benches-clearing "brawl" simply milled about exchanging business cards. Wizard Cat gives this play: Four wands.