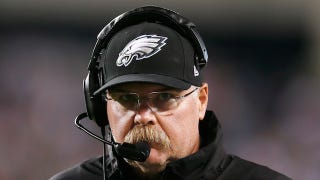 Well, that didn't take long. After suffering through a real clusterfuck of a firing process, it looks like Andy Reid has already found himself a new home. ESPN is citing sources (actual sources this time, not Jay Glazer) who are claiming that a deal with the Kansas City Chiefs is imminent:
The two sides spent the day Wednesday meeting at a private airport in the Philadelphia area. Reid had been scheduled to fly to Arizona to speak to Cardinals officials about their head coaching opening, but talks progressed with the Chiefs to the point where no hangups are expected.

The Chiefs' contingent of officials included owner Clark Hunt, general manager Scott Pioli, executive Ryan Petkoff and president Mark Donovan, who used to work in Philadelphia with Reid.

By the end of the day, the expectation amongst the parties in attendance was that a deal would be wrapped up.

One assistant coach aligned with Reid even texted Thursday morning that he is going to Kansas City, not Arizona.
Man, having a secret meeting in an airport sounds miserable. Anyway, the Chiefs were one of the few teams in the league who were more miserable than the Eagles this year, so Reid will have his work cut out for him. Still, he will have some tantalizing weapons in Jamaal Charles and Dwayne Bowe, who have never played for a coach with the kind of pedigree and successful track record that Reid brings. And who knows what the Chiefs will be able to pull off in the offseason. Maybe they'll find themselves a functional quarterback.
Regardless, Chiefs fans should be excited about having a competent sad walrus on the sideline next year rather than just a regular sad walrus.
[ESPN]