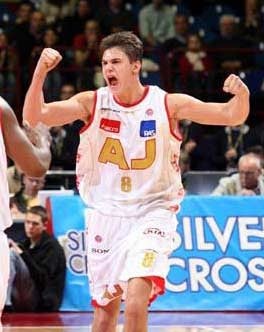 Oh, boy, what a grand giggle we had last night when flipping through Chad Ford's mock draft. Sure, Knicks fans, you're ecstatic about having Isiah Thomas gone — though the rest of us, admit it, already miss him — and Mike D'Antoni promising to speed the game and make the team tolerable to watch. But, seriously, now ... Danilo Gallinari?
Danilo Gallinari is a 6-foot-9 "point forward" who Ford says, "knows how to think the game." Though we enjoy NBADraft.net's description the best.
For Europe, he is a match up nightmare reminiscent of a young Bodiroga or a Papaloukas. By NBA standards his athleticism is a liability, especially on the defensive end. He has made strides in improving his footspeed but he still relies too much on his hands to defend players.
"Reminiscent of a young Bodiroga or a Papaloukas?" Well, shoot, that's gonna fire up the Garden faithful. We can already imagine the backflips Spike Lee will do.
"With the sixth pick in the NBA Draft, the New York Knicks take 19-year-old Danilo Gallinari." Welcome back, Knicks!
Chad Ford Mock Draft [ESPN]
2008 Euro League Juniors Preview [NBADraft.net]
Like Mike [New York Magazine]