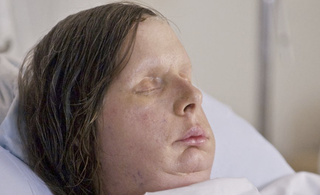 The first post-face-transplant photograph of Charla Nash was released today. Nash is the woman who got "mauled by an out-of-control chimpanzee" named Travis, who was in a bunch of commercials and lived with a widow in Connecticut.
It was brutal. Life-altering. She had to wear a "veil to conceal the grotesquely misshapen face that was the best plastic surgeons could do." This year, Nash underwent three "full-face transplants" at Brigham and Women's Hospital. Her new face was donated by the family of someone who died. She's quite appreciative.
In a statement, Nash thanked the unknown family. "I will now be able to do things I once took for granted," she writes. "I will be able to smell. I will be able to eat normally. I will no longer be disfigured. I will have lips and will speak clearly once again. I will be able to kiss and hug loved ones."
'I Will No Longer Be Disfigured': First Photos of Transplant Patient Released [NPR]
Earlier: Chimp Attack Survivor Shows Her Face [ABC News]