Ossie Schectman, who scored the very first basket in the very first game of the Basketball Association of America (the predecessor of the NBA), passed away today at the age of 94.
The 6-foot-0 point guard was a college star at LIU, leading the Blackbirds to an undefeated 1938-39 season that culminated in both NIT and NCAA titles. He joined the Knicks in their inaugural season, and on Nov. 1, 1946, the Knicks and the Toronto Huskies met in the BAA's first game. Schectman scored the first two points of that game, a perfectly exected layup in transition.
"It was a simple give-and-go," Schectman recalled in a 1997 NPR story. "It was one of those fast breaks, pass the ball, went to the basket, got a return pass."
The BAA was a major step up from the regional pro and semi-pro leagues at the time.
"I'd played pro in the old American Basketball League for $75 a game; the owner handed you an envelope with your money after the game," Schectman told the New York Times in 1996. "There was no contract, no training camp. Nobody taped your ankles. When we went to the Knicks' first training camp at the Nevele in the Catskills, I felt like a pioneer."
G/O Media may get a commission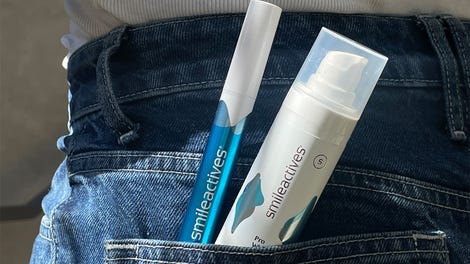 58% off
Whitening Powerhouse Pen & Gel Duo
Schectman would spend just the one season in the BAA—including a $1,000 playoff bonus, he earned $9,000 that year. He was inducted into the National Jewish Sports Hall of Fame in 1998, the LIU Athletic Hall of Fame in 2001, and was a subject of The First Basket, a 2008 documentary about the Jewish roots of basketball.
In 2003, Schectman spoke with ESPN about the differences between his game and today's NBA. It's not what you think; he wasn't an old man pining for the good old days of basketball.
"When I watch the games on the TV," he says, "I can't help projecting myself into the action. Naturally, I concentrate on the point guards since that was my position. And it's a thrill to see guys like Mike Bibby, Steve Nash and John Stockton. Their fundamentals are outstanding — footwork, balance, shooting techniques, ballhandling skills. Contrary to what some old fogeys might say, I think their fundamental skills are much better than ours ever were."
[via The Basketball Jones]