All right, this is the other self-indulgent post we were talking about earlier. As you've heard — though the story has been oddly muted, we think — Yankees free agent outfielder Matt Lawton was suspended 10 games yesterday for testing positive for steroids. Most people claim to have been shocked by the news, including a Yankees official, who tells the New York Daily News "It's a complete and total surprise."
But the way the story broke yesterday provides a glimpse into how not just the mainstream media works, but also Major League Baseball. Step back with us, into the wayback machine, to revisit yesterday, which, as Boys 2 Men taught us, it's so hard to say goodbye to.
• 1:45 p.m. We break the story: Lawton Has Tested Positive For Steroids. A bunch of people email us, disappointed it wasn't Gary Sheffield. We agree.
• 3:30 p.m. Baseball Musings picks it up.
• 4:15 p.m. Newsday's Jon Heyman confirms the story on Newsday's Web site. He writes that the story was "first reported by Deadspin.com."
• 4:33 p.m. Major League Baseball, realizing that the cat's out of the bag, releases an official statement about Lawton.
• 4:48 p.m. The Associated Press sends the story across its wires. No credit to Deadspin.com is mentioned.
• 6 p.m. Newsday rewrites its story — not by Heyman this time — eliminating the Deadspin references as well.
Don't believe us? Go to Google News and go back to the very beginning of stories about Lawton. We're the first one there. Then Heyman. Then everybody else. We're not saying this to brag or anything — OK, just a little — but rather to point out that if one newspaper had a scoop and another newspaper printed that scoop without attribution, as if they had gotten it themselves, journalism ethicists would be pooing in their britches. And, for that matter, if one blog took something from another blog and didn't credit, they'd get hammered for it too. And, to take this even farther, if a blog took a story from a newspaper and pretended it had broken the story, no one would take them seriously again.
G/O Media may get a commission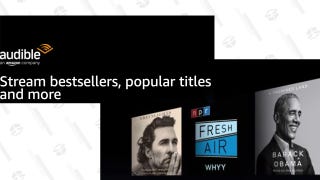 FREE
Audible Premium Plus 3-Month Free Trial
But, apparently, if a newspaper takes something from a blog, it's fair game. Worth noting. And that's one to grow on. The more you know.