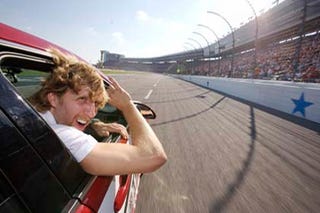 Those of you constantly demanding to see Dirk Nowitzki leaning out of a car window while taking a lap at the Texas Motor Speedway can stop your letters and e-mails: Your wish has finally been granted. Of course now that I see it, I have the urge to jump in the car and take my dog for a drive. Come'n, boy! (shakes keys). It all occurred on Sunday, as Nowitzki attended a NASCAR race with, among others, Vince Vaughn. Here we have Dirk trying on a helmet and looking a bit like a frightened giraffe. Why the Dirk-NASCAR connection? I have no clue. But I do know that it inspired greatness the following evening, as Nowitzki and the Mavericks lapped the Rockets, 107-98.
For the record, I was against moving Jason Terry to the bench from the very beginning. But he seems to take to it; scoring 31 points to lead Dallas over Houston. "He just had that look in his eye and his shot really looked good,'' coach Avery Johnson told AP. "We are very surprised when he misses; we're kind of spoiled these days.'' Terry scored seven straight points in the third quarter, then he opened the fourth quarter with a 3-pointer, giving Dallas the lead. Nowitzki had 19 points.
And dear tiny infant Jesus, we thank you for Mavs Moneyball, which provided us with the above excellent NASCAR report.
• Wade Right In. Dwyane Wade reported no problems related to his left knee or left shoulder — both of which were operated on May 15 — after his first full contact practice on Monday. But the Heat (0-3) still doesn't know when he'll be ready to return to the lineup.