George Prokos, the vice president who oversaw the Dallas Mavericks' ticket sales department—where ex-employees said their boss routinely screamed at and intimidated them, little was done to help a coworker in what appeared to be an abusive relationship with another team employee, and one employee became known as "Pants DJ" because he openly watched porn at work—is no longer in that role.

Jokic? Embiid? The NBA MVP is obvious... right? | Keep it a Buck(et)
Dallas Mavericks CEO Cynthia Marshall told Deadspin on Friday that she cannot comment on Prokos' status with the team, saying it falls under "employee privacy matters," but she can confirm who is on her current leadership team. Due to a "restructuring," executive vice president George Killebrew now oversees ticket sales as well as corporate sponsorships. Meanwhile, the Mavericks "have not finalized what we will do with" the position of chief operating officer, which had been held by Floyd Jahner, Marshall told Deadspin.
Multiple former Mavericks employee reached out to me this week after hearing rumors about the men leaving the team. The whispering about Prokos began Wednesday night, a few days after the Dallas Morning News named the former Mavericks employee known as "Pants DJ." After several more people told me that they had heard something had happened to Prokos, I called the Mavericks for comment on Prokos' status with the organization. I got this from spokeswoman Sarah Melton on Thursday:

In the interest of fairness and privacy, we cannot comment on individual personnel cases. We are confident we have taken appropriate action based on facts that came from an internal investigation. The Dallas Mavericks are committed to creating a safe and healthy environment where our employees can be proud to work and we will refrain from commenting on the investigation until it has wrapped in the next few weeks.
G/O Media may get a commission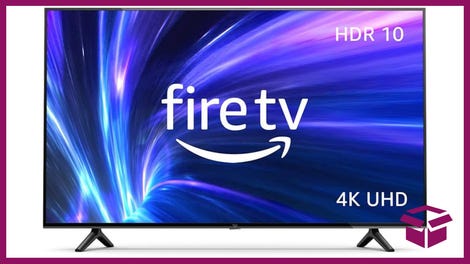 42% Off
Amazon Fire TV 50" 4K Smart TV
But what action? After that statement, I called Prokos to ask if his status with the Mavericks had changed. He told me, "I am getting ready to sit down to dinner with my family." When I asked him if he could answer my question with a yes or a no, he said, "No comment at this time." I asked if he might be able to speak more if I called him at a different time. Prokos said "No, probably not," and hung up.
Later Thursday night, Marshall sent me an email saying that a revised statement was coming and that she wanted to speak with me. On Friday, I received a new statement from Erin Finegold, vice president of corporate communications and events:
In the interest of fairness and employee privacy, we cannot comment on individual personnel matters. The Dallas Mavericks are committed to creating a safe and healthy environment where our employees can be proud to work.
When I asked Marshall about the reason for the change, she said it was because "the first statement was not approved."
Last weekend's Dallas Morning News report didn't name Prokos, but multiple former Mavericks employees told Deadspin in March that he was known for screaming at subordinates and turning a blind eye to misconduct in the office. One former employee told Deadspin that Prokos "had no qualms about yelling in front of everybody for everyone to hear." Prokos also would tell employees, "Mark knows the numbers. Mark knows your numbers," they said. Prokos also was a longtime friend of team owner Mark Cuban.

As the vice president in charge of ticket sales, Prokos' department included Chris Hyde, 57, the former senior account executive known as "Pants DJ" in the office. The Morning News article said Hyde told a former coworker that Cuban had warned him to stop keeping "erotic photos on his office computer" or he would be fired, but then Hyde went back it after a few months. Hyde was fired in 2014 for reasons unrelated to the pornography, the newspaper reported.
Cuban did not comment for the Morning News story, nor for Deadspin's report in March. As the investigation continues into multiple reports of toxic conditions in the offices of the team he owns, though, he did find time to tweet about Woodergate.
Know something about what's happening at the Mavericks? Let me know or use our anonymous SecureDrop.