Twenty years ago The Ring magazine asked the question, after Mike Tyson's rape conviction, "What If Mike Tyson Had Never Gone To Jail?" The cover story posed a counterfactual in which Tyson did not receive a guilty verdict on his 1991 indictment for rape, confinement and criminal deviant conduct.
Ohtani has the WBC, but will Mike Trout ever lead the Angels to a championship? | Agree to Disagree
December 1993 was around the midpoint of Tyson's 50-month interregnum, and The Ring was seriously jonesing for some Tyson. His previous start had been a 12-round decision over Razor Ruddock in June of 1991. His comeback thrashing of Peter McNeeley wasn't until August 1995. (Tyson, convicted to six years, served three. He has been on good behavior since, aside from gnawing off a man's ears on live television.) Boxing missed Iron Mike.
The magazine imagined that Tyson got to fight and beat Evander Holyfield in a fight that earlier had been scheduled but scratched when Tyson hurt a rib. Then hypothetical Tyson knocks out "the rugged but limited" Oliver McCall and pummels Lennox Lewis. But when imaginary Riddick Bowe steps into the ring, Tyson "lands his share of bombs but never looks the winner" on the way to his second professional loss and a dalliance with retirement. Even in his absence, he fascinated. Elsewhere in the issue, a cartoonist inked a panel of Tyson sitting on a prison bunk, seething, counting down quadruple-digit numbers on the wall under a heading: "Days until I can smash someone's face."
G/O Media may get a commission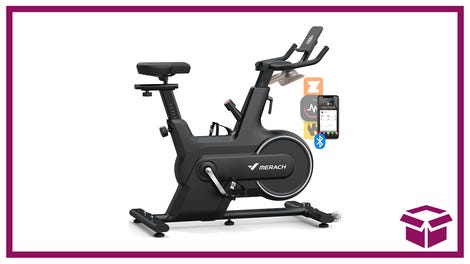 14% off + Coupon
Merach Indoor Cycling Bike
At the time of his conviction, Tyson was one of the most recognizable athletes in the world. Sports Illustrated touted a 19-year-old Tyson on its cover — "Kid Dynamite" — and went on to make him a regular. Tyson didn't just have an incredibly popular Nintendo game; the only guy ever then to beat him (as a 42-1 underdog) instantly got his own Sega game. In the 18 years since his release, Tyson has gone onto just about every corner of pop stardom: more fights, TV documentaries, non-TV documentaries, a Wrestlemania appearance, as a presenter in the Soul Train Lady of Soul Awards, some shit with Hugh Hefner, MADtv, some "Rocky" sequel, the ESPYs, Larry King, Charlie Rose, Jimmy Kimmel, Oprah, Conan, Jimmy Fallon, Pierce Morgan, Craig Ferguson, Jim Rome, "How I Met Your Mother," a Charlie Sheen roast, another Wrestlemania, the Hangover flicks. Fame begets more fame, but come on. Any way you cut it that is a lot of work for an ex-con.
Our colleagues at Jezebel decided enough had become enough when Law & Order: SVU announced a guest starring slot for Tyson, back in January. This week Cartoon Network's usually consummate Adult Swim announced that Tyson will be starring in his own cartoon, Mike Tyson Mysteries, in which he and a pigeon solve crimes. Here's what TimeWarner would like you to read about the show:
In the new animated comedy series Mike Tyson Mysteries, Mike Tyson is taking the fight from the boxing ring to the streets… by solving mysteries! Armed with a magical tattoo on his face and a trusty associate by his side — a talking pigeon — if you have a problem that needs solving, Iron Mike is in your corner. The series incorporates live-action appearances featuring Mighty Mike himself, and the gloves come off as the former heavyweight champ and his fowl-mouthed partner gear up for weekly adventures as they put unsolved mysteries — like how to defeat a super computer at chess or why a famous author/werewolf can't finish his novel — down for the count. Animated quarter-hour from Warner Bros Animation.
As the name would suggest, Adult Swim is aimed not at kids, but at young adults. If these young adults are under the age of 25 or so, they probably don't remember when Mike Tyson did hard time for rape. But they should, even when Tyson's ostensible debt to society has been paid, because we have now definitively answered The Ring's question from 20 years ago. Tyson never raped anyone. Tyson never went to jail. Tyson beat Holyfield and McCall and Lewis and then Bowe beat Tyson for the heavyweight title in 1993. Tyson went on to win and lose fortunes and was celebrated and embraced by everyone who thought they could make a buck off him. Tyson did late-night. Tyson did awards shows. Tyson did Hollywood. The Mike Tyson of 2013 is not a convicted rapist. How could he be? He's a cartoon who solves crimes with his friend the pigeon.
Young Mike Tyson photo credit: Getty