Before the beginning of this year's second edition of the "Subway Series" between the New York Yankees and New York Mets, Mets closer Frank Francisco called the Yankees chickens. Because the Yankees complain about everything. Anyway, it was much ado about nothing and everyone downplayed the quote. Except Tim Byrdak.
Byrdak bought a chicken for $8, named him "Little Jerry Seinfeld" and let it loose in the Mets clubhouse before Friday's game.
"Frank thought it was funny," Byrdak said. "At first, I told him the Yankees sent it over for him. He had a look of concern on his face. And then he said, 'You bought it.' And I said, 'Yeah, I bought it.' Everyone got a good chuckle out of it. He ran around here for a little bit. And we played the game."
Oh, you! Francisco would go on to record the save that night and a mascot was born. Unfortunately, since chickens can't really be running around professional locker rooms forever, the bird will be going to a farm upstate. Per Farm Sanctuary's spokesperson, Meredith Turner:
"The whole team rallied behind this, they're the ones who want to see this happen and were pushing for him to go to the sanctuary," Turner said. "They got to know this chicken as an individual and when people get to know chickens firsthand,—
G/O Media may get a commission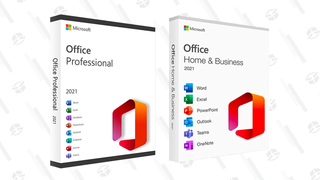 89% off
Microsoft Office Professional 2021 Lifetime License
You know what? No. I'm not going to finish that quote. That'll do.
Mets find home for chicken [ESPN]