Mets converted third baseman Jose Reyes is absolutely lost at the plate so far this season, and Terry Collins seems like he's ready to pull out his hair over the slumping veteran. The Mets are only nine games into the season, and small sample sizes can render early season trends meaningless by September, but Reyes is really stinking up the place.

In 38 plate appearances, Reyes has had two hits, one walk, and 11 strikeouts. Collins initially had Reyes batting leadoff, but he was dropped to the seven-spot Tuesday and Wednesday, and looks headed to the bench for at least the next two games against their division rivals in Miami.
One of those hits was off Clay Buchholz during a game in which the Phillies' pitcher gave up eight hits to the 16 batters he faced in two-and-a-third innings before leaving the game with a forearm injury. A hit is a hit, but that one doesn't inspire much confidence.
Reyes is putting a ball into play in only 7.7 percent of opportunities, the lowest in the league among qualified players who've had a hit (Russell Martin and Austin Hedges, we see you). He's not even making productive outs, if you believe in that type of thing. He's bad. You get the point.
Collins has given Reyes some leeway, apparently because he's a veteran player, and likely because he played well enough after returning to the Mets last season. But as Collins himself is known to say: Cripes!
G/O Media may get a commission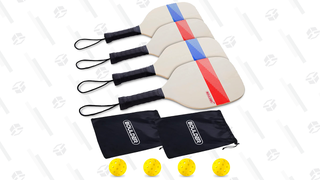 It's Pickleball
Pickleball Sets
The Mets are only paying Reyes the league minimum because the Rockies dropped him last season after his return from his suspension for violating the MLB domestic violence policy. The Rockies are still on the hook for his $22 million contract this year, so the Mets have pretty grossly benefitted from the circumstance.
The Mets have to do better than this, though. They are currently in a position where their converted third baseman who is filling in for David Wright, a franchise-favorite player who keeps attempting to return from a debilitating back injuries, is burning a hole in their lineup.
Wright was reportedly cleared to start throwing again last week after dealing with a shoulder injury in early March. It's an injury separate from Wright's spinal stenosis and herniated disk in his neck, but it doesn't bode well for Wright, who appeared in only 75 games between 2015 and 2016.
The Mets' best options to replace Reyes at third are T.J. Rivera and Wilmer Flores—not exactly all-stars, but alternatives worth considering. Mets fans would probably prefer to see Flores get the reps, given his cult hero status and the fact that he can actually, you know, hit the ball.
The team is not exactly an offensive powerhouse in general—they had the sixth-lowest team cumulative batting average across the 2016 season—and they've mostly been held up by the starting rotation, which had the third-lowest ERA in the league last season. This isn't a lineup that can afford to carry much dead weight and still expect to win games.
Marc Carig at Newsday notes that the Mets face left-handed pitchers Wei-Yin Chen tonight and Adam Conley tomorrow in Miami, and that "with Reyes struggling, Wilmer Flores could easily be deployed to play third base, especially given his propensity for crushing southpaws." Flores hit .340 with 11 home runs off lefties last year. Not bad!
Maybe Reyes will get his shit together. Maybe he won't. Maybe the Mets, buoyed yet again by their studs on the mound, won't end up caring too much either way. But games played in April still count in the standings, and it's hard to find good reasons for the Mets to remain patient with Reyes for too much longer. He's old, he's struggling, and the Mets have other options worth experimenting with.