Michigan fanboys still clutching their pearls over this weekend's Detroit Free Press exposé have rallied mindlessly around Jonathan Chait, who has now written two guest columns accusing Free Press columnist Michael Rosenberg, the story's co-author, of waging an "anti-Rodriguez jihad."
The best sports movies according to Toheeb Jimoh
Now, let me first say that Chait is an excellent reporter who has much better things to do than to preach ethics at workaday sportswriters from his lofty perch at the magazine that gave us the Bell Curve and Betsy McCaughey. He has decided, nonetheless, to lose his freaking mind.
Rosenberg, he wrote, has "hated [Rich Rodriguez] from the moment he appeared on Michigan's radar and has made it his life's work to run him out of town." He "has crusaded" against Rodriguez, a coach whom Rosenberg, "with his deep connections to the anti-Rodriguez community" and with his "strong anti-Rich Rodriguez opinions," is actively "trying to get fired." Chait called the story "journalistic malpractice," and Michigan fans have been forwarding around the column ever since. The notion that Rosenberg is irredeemably biased against Michigan, his alma mater, is quickly hardening into fact.
G/O Media may get a commission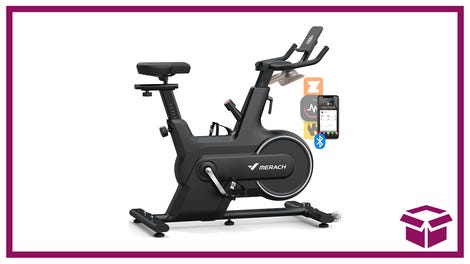 14% off + Coupon
Merach Indoor Cycling Bike
But is there any truth to it? I went spelunking through the archives and counted 19 stories — columns, news items, Q&A's — in which Rosenberg makes more than passing reference to Rodriguez. Here they are, from first to last, with pertinent excerpts:
Dec. 17, 2007
Headline: "GREAT EXPECTATIONS; RECOGNIZING DIFFERENCES WOULD HELP TRANSITION"
Michigan hired a great football coach Sunday. Not a good one, like Greg Schiano. Not a very good one, like Les Miles. A great one. ... For the Michigan football fan who has complained incessantly for the last 10 years, Rodriguez might as well show up at this morning's news conference dressed in wrapping paper and a bow.
Dec. 18, 2007
Headline: "NEW BLUE THE JOB AHEAD; MANY HOPE RODRIGUEZ'S SUCCESS WILL 'SPREAD'"
The offense, of course, is the spread. But Rodriguez is fond of saying that while every wishbone offense is the same, spreads are all different. Sort of like how Tolstoy wrote that all happy families are alike, but each unhappy family is unhappy in its own way. (Did I just compare Rich Rodriguez to Tolstoy? Good grief.)
Dec. 23, 2007
Headline: "SLIPPERY SLOPE: RODRIGUEZ NEEDS TO EMBRACE U-M TRADITIONS"
Rich Rodriguez appeared to make a huge mistake this week when he summarily dismissed all of Michigan's assistant coaches. He started to rectify it when he rehired running backs coach Fred Jackson. Rodriguez would be smart to rehire two or three more. As I wrote when Rodriguez was hired, I think he is a great coach. But as I also wrote, this is a major transition, and he needs to understand that.

Jan. 27, 2008
Headline: "GREAT PROSPECT STILL NEEDS GREAT TEAM"
I've never seen so many people act like the future of Michigan football hinges on one recruit. If that's really the case, coach Rich Rodriguez is in trouble, whether he gets Pryor or not. No program should be that dependent on one player.
Feb. 7, 2008
Headline: "COACH ROD HAS CHANGED EVERYTHING"
Michigan football will never be the same. That's not necessarily bad or good. It's just reality. Rodriguez is changing the culture of the program.

[...]

Rodriguez also seems to think he was the wronged party in his tussle with West Virginia — and in some ways, he might be right. His old employer is doing everything it can to make Rodriguez look like a shifty, lying weasel. But it's hard for Rodriguez to claim the moral high ground in that one because the fact is that he signed a contract that contains a $4-million buyout, and now he doesn't want to pay it.

[...]

Rodriguez could charm the skin off a snake, and he clearly can coach. But he rarely seems to think beyond the field, and it shows.

Rodriguez's lawyer recently said the coach took this job because of what West Virginia failed to do, not because of what Michigan offered. That's quite a change from 'a Michigan man will coach Michigan,' but these days, Michigan football is all about change.
Feb. 8, 2008
Headline: "RODRIGUEZ-WHITE THEORY IS FLAWED"
Proponents of the Pat White Theory say Rich Rodriguez has earned his reputation off Pat White. After all, Rodriguez was just 33-22 at West Virginia before White took over. Was he such an offensive genius then?

I find the Pat White Theory interesting for two reasons. First of all, I don't buy the conclusion. It's one thing to rip a coach for losing with a great player, quite another to rip him for winning with a great player.

This reminds me of the people who say Lloyd Carr never would have won the national championship without Charles Woodson. So what? He had him.

Besides, Rodriguez was a great offensive coach before he ever met Pat White. His offenses at Clemson and Tulane, where he was coordinator, were highly productive. Plus, Rodriguez's pre-White record is distorted by the 3-8 in his first year at West Virginia. He won 30 of his next 44 games before Pat White showed up.
July 10, 2008
Headline: "ORDEAL EXPOSES UGLY TRUTHS ABOUT RODRIGUEZ"
Michigan is just a name to him. The school is just a platform for winning championships. This is evident in everything Rodriguez does, from his abandonment of a century-old captains tradition to his bristling at the notion that Michigan holds itself to a higher standard. "The Michigan way is just the right way," he said in December, before adding that a lot of schools do it the right way.

Rodriguez is an excellent coach. I'm not sold that he is the right coach for Michigan.

He can charm the media, which is nice. But those who have attended his practices say Rodriguez's staff uses some of the foulest, most degrading language imaginable.

I know coaches curse, and I'm no prude, but this goes way beyond a few dirty words. He belittles his players. This is a big part of why offensive lineman Justin Boren left the team. He felt his dignity was at stake.
Aug. 31, 2008
Headline: "TALKING POINTS WITH . . . MICHAEL ROSENBERG"
Would a Les Miles-, Greg Schiano- or Lloyd Carr-coached team have won Saturday?

Impossible to know for sure, of course, but the best guess is: probably. That's not because they are better coaches than Rich Rodriguez. But all three would run a more conventional offense than Rodriguez, and that means they almost certainly would have kept Ryan Mallett, who is much more talented than either Threet or Sheridan. Even if you remove Mallett from the equation, a more conventional offense would suit the skills of Threet and Sheridan better than Rodriguez's spread does. That doesn't mean this offense will fail in the long term nor that Rodriguez was a bad hire. It just means there will be a few steps backward before the offense moves forward. These are transition pains.
Aug. 31, 2008
Headline: "ADMIRERS OF NEW REGIME JUST GOT A REALITY CHECK"
Rich Rodriguez's spread offense is supposed to score all sorts of points, and after one game of the Rich Rod Regime, I must ask: for which team?

For the longest time Saturday, every time Michigan's offense took the field, Utah fans got excited.

Very strange.

Michigan's defense, meanwhile, gave up an astounding 7.5 yards per play in the first half and fell behind, 25-10, early in the second half. But that's weird, too, because I've been told that Lloyd Carr's teams were poorly coached, and Rodriguez would finally (FINALLY!) get the Wolverines to play to their talent level from the opening kickoff.

Hey, what happened to all that?

Rich Rodriguez is 0-1 at Michigan, and let's be clear on this: One game, no matter how ugly, does not define a coach or even a season. Rodriguez has been successful in the past and could win a ton of games at U-M.

But this game should end the deification of Rodriguez and bring fans into reality. Frankly, it is only fair to him. Don't expect miracles and don't assume he will improve a program that made three Rose Bowls in the past five seasons.

Yes, Rodriguez has updated the strength and conditioning program. No, that does not mean the old staff was soft on players. Yes, he is bringing a different brand of offense to Michigan. No, "different" does not necessarily mean better, just as it doesn't necessarily mean worse.

[...]

If this happened to the old regime - heck, when it happened to the old regime - a lot of fans screamed about poor coaching. It was way overdone then, and I'm not suggesting fans overdo it now.

But when a coach takes over the winningest program in college football history, the free pass ends when his first team takes the field.

Welcome to Michigan, Rich. I know you expect better. So does everybody else.
Sept. 7, 2008
Headline: "MCGUFFIE SHOWS OFF U-M'S FUTURE"
It is often said that beauty is in the eye of the beholder. If you saw beauty in this one, we're penalizing you 10 yards for beholding. Michigan's 16-6 win over the Miami RedHawks "certainly wasn't pretty," in Rich Rodriguez's view. But it was definitely well-earned.
Oct. 14, 2008
Headline: "SYSTEM FAILURE: THE EARLY TAKE ON RODRIGUEZ: ATROCIOUS"
Rich Rodriguez may yet restore Michigan to Big Ten supremacy. He might win a national title and justify athletic director Bill Martin's decision to hire him.

In the meantime, this needs to be said:

Rodriguez has done an awful coaching job this season.

[...]

Once again: Rodriguez might win big. He is six games into his Michigan tenure, and it would be foolish to give up on him after six games. He might win championships when he gets "his guys" into "his system." But the guys who are already here should have a much better record, and that falls on the head coach.
Oct. 24, 2008
Headline: "RODRIGUEZ'S RECRUITING MAY BE HELPING DANTONIO'S"
Nonetheless, there has been a pretty clear shift in philosophy. Rodriguez is looking for a specific type of player, especially for his spread-option offense. He targets small, shifty athletes. Nine of his 17 commitments are listed at 190 pounds or less, according to Rivals.com. His linemen tend to be lighter and more agile, too. None of his recruits is heavier than 272 pounds. Only two are from Michigan.

[...]

Rodriguez's approach might do wonders for U-M, but it is also helping Michigan State.
Oct. 26, 2008
Headline: "IT CAN STILL GET WORSE FOR U-M; PLAYING FOR A BOWL BID NO LONGER A MOTIVATION"
I know it seems like it can't get worse for Michigan. But it can. It can get worse if the coaches continue to put it all on the players, and if the seniors feel like their final games don't mean enough to everybody else. That is Rodriguez's challenge now.

With Michigan football these days, the talk is mostly about the future - about what Rodriguez will do when he gets his players, and whether U-M is taking a step back so it can take two steps forward. Sometimes you hear talk about the past, about the bowl streak and the pro-style offense.

But for the seniors on this team, there is only the present. These past four games still matter to them. We'll find out soon if they matter enough to everybody else.

Nov. 16, 2008
Headline: "CRAZY EIGHT; U-M SETS SINGLE-SEASON FUTILITY MARK IN FALLING TO WILDCATS"
"We are what our record says we are," Rodriguez said. "But again, we're making progress Sunday through Friday, and it ain't showin' up on Saturday."

No, it is not. Rodriguez's track record and Michigan's history suggest that he will win big down the road. In the meantime, this transition is about to get uglier.
Nov. 22, 2008
Headline: "PERMISSION TO SPEAK FREELY? NO!; LET'S HOPE RICH ROD'S NEXT REMARKS ARE DULL"
If Rodriguez has shown anything since taking the Michigan job, it is that he will do it his way. He is recruiting more heavily out of state than Michigan once did. He says what he thinks and bristles at his critics. Before he even looked at the Michigan roster, he was trying to lure Pryor, the No. 1 player in the country, to be his quarterback.

And this "his way" theme takes us to the controversy surrounding Rodriguez this week, when he said this:

"The biggest thing that is disappointing is when somebody, not necessarily the media, but when a fan or somebody would make it personal to your coach or to your players, especially to the players, because those guys are amateurs. When they would make a personal comment or say something that's not related to coaching or not related to playing.

"I don't get on message boards. I don't think anybody, any of our players or family should, but it's amazing some of the things that people would say or amazing things people will yell at you of a personal nature. You almost want to tell them, 'Get a life.' "

Rodriguez's defenders say the comment was taken out of context. They are correct. It was taken out of two contexts.

First, of course, Rodriguez was definitely not telling all fans to "get a life." He was speaking to a small group of fans who go way over the line. Most of us agree that some fans are indeed rude, vulgar and hurtful.

But the second context is the question that Rodriguez was asked. I don't think many people have any idea what it was:

Q: What have you learned about yourself this year?

How do you go from that question to telling some fans to get a life?
Nov. 23, 2008
Headline: "TRANSITION'S OVER, COACH: TIME TO CLEAN UP THE MESS"
It will definitely turn around; Michigan obviously won't keep going 3-9. The question, then, is this: Once Rodriguez turns this around, how far in the other direction will he go? A lot of pieces have to be in place. Rodriguez can start putting them there now.
Feb. 5, 2009
Headline: "HOME AND AWAY"
The Rich Rodriguez Era is truly starting to take hold. With this recruiting class, Rodriguez has brought in the kinds of players he likes, the ones who fit his style.

Rodriguez has signed a 5-foot-6, 159-pound running back; a 5-8, 165-pound running back/receiver; and eight other players who are listed at 6 feet or smaller. The Wolverines now are favored to win the 2010 Big Ten Limbo Championship.

Will the smaller, faster Wolverines win big? Rodriguez thinks so. He clearly errs on the side of speed, quickness and playmaking ability. And offensive coordinator Calvin Magee said some of the recruits play a lot bigger than their size.

One thing has become clear about Rodriguez's spread-option: Quarterback is even more important in this scheme than in most offenses. And that is where Forcier comes in.

Forcier plays a lot like his older brother, Jason, who started his career at Michigan. Jason loved everything about the school but didn't fit former coach Lloyd Carr's offense. Jason was a mobile quarterback. So is Tate.

Last fall, as U-M stumbled to one of its worst seasons ever, Michigan fans wondered what Rodriguez's offense would look like with a quarterback who fit the system. They are about to find out.
Aug. 11, 2009
Headline: "Win at all costs a poor formula for Rodriguez"
Rich Rodriguez said Monday that he had no idea former Michigan football player Justin Feagin had dealt drugs in high school, as Feagin admitted to police in June. He also said he didn't know Feagin had been arrested twice in high school, as Feagin told police.

Rodriguez said "as soon as we found out" that Feagin had apparently brokered a cocaine deal in his first semester on campus, he dismissed him. "That instant," Rodriguez said.

I will take Rodriguez at his word. But other questions need to be asked, starting with this:

Should he have known?
Aug. 24, 2009
Headline: "QB contest will unfold during fall action"
Rich Rodriguez said Sunday he probably will play three quarterbacks in Michigan's Sept. 5 opener against visiting Western Michigan, and I think it would be awesome if he played all three at once. Perhaps this is why I'm not a football coach.

[...]

Most quarterback competitions take place in training camp. Sometimes fans complain the backup should be starting, even when they haven't seen the backup play.

In Michigan's case, the competition will unfold Saturdays in the fall. It is possible that at this time next year, Robinson and Forcier will still be battling for the position.

"Let's see who moves the team best and we'll go from there," Smith said.

That is the beauty of it: We'll all get to see.
In summary: Rosenberg thinks Rodriguez can coach. He hates Rodriguez's careerism. He hates Rodriguez's disregard for Michigan tradition and his seeming willingness to recruit the Cali Cartel if he thought it might help him win. He likes the spread offense. He likes the new crop of quarterbacks. He likes the direction of the program. Does this really sound like someone waging a personal jihad against Rich Rodriguez? Someone who has allegedly "made it his life's work to run him out of town"? I know plenty of people who say the very same things about Rodriguez. Sure, I guess you could say they're biased, too, but no one ever accuses them of secretly campaigning to undermine the program. That's because they're Michigan fans.
Violations truly worthy of firing [Rivals]
Jihad The Second: Chait On Deadspin [MGoBlog]